In October 2014 Grant Thornton Australia launched The Grant Thornton Foundation to build a co-ordinated approach to charitable giving across Australia which will help unlock the potential for growth in communities.
The Grant Thornton Foundation vision: Deliver a tangible benefit to our community partners through our people helping our charity partners grow.
We select our National and Local Charity Partners through our commitment and focus to helping Growing Youth.
The Foundation is driven by participation, volunteering and mentoring.
If you would like to donate to the Grant Thornton Foundation please email gtfoundation@au.gt.com for more details.
Direct applications and sponsorship requests to the Grant Thornton Foundation are not accepted. Applications are made by Grant Thornton Australia partners and employees on behalf of the community organisations and charities with which they work.
Connection: Unlocking our community potential
At Grant Thornton Australia we work to unlock the potential for growth in our clients, our people and our communities. Our focus on corporate social responsibility, both through the Grant Thornton Foundation, and through our office-based community projects, helps us to do this.
To find out more about the work we do within our communities, please see our report Connection: Unlocking our Community Potential.
Read the full report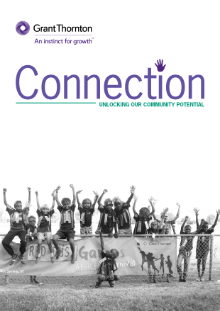 Meet our charity partners
National charity partner
Adelaide charity partners
Brisbane charity partners
Cairns charity partner
Melbourne charity partner
Perth charity partners
Sydney charity partner