The Coronavirus COVID-19 situation continues to evolve and the advice to businesses on how to respond is constantly being updated.
As the Federal Government has stated, Australia is not immune to COVID-19. In fact a Roy Morgan survey in mid-February found that 1 in 6 Australian businesses (15%) had already been affected by the virus. Since then the virus has continued to spread both here and overseas and in early March the Federal Government flagged the release of a multi-billion dollar stimulus package to help counteract the negative impact COVID-19 is expected to have on the Australian economy – with an anticipated 0.5% drop in GDP for the March 2020 quarter.
While there may be some industries that are more directly impacted by the virus – including health and aged care, education and tourism – with international travel and trade suspended, and no way to predict how many people may contract the virus, all industries will face issues around supply chain, workforce and cash flow.
With specialists across business risk, business continuity, workforce, tax, compliance, supply chain and restructuring, we are here to help. This may be an assessment of your risk and cash flow, identifying alternative suppliers, or preparation for meetings with suppliers, banks or the ATO to access additional support or extensions.
Small Business Assistance Package
The Australian Banking Association announced on Friday, 20 March 2020, that Australian banks will defer loan repayments for small businesses affected by COVID-19 for six months.
Banks are already reaching out to business customers about the assistance available. The Assistance Package will apply to more than $100bn of existing small business loans and could put as much as $8b back into the pockets of small businesses.
Small businesses are encouraged to reach out to their banks about whether or not this applies to them. The Assistance Package will be fully rolled out as of Monday 23 March 2020.
Read the release from the Australian Banking Association here.
Support for businesses impacted by COVID-19
Federal
The Federal Government's $130b "JobKeeper" package announced on 30 March 2020 is open to all businesses significantly affected by COVID-19. We have all the details about eligibility and timing here.
On 12 March 2020, the Prime Minister announced the details of a $17.6b stimulus package to support businesses to weather disruption caused by COVID-19. The measures were worth approximately 1.2% of GDP and include. You can read the full details of this first package here.
This was followed by a second stimulus package worth $66b – bringing the total of support available from the Federal Government and the RBA to a combined 10% of GDP. What was made clear by the Prime Minister and the Treasurer was that these measures are designed to cushion the coming blow to our economy and provide a bridge to help as many businesses and individuals as possible to come out the other side.
Some of the highlights from the second package include:
An increase from the first package, businesses with turnovers up to $50m eligible for a one-off, tax-free payment of up to $100,000 per business.
Underwriting $20b worth of loans as a 50 per cent guarantee to support lending of up to $40 billion to SMEs from bank and non-bank lenders.
Amendments to The Corporations Act 2001to provide temporary and targeted relief for companies to deal with unforeseen events that arise as a result of the coronavirus.
ACT
Chief Minister Andrew Barr announced has revealed a $137m stimulus package – the first of many to come in response to COVID-19. Stimulus includes:
$2,622 credit to commercial rates bill.
$750 rebate to small businesses through their next electricity bill.
Businesses that pay up to $10m in Australian grouped wages will be able to defer payroll tax to 1 July 2022.
Affected industries (hospitality, creative arts and entertainment) will receive a one-off six month waiver on payroll tax.
$20m fund for simple infrastructure works on public buildings.
Public sector staff in events or entertainment redeployed to maintenance works.
New South Wales
The NSW Government announced $1.6b in tax cuts, including payroll tax waivers and fast-tracking of payroll tax cuts to provide relief to NSW SME's impacted by COVID-19 their first round of economic stimulus. The second round, announced a week later, provides billions in tax relief and $1b towards a Working for NSW Fund. Measures include:
Deferral of payroll tax for business with Australian group payrolls over $10m for six months.
Businesses with Australian group payrolls of $10m or less received a three-month waiver on payroll tax in the first package. These businesses will now get an additional three month deferral as well.
$80m to waive a range of fees and charges for small businesses including bars, cafes, restaurants and tradies.
$1b Working for NSW fund to sustain business, create new jobs and retrain employees. The fund is already being put in to action with 1000 new staff for Service NSW announced this week to be funded by the program.
Northern Territory
On 18 March 2020, the NT Government announced a $60m stimulus package aimed at business upgrades and home renovations which the Chief Minister, Michael Gunner says will "keep shop doors open, keep cash flowing, and keep Territorians working".
The stimulus package will be divided into two major portions:
$30m 'Home Improvement Scheme'
$20m 'Business Improvement Scheme'.
The schemes are expected to be up and running within the next few weeks.
The NT Government has also announced that it will prioritise stimulus funding towards the hospitality sector after the Federal Government placed a ban on non-essential indoor gatherings of more than 100 people.
South Australia
South Australia has announced two relief packages worth a total of $1b. In addition to a $350m construction-focused package, $650m was set aside to help protect businesses and jobs weather the economic impact of COVID-9. Stimulus includes:
Businesses with an annual Australian grouped payroll of up to $4m to receive a six month waiver on payroll tax
Businesses with an annual Australian grouped payroll above $4m will be able to defer payroll tax payments for 6 months on demonstration of significant impacts on cash flow from coronavirus.
Deferral of third and fourth quarter land tax instalments for up to six months.
$300m Business and Jobs Support Fund
$250m Community and Jobs Fund
Queensland
The Queensland Government was the first to respond with measures to support businesses affected by COVID-19, with a $4b relief package announced on 24 March 2020. Measures include:
All companies with Australian taxable wages up to $6.5m, are entitled to a refund of the last 2 months and a payroll tax holiday for 3 months. Businesses can also apply to defer payroll tax payments until the end of the 2020 calendar year.
Companies with Australian taxable wages over $6.5m that have been directly or indirectly impacted by COVID-19 can apply for a refund for the last 2 months of payroll tax and a deferral until the end of the 2020 calendar year.
$500m loan facility, interest-free for the first 12 months, to support businesses keep their workforce.
Applications are now open for Queensland COVID-19 Jobs Support Loans
Tasmania
Tasmania has released two stimulus packages worth a total of $1b. In addition, to support for small businesses, Tasmania is providing relief to the most affected industries by COVID-19 including tourism, retail, arts and entertainment and seafood. Measures include:
Employers in the hospitality, tourism, and seafood industries will not be required to lodge payroll tax returns for March, April and May 2020.
Employers with Australian Group Wages of up to $5m annually who can demonstrate that their business is affected by coronavirus will not be required to lodge payroll tax returns for March, April and May 2020.
Waiving the first quarterly utility bills received from 1 April 2020 for small businesses
Additional interest-free loans and tax and charges waivers for businesses shut-down or severely impacted by coronavirus restrictions.
$40m small business grants program for impacted firms across seafood, tourism and accommodation, retail, hospitality, arts and entertainment, and fitness.
Victoria
The Victorian Premier, Daniel Andrews, announced a $1.7b economic survival and jobs package – the State's largest relief package ­­­­­­­­­­ever delivered – on 21 March 2020. This is in addition to the $437m health package announced earlier in the week. Stimulus incudes:
SME's with payroll of less than $3m will receive full payroll tax refunds for the 2019-20 financial year – representing approximately $550m, which are intended to start being paid next week.
SME's with payroll of less than $3m can defer any payroll tax for the first three months of the 2020/21 financial year until 1 January 2020 – representing approximately $83m.
Land owners due to pay 2020 land tax that have at least one non-residential property and total taxable landholdings below $1m have the option of deferring their 2020 land tax payment until after 30 June 2020.
We expect that there will be more details regarding the how the $3m payroll tax threshold is calculated and the scope of taxpayers eligible for land tax relief and whether it includes Absentee Owner Surcharge.
Western Australia
Two packages have been announced by the WA Government. The first package, worth approximately $114m has been allocated to support Western Australian SME's, including a one-off grant for businesses with a payroll between $1m and $4m to help manage the impacts of COVID-19.
Read the details of the first package here.
The second $1b package was announced on 31 March 2020. In this package, the Government has allocated $502m for small businesses including a reduction in electricity bills, licences fees waived, and additional payroll tax relief. It is also the first state to officially extend relief to stamp duty in the form of deferral of payment and waiver of late payment penalties, which does not appear to be constrained by the size of the business.
Measures include:
$100.4m has been allocated to waive a wide range of licence fees for SMEs in COVID-19 impacted industries for the next 12 months.
No small businesses facing financial difficulty due to COVID-19 will face power or water disconnections due to late payments.
Payroll tax will be waived for a four-month period between 1 March 2020 to 30 June 30 2020 for businesses with Australia-wide annual wages of less than $7.5m in 2019-20. The payroll tax waiver replaces the payroll tax deferral already announced for particular small-to-medium sized businesses.
Local governments offering stimulus and support for local businesses
Click through here to see what the major city councils are providing.
Australian Tax Office
The Australian Taxation Office (ATO) is encouraging businesses impacted by the coronavirus to get in touch with the ATO to discuss relief options.
Options available to assist businesses impacted by COVID-19 include:
Deferring by up to four months the payment date of amounts due through the business activity statement (including PAYG instalments), income tax assessments, fringe benefits tax assessments and excise.
Allow businesses on a quarterly reporting cycle to opt into monthly GST reporting in order to get quicker access to GST refunds they may be entitled to.
Allowing businesses to vary Pay As You Go (PAYG) instalment amounts to zero for the March 2020 quarter. Businesses that vary their PAYG instalment to zero can also claim a refund for any instalments made for the September 2019 and December 2019 quarters.
Remitting any interest and penalties, incurred on or after 23 January 2020, that have been applied to tax liabilities.
Working with affected businesses to help them pay their existing and ongoing tax liabilities by allowing them to enter into low interest payment plans.
Employers will still need to meet their ongoing super guarantee obligations for their employees.
Unlike the bushfire relief measures, which applied automatically to particular geographic areas, assistance measures for those impacted by COVID-19 will not be automatically implemented.
Anyone impacted by COVID-19 is advised to contact the ATO to request assistance on our Emergency Support Infoline 1800 806 218.
Business continuity plans and crisis management
The current situation continues to evolve and businesses will need to remain agile and alert. A good starting point on creating a response to COVID-19 is the World Health Organisation's technical guidance and the Australian Government which has released guidelines on how to mitigate the spread of COVID-19.
COVID-19 Business Checklist
The questions in this checklist are designed to help businesses develop their response plan for COVID-19. This type of planning is critical and often doesn't feel urgent until it is. If don't have one already, this checklist can help you start to build a disaster response plan for your organisation to use now and in the future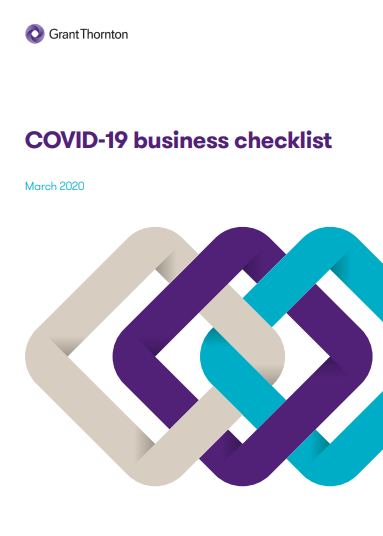 Download PDF
Some areas to consider include:
Your people
Have measures been put in place to support good hygiene and health for your people, including restrictions to international travel, advice on attending client meetings, site visits and events?
Do you have a clearly communicated policy on what your people should do if they are feeling unwell – including seeking medical attention and isolation? What will this mean for colleagues and clients if you suspect a case of COVID-19?
Review your customers and suppliers
Do you need to inform your clients and customers of any changes to your services? This could include different opening times, delays in deliveries or deadlines.
Do you have plans in place to ensure regular and clear communications to clients about your policies and updates on changes to service?
With international travel and export impacted by COVID-19, have you assessed the strength of your supply chain and do you have alternatives in place if you need to source another provider?
Which customers will need extended terms from you and which suppliers might require different arrangements? Liaise with your suppliers to determine how they can support you.
Cash flow and financing
Any changes or delays in service can have an impact on cash flow. Do you need to have discussions with clients or suppliers about renegotiating terms?
Your banker will be invaluable in helping you over the next couple of months. Plan early if you are going to need additional funding to get restarted. Make sure your banker is across your plans and understands where you are going.
Most banks have hardship teams offering a range of services that may be of support. For more information, or to find the number for your bank's hardship team go to https://www.ausbanking.org.au/campaigns/financial-hardship/.
Check your insurance cover
Re-assessing insurance coverage – businesses may have insurance coverage to protect certain assets, however, they should ensure they are covered for the business interruption expenses that natural disasters can cause.
Stakeholder management
During these difficult periods, proactive stakeholder management becomes extremely important, in particular with financiers, shareholders, customers and employees. Communicate with these groups early and often!
Get advice and look after yourself and your people
In addition to ensuring the health and safety of yourself and your people, we strongly encourage you to speak to your advisors about how your business can respond to COVID-19.
As always, we are here to support you in times of difficulty. With a multidisciplinary network of specialists, there are many ways we can assist you now and into the future.
Subscribe to receive our latest Covid-19 content
Subscribe now to be kept up-to-date with timely and relevant insights, unique to the nature of your business, your areas of interest and the industry in which you operate.