Agribusiness, food & beverage

Home
Bite Size Dealtracker
Food, Beverage & Agribusiness industry insights
Key insights for the Australian Food, Beverage & Agribusiness industry.
Royal Commission wrap up
Top 10 things for Financial Services providers
Eleven months on from the first round of hearings for the Royal Commission into Misconduct in the Banking, Superannuation and Financial Services Industry, Commissioner Hayne's final report has been released.
Health & aged care

Home
Aged Care Royal Commission
Setting the tone for the Aged Care Royal Commission
Last week's hearings for the Royal Commission into Aged Care Quality and Safety, introduced the leaders of some of Australia's peak bodies, unions, consumer organisations and the Secretary to the Department, Glenys Beauchamp. In all 26 witnesses were called.
Life sciences

Home
Biotechnology Industry Position survey
Australia's biotechnology industry drives economic growth
The 2019 Biotechnology Industry Position survey conducted by Ausbiotech and supported by Grant Thornton has revealed that new technologies across regenerative medicine and medicinal cannabis are disrupting the industry, and Australia's global strength in clinical trials continues to drive contributions to the economic and social fabric of the country.
Manufacturing

Home
mid-sized business report
Manufacturing is critical to our economy – how can we support the sector?
Although the knock-on effects of the Australian automotive industry exiting our country are yet to be fully understood, the industry is evolving, and manufacturing continues to be a major employer and critical to our overall economy.
Not for Profit

Home
NATIONAL OUTCOMES MEASUREMENT PROGRAM
A practical framework
Royal Commissions and federal budgets are critical things for Nonprofit human service providers to be thinking about at this point in time.
Real estate & construction

Home
mid-sized business report
Supporting affordable housing requires planning, certainty – and tax reform
There is a lot of noise around the property sector at the moment – and it's not all positive. Prices are down – but this shouldn't be a surprise when some markets (namely Sydney & Melbourne) saw unprecedented hikes in recent years.
Retail & consumer products

Home
GNC Group Consulting
The Technology Trap: Online innovation in retail
I recently attended the NRF Retail Big Show in New York, an overwhelming smorgasbord of retail technology and new store concepts.
Scaling-up for Growth
From start-up to scale-up
Navigating the complexities of growth and maintaining previous success is a challenge for all mid-size businesses.
Businesses starting out or looking to grow often struggle with accessibility to working capital (i.e. cash).
We are often asked by private clients and business owners – what about the funds in our superannuation? For many, super is often perceived as a cash reserve just sitting there not being utilised effectively.
It is important to understand the sole purpose of any superannuation fund: to provide retirement benefits to its members. As such any superannuation investment decision must ensure the fund is likely to meet the retirement needs of each member.
The question we will explore in this article is can superannuation (particularly that in a Self-Managed superannuation Fund (SMSF)) also offer private and family owned businesses an opportunity to amplify their business?
The answer is YES!....BUT…it's a complex area, so it is important to seek professional financial, legal and tax advice from a suitably licenced and qualified advisor to find out whether this is the right course of action for you and your specific circumstances.
SMSF's and investing in business premises
One strategy many of our private clients have considered is utilising a SMSF structure to acquire a business premises.
A SMSF can acquire commercial property, commonly referred to as 'Business Real Property', which includes property that is wholly and exclusively used in one or more business.
This strategy offers many advantages, including exercising more control over your superannuation as an investment vehicle and freeing up cash in the business for growth. However when working with your advisors it is also important to consider issues such as:
Is the property consistent with the SMSF investment strategy?
Is the timing of the property's cash flows consistent with when members wish to receive retirement incomes?
How the SMSF will deal with the payment of lump sums, either at the request of a member or as a death benefit payment
What impact is there on the family estate plan?
If the strategy is considered appropriate for your business and SMSF, there are generally two approaches to consider:
Transferring a property you already own into an SMSF structure
Borrowing in an SMSF to purchase a new property
Transfer of a property you already own into your SMSF
There is no restriction on who the SMSF acquires the business real property from (it could be an unrelated third party or even a related party such as the SMSF trustees, members, their relatives and other entities they control). An added benefit of business real property is that it can also be leased to a related party. However, the lease must be at arm's length terms and strictly enforced.
Where the business real property is held by an individual member or members of the SMSF the property can be contributed into the SMSF, commonly referred to an 'in specie' contribution. Superannuation contributions are however subject to annual limits depending on a number of factors, in particular age and work tests.
It is important to also keep in mind the transfer or sale of the asset to a SMSF is a disposal for Capital Gains Tax (CGT) purposes. Where the business premises are used in the individual's own business, the member may also have the opportunity to utilise the small business CGT concessions.
Stamp Duty concession on transfer
Stamp Duty imposed by State and Territory governments should always be researched and considered before transferring land/property to an SMSF. Concessions or exemptions from duty may be available depending on the State or Territory in which the land is situated.
In NSW for example, Stamp Duty on transfer of a property to a SMSF can be discounted to $500 when the following conditions are met:
transferor is the only member of the superannuation fund or the property is to be held by the trustee solely for the benefit of the transfer; or if the property is held jointly, it is to be used for the benefit of those members transferring the property in the same proportions as it was held by them before the transfer; and
the property is to be used solely for the purpose of providing a retirement benefit to the transferor
This concession can be considerable, for example with a property with a market value of $500,000, you can save $17,490 in Stamp Duty.
Borrowing in an SMSF to acquire business real property
An SMSF is permitted to borrow but there are a number of very strict rules governing what the borrowed money can be used for. Loans of this nature are commonly referred to as a Limited Recourse Borrowing (LRB) arrangement.
The rules surrounding LRB arrangements are quite complex. In essence, the SMSF can borrow under an instalment warrant arrangement such that the lender has limited recourse over the property (and no other asset of the SMSF). Whilst under the limited recourse borrowing arrangement, the property must be held on trust for the benefit of the SMSF.
Additionally, the SMSF must only use the borrowed money for the property alone, and cannot use the borrowing to improve the asset.
| | | |
| --- | --- | --- |
| Property expense | Can the SMSF use the borrowed money? | Example |
| Maintenance | Yes | Repainting property to prevent deterioration |
| Repairs | Yes | Replacing broken window |
| Improvements | No | Substantial renovations to the property |
From our experience LRB arrangements are notoriously complex, not only from a taxation structuring perspective but also because not every lender or bank will be willing to lend in this type of structure. Financial institutions also view these arrangements with caution and will often require the structure and borrowing arrangement to go through what can be a lengthy legal review prior to settlement.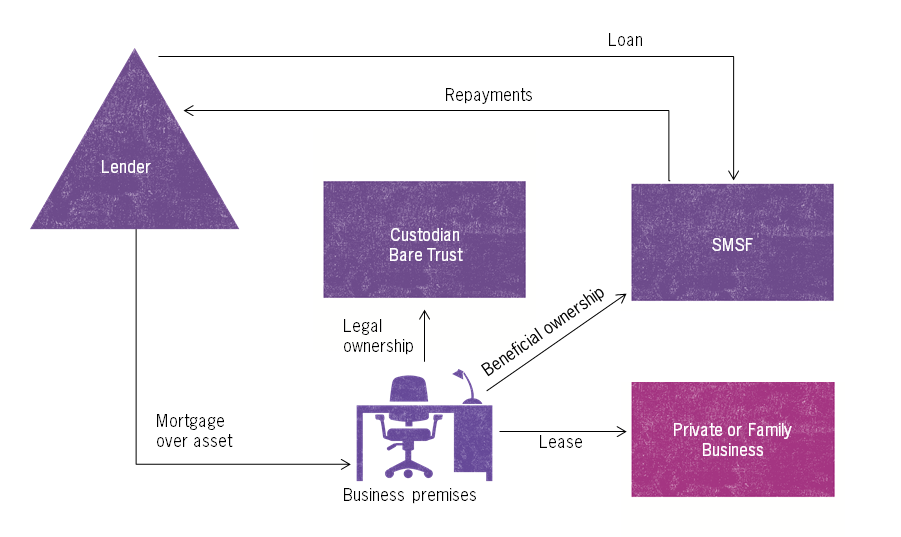 This arrangement offers some advantages:
Your SMSF receives all income and capital growth, even if the property has not been paid off
Your SMSF can use income from the property to help pay off the loan
Interest expenses may be claimed as a tax deduction by the SMSF, potentially reducing your SMSF's tax liability
Because the property is purchased using a limited recourse loan, the lender only has recourse over the property itself meaning the other assets in the SMSF are protected in the event of default
Income after expenses and any capital gain on disposal may be taxed at lower rates (ie. 0-10%) in the hands of the SMSF
Some of the key things you should consider include:
Your SMSF trust deed must allow borrowing
A legal or accounting professional should establish the trust structure to ensure it means certain requirements
Investment in your business premises must be consistent with your SMSF's investment strategy and be in the best interest of its members
Your SMSF must have the ability to meet the repayments over the term of the loan
Arrangements must be at arm's length and transacted at market rates
Utilising a SMSF to acquire business premises is a strategy that can assist in the cash flow of your business to take it to the next level.
It's important to consider the likely impacts with your accountant, solicitor and licensed financial planner to ensure the strategy achieves your intended goals and objectives.
For further information, please contact:
Kirsten Taylor-Martin | Associate Director – Private Advisory
T (direct) +61 2 8297 2567
E kirsten.taylor-martin@au.gt.com