Agribusiness, food & beverage

Home
Bite Size Dealtracker
Food, Beverage & Agribusiness industry insights
Key insights for the Australian Food, Beverage & Agribusiness industry.
Royal Commission wrap up
Top 10 things for Financial Services providers
Eleven months on from the first round of hearings for the Royal Commission into Misconduct in the Banking, Superannuation and Financial Services Industry, Commissioner Hayne's final report has been released.
Health & aged care

Home
Aged Care Royal Commission
Setting the tone for the Aged Care Royal Commission
Last week's hearings for the Royal Commission into Aged Care Quality and Safety, introduced the leaders of some of Australia's peak bodies, unions, consumer organisations and the Secretary to the Department, Glenys Beauchamp. In all 26 witnesses were called.
Life sciences

Home
Biotechnology Industry Position survey
Australia's biotechnology industry drives economic growth
The 2019 Biotechnology Industry Position survey conducted by Ausbiotech and supported by Grant Thornton has revealed that new technologies across regenerative medicine and medicinal cannabis are disrupting the industry, and Australia's global strength in clinical trials continues to drive contributions to the economic and social fabric of the country.
Manufacturing

Home
mid-sized business report
Manufacturing is critical to our economy – how can we support the sector?
Although the knock-on effects of the Australian automotive industry exiting our country are yet to be fully understood, the industry is evolving, and manufacturing continues to be a major employer and critical to our overall economy.
Not for Profit

Home
NATIONAL OUTCOMES MEASUREMENT PROGRAM
A practical framework
Royal Commissions and federal budgets are critical things for Nonprofit human service providers to be thinking about at this point in time.
Real estate & construction

Home
mid-sized business report
Supporting affordable housing requires planning, certainty – and tax reform
There is a lot of noise around the property sector at the moment – and it's not all positive. Prices are down – but this shouldn't be a surprise when some markets (namely Sydney & Melbourne) saw unprecedented hikes in recent years.
Retail & consumer products

Home
GNC Group Consulting
The Technology Trap: Online innovation in retail
I recently attended the NRF Retail Big Show in New York, an overwhelming smorgasbord of retail technology and new store concepts.
Scaling-up for Growth
From start-up to scale-up
Navigating the complexities of growth and maintaining previous success is a challenge for all mid-size businesses.
Investing: The great Australian property dream?
Australians have long had a love affair with residential property, from the family home to one or more negatively geared investment properties.
Key points:
Inherent risk in over exposure to Australian residential property
Understanding the extent of Australian bank shares' exposure to residential property
Risks on the horizon for Australian residential property
Other investments that can deliver similar returns while reducing risk
Australians have long had a love affair with residential property, from the family home to one or more negatively geared investment properties. Australian property owners are betting on house prices going up with every dollar we have and every dollar we've borrowed, but are we missing out on other opportunities? A portfolio of Australian shares has been considered an alternative source of return, not affected by property prices, but is this true diversification given the exposure of a large part of the domestic share market to local property market performance? As Australian investors, should we be looking beyond our own backyard.
Around 67% of Australians own their own home or are purchasing through a mortgage. Those mortgages, together with property investment loans, make up three-quarters of Australia's almost $2 trillion in household debt. In 1990 housing represented only 47% of household debt. Recently, Australian households overtook the Swiss as the world's most indebted, with outstanding household debt equivalent to 125% of Gross Domestic Product (GDP).

To protect against this risk, many investors will attempt to diversify away from property exposure. A common solution and alternative source of return often considered is holding a portfolio of shares in Australian companies in the belief that these shares are not affected by property prices. However, 28% of our domestic share market (the ASX200) is made up of Australian Banks. On average, Australian banks derive around 40% of their earnings from home loans, and around 60% of their loan books are home loans. Those home loans are, of course, exposed to the same property market as our direct property investments, whether that is for our principal residence or investment properties.

This exposure is increased further when you consider that many investors hold far greater than 28% of their portfolio in bank shares. Banks' high dividend yields have become increasingly attractive compared to term deposit rates, with the added bonus of franking credits being refunded to super funds. However in recent times, this dividend yield has been offset by negative share price performance.

With interest rates likely to remain low for a while, Australian residential property might not be a bubble about to burst, although we can expect a period of weakness in the Australian property market to follow the recent periods of strength. This weakening in the market could last several years. In Perth, we can already see the effect of this downturn and down markets on the eastern seaboard could have greater impact. What might be a catalyst for this period of weakness – an increase in loan default rates, the removal of the negative gearing tax concession, or the collapse of property developers due to apartment oversupply?

Deutsche Bank recently calculated that the ratio of average Australian weekly mortgage interest payments to weekly income had increased from 53% in September 2013 to 66% in December 2015, despite declining interest rates over the same period. This begs the question, what will happen when interest rates eventually rise?

There has been more political debate since the May budget about removing the negative gearing tax concession, and whilst this has been raised numerous times over many years, there is more pressure now because of the need for budget repair for Australia to retain its AAA credit rating. While this is less likely to be an issue in the near future, as the next election approaches it could gain a lot more attention, with adverse implications for property investors that are likely to flow on to lower property prices.

Warning signs abound about the large number of apartments being built in Australia's biggest cities. The Reserve Bank, Standard & Poor's, Fitch Ratings and consultants BIS Shrapnel have all publicly aired their concerns developers may be building too many units in some cities. Some banks, including Macquarie Group and AMP Bank, have curbed their lending for high-rise units. In Sydney this may be merely making up for years of undersupply, but Brisbane and Melbourne have greater potential for oversupply and the knock-on effect to property investment returns could be significant.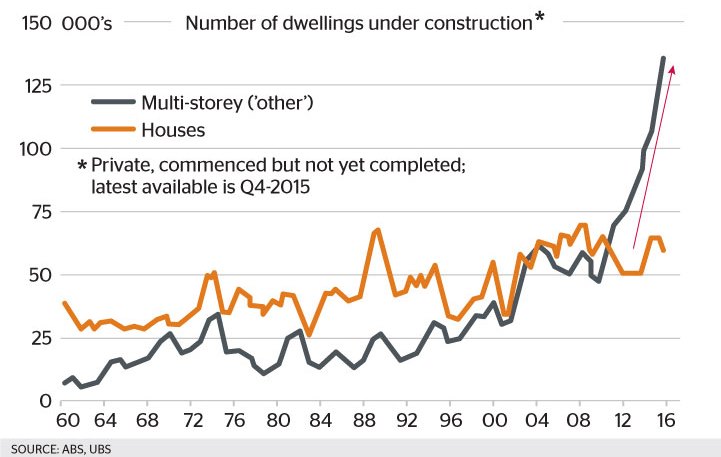 So what's the alternative to Australian property and the local share market?
Over the three years to 30 June 2016, the global share market (MSCI World Index $A) has returned 14.81%, significantly higher than the return of the Australian share market of 8.68%pa, including dividends and franking credits (ASX200 Franking Credit Adjusted Total Return Index). That's 6% each year, over and above the ASX200 return, including dividends and franking credits.

A large part of that outperformance has been the benefit we've enjoyed from the Australian dollar falling, but even removing the currency benefit, the global share market has still outperformed the Australian market. Indeed the US market (S&P500) surpassed its pre-GFC high in March 2013, and is now 40% higher. The ASX 200, on the other hand is still 20% below its 2007 peak.

Similarly, an investment in the global bond market over the five years to 30 June 2016 (as measured by Barclays Global Aggregate Index) has delivered 7.74%pa with a fraction of the volatility of shares.

It's easy to stick with what we know and there is a level of comfort obtained from investing in something familiar and tangible. However, just because something is unfamiliar, doesn't mean it is necessarily more risky, and certainly doesn't mean we shouldn't take the time to learn more about it.

As Australian investors, perhaps we should be looking beyond our own backyard.
For more information please contact your usual Grant Thornton advisor, or:
Joanne Kenderes
Private Client Advisor
T +61 2 9286 5542
E joanne.kenderes@au.gt.com



References
ANZ Half- Yearly Results, Dividend Statement and Appendix 4D 3/5/2016, http://www.shareholder.anz.com/announcements?title=&date_filter[value]=&page=3
Creighton, A, 2016, Higher Australian household debt mounts to 'unsustainable' levels, The Australian, 4 June 2016, Business Review.
Commonwealth Bank 2016 Annual Report, https://www.commbank.com.au/about-us/shareholders/financial-information/annual-reports.html
Davis, B, 2016, Zenith Quarterly Market Review & Forecast Report Q2 2016 , 29 July 2016
http://www.abc.net.au/news/2015-05-06/fact-file-housing-in-australia/6442650
http://au.spindices.com/indices/equity/sp-asx-200-franking-credit-adjusted-annual-total-return-index-superannuation
National Australia Bank Appendix 4D 2016 Half-yearly results 05/05/2016 http://www.nab.com.au/content/dam/nabrwd/About-Us/shareholder%20centre/documents/2016-half-year-results-announcement.pdf
Westpac 1H16 ASX Profit Announcement, https://www.westpac.com.au/about-westpac/investor-centre/events-and-presentations/presentations-agm/
Yeates, C, 2016, These charts show why some experts fear an apartment glut, Sydney Morning Herald, 14 June 2016, Property.


This is intended to provide general advice only and does not take into account your objectives, financial situation or needs. Before acting on any of the information you should consider its appropriateness, having regard to your own objectives, financial situation and needs. If you are considering acquiring or continuing to hold a particular financial product, you should obtain the Product Disclosure Statement (PDS) relating to the product and consider this before making any decision. Grant Thornton Wealth Advisory Services Pty Ltd ABN 61 007 073 305 AFSL234500, Level 30, 525 Collins Street, Melbourne Vic 3000.