Agribusiness, food & beverage

Home
Bite Size Dealtracker
Food, Beverage & Agribusiness industry insights
Key insights for the Australian Food, Beverage & Agribusiness industry.
Royal Commission wrap up
Top 10 things for Financial Services providers
Eleven months on from the first round of hearings for the Royal Commission into Misconduct in the Banking, Superannuation and Financial Services Industry, Commissioner Hayne's final report has been released.
Health & aged care

Home
Aged Care Royal Commission
Setting the tone for the Aged Care Royal Commission
Last week's hearings for the Royal Commission into Aged Care Quality and Safety, introduced the leaders of some of Australia's peak bodies, unions, consumer organisations and the Secretary to the Department, Glenys Beauchamp. In all 26 witnesses were called.
Life sciences

Home
Biotechnology Industry Position survey
Australia's biotechnology industry drives economic growth
The 2019 Biotechnology Industry Position survey conducted by Ausbiotech and supported by Grant Thornton has revealed that new technologies across regenerative medicine and medicinal cannabis are disrupting the industry, and Australia's global strength in clinical trials continues to drive contributions to the economic and social fabric of the country.
Manufacturing

Home
mid-sized business report
Manufacturing is critical to our economy – how can we support the sector?
Although the knock-on effects of the Australian automotive industry exiting our country are yet to be fully understood, the industry is evolving, and manufacturing continues to be a major employer and critical to our overall economy.
Not for Profit

Home
NATIONAL OUTCOMES MEASUREMENT PROGRAM
A practical framework
Royal Commissions and federal budgets are critical things for Nonprofit human service providers to be thinking about at this point in time.
Real estate & construction

Home
mid-sized business report
Supporting affordable housing requires planning, certainty – and tax reform
There is a lot of noise around the property sector at the moment – and it's not all positive. Prices are down – but this shouldn't be a surprise when some markets (namely Sydney & Melbourne) saw unprecedented hikes in recent years.
Retail & consumer products

Home
GNC Group Consulting
The Technology Trap: Online innovation in retail
I recently attended the NRF Retail Big Show in New York, an overwhelming smorgasbord of retail technology and new store concepts.
Scaling-up for Growth
From start-up to scale-up
Navigating the complexities of growth and maintaining previous success is a challenge for all mid-size businesses.
New Division 7A rules proposed
Division 7A turned 21 this month. These rules, that govern so-called non-commercial loans and payments between private companies and their shareholders and associates, have long been unwieldy and difficult to comply with.
While they have been patched up on a few occasions, since 2014, reforms have been mooted to simplify the compliance burden and tighten integrity in certain areas. Finally, in October 2018, the Federal Government released a plan for consultation which would see Division 7A truly flex its adult muscles.
The detailed and potentially hard-hitting proposals are planned to commence from 1 July 2019, although some changes will be deferred until 1 July 2021.
Grant Thornton's detailed submission in response to the Government's plan can be found here.
Some proposals are welcome. For example, the proposed single 10-year loan term is simpler and introducing a legislated self-correction mechanism to replace the Commissioner's discretion will reduce compliance costs when slip-ups occur.
However, we have serious concerns on many proposals that will negatively impact privately owned businesses, including:
Applying a substantially higher benchmark interest rate
Treating loans and Unpaid Present Entitlements (UPEs) with associated trusts on the same basis
Removing the distributable profits safeguard
Removing the option for an extended 25-year term for mortgage secured loans
Removing "grandfathering" for a range of pre-existing arrangements including pre-December 1997 loans and forcing existing 25-year loans into 10-year facilities from 1 July 2021
The proposed increase in the benchmark interest rate alone (which would increase from 5.2% pa to 8.2% pa based on current rates) could have a punishing effect as the minimum repayment burden on new and pre-existing loans would increase substantially. The first accompanying table illustrates how the minimum loan repayments of a privately owned group with a selection of "grandfathered" loans will increase. The second table shows how much their tax will increase if they are relying on franked dividends to fund the repayments.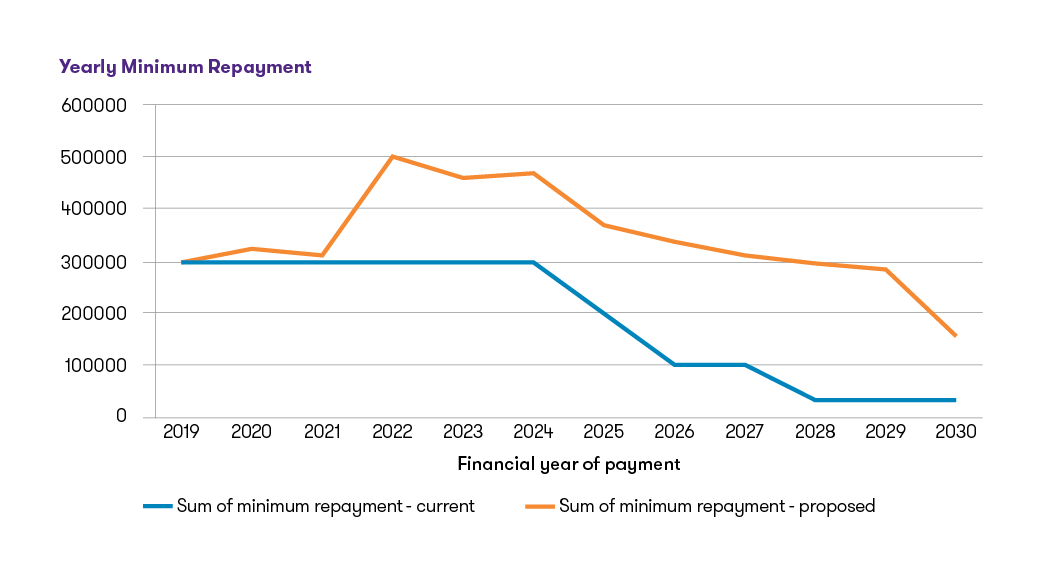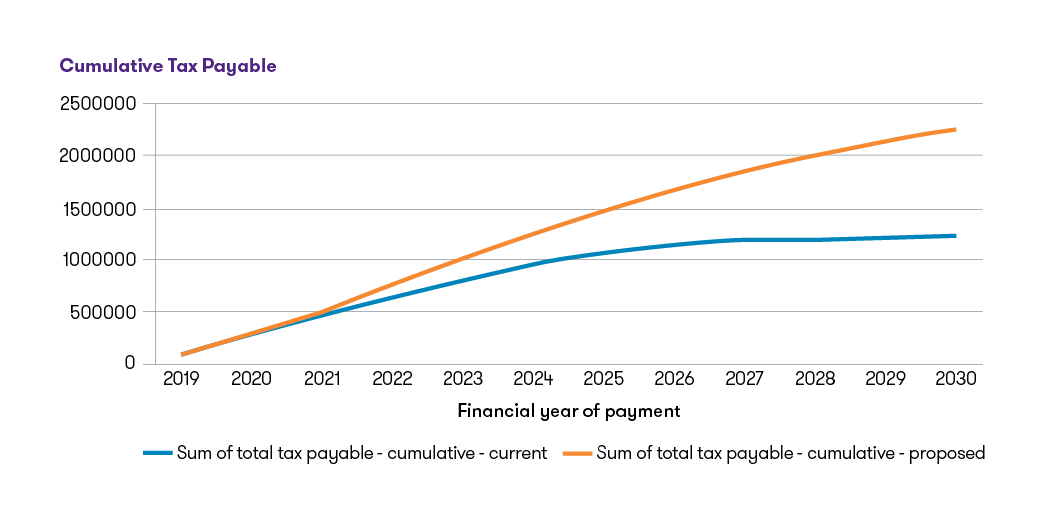 The current rules will apply through to 30 June 2019, so some action may be possible to soften the initial impact of the changes.
If you have Division 7A loans and UPEs in place, including those subject to grandfathering, contact your Grant Thornton Advisor to discuss the proposals, model their financial impacts and formulate options to proactively deal with these proposals prior to their introduction.