Agribusiness, food & beverage

Home
Bite Size Dealtracker
Food, Beverage & Agribusiness industry insights
Key insights for the Australian Food, Beverage & Agribusiness industry.
Royal Commission wrap up
Top 10 things for Financial Services providers
Eleven months on from the first round of hearings for the Royal Commission into Misconduct in the Banking, Superannuation and Financial Services Industry, Commissioner Hayne's final report has been released.
Health & aged care

Home
Aged Care Royal Commission
Setting the tone for the Aged Care Royal Commission
Last week's hearings for the Royal Commission into Aged Care Quality and Safety, introduced the leaders of some of Australia's peak bodies, unions, consumer organisations and the Secretary to the Department, Glenys Beauchamp. In all 26 witnesses were called.
Life sciences

Home
Biotechnology Industry Position survey
Australia's biotechnology industry drives economic growth
The 2019 Biotechnology Industry Position survey conducted by Ausbiotech and supported by Grant Thornton has revealed that new technologies across regenerative medicine and medicinal cannabis are disrupting the industry, and Australia's global strength in clinical trials continues to drive contributions to the economic and social fabric of the country.
Manufacturing

Home
mid-sized business report
Manufacturing is critical to our economy – how can we support the sector?
Although the knock-on effects of the Australian automotive industry exiting our country are yet to be fully understood, the industry is evolving, and manufacturing continues to be a major employer and critical to our overall economy.
Not for Profit

Home
NATIONAL OUTCOMES MEASUREMENT PROGRAM
A practical framework
Royal Commissions and federal budgets are critical things for Nonprofit human service providers to be thinking about at this point in time.
Real estate & construction

Home
mid-sized business report
Supporting affordable housing requires planning, certainty – and tax reform
There is a lot of noise around the property sector at the moment – and it's not all positive. Prices are down – but this shouldn't be a surprise when some markets (namely Sydney & Melbourne) saw unprecedented hikes in recent years.
Retail & consumer products

Home
GNC Group Consulting
The Technology Trap: Online innovation in retail
I recently attended the NRF Retail Big Show in New York, an overwhelming smorgasbord of retail technology and new store concepts.
Scaling-up for Growth
From start-up to scale-up
Navigating the complexities of growth and maintaining previous success is a challenge for all mid-size businesses.
The ATO has released its draft risk assessment framework for inbound distributors
The ATO has recently released its draft risk assessment framework for inbound distributors, Practical Compliance Guideline (PCG or the Guidelines) 2018/D8. These Guidelines are the latest attempt by the ATO to identify transfer pricing risks for this sector.
Our Transfer Pricing experts Jason Casas and Lorena Sosa outline what these Practical Compliance Guidelines will mean for inbound distributors across key industries, and what companies can do in response.
What is the PCG?
PCG 2018/D8 outlines the ATO's compliance approach to inbound distributors. The Guidelines apply to companies that:
distribute goods purchased from related foreign entities for resale, and/or
distribute digital products or services, where the intellectual property in those products or services is owned by related foreign entities.
Importantly, the Guidelines apply to operations of any size or scale.
The ATOs risk rating model
In PCG 2018/D8, the ATO has provided expected net operating profit margin ranges, or 'profit markers' that inbound distributors can use to assess their transfer pricing risk profile (high, medium or low). Profit markers are provided for distributors in general but also for specific sectors. The industries which have been singled out for special attention are:
life science (three categories)
information and communication technology (ICT)-consumer and enterprise computer hardware and software products, digital communication devices, applications, IT solutions and ancillary services (two categories),
motor vehicles.
All other taxpayers will rely on the general distributors profit markers.
Where inbound distributors undertake more economically significant functions (e.g., specialised technical services, complex sales processes, large customer relationship management) the ATO expects relatively higher profit margins will be achieved.
For general distributors, a profit marker of less than 2.1 per cent will be considered high risk, and a profit marker of more than 5.3 per cent will be considered low risk.
The life science category includes distributors of pharmaceuticals, medical devices and animal health products. The ATO has set very high profit expectations for this sector and has segmented it into three categories.
Category 1 includes distributors of life science products undertaking product detailing, marketing activities, and logistics functions (expected operating profit margin above 5.1%).
Category 2 includes distributors of life science products performing all activities in Category 1, as well as regulatory approval, market access or government reimbursement activities (expected profit margin above 8.9%).
Category 3 includes activities in Categories 1 & 2 and specialised technical services (expected profit margin above 10.0%).
Companies looking to achieve low risk ratings will need to deliver extravagant profit outcomes, particularly where value added services are performed.
For ICT distributors, two categories of profit markers are provided:
Category 1 includes ICT distributors involved in sales and marketing activities, pre and/or post-sales services, and logistics and warehousing functions. For ICT Category 1, a profit marker below 3.6% will be considered high risk, while a profit marker above 4.1% is considered low risk.
Category 2 includes activities in Category 1 as well as complex sales processes, direct selling activities, and large customer relationship management. For ICT Category 2, a profit marker below 4.1% will be considered high risk, while a profit marker above 5.4% is considered low risk.
The motor vehicles industry includes distributors of passenger vehicles, trucks, buses, motorcycles or other recreational motorised vehicles and/or their associated parts. For motor vehicle distributors, a profit marker below 2.0% is considered high risk and a profit marker above 4.3% is considered low risk.
No safe harbour
The ATO expects taxpayers to self assess their risk profile on an annual basis.
While the Guidelines clarify the ATOs expectations, it is important to note that the profit markers are not a safe harbour - companies are still expected to comply with transfer pricing rules and prepare supporting documentation.
It is particularly important that supporting transfer pricing documentation is maintained when the profit performance achieved by a company is assessed as medium or high risk.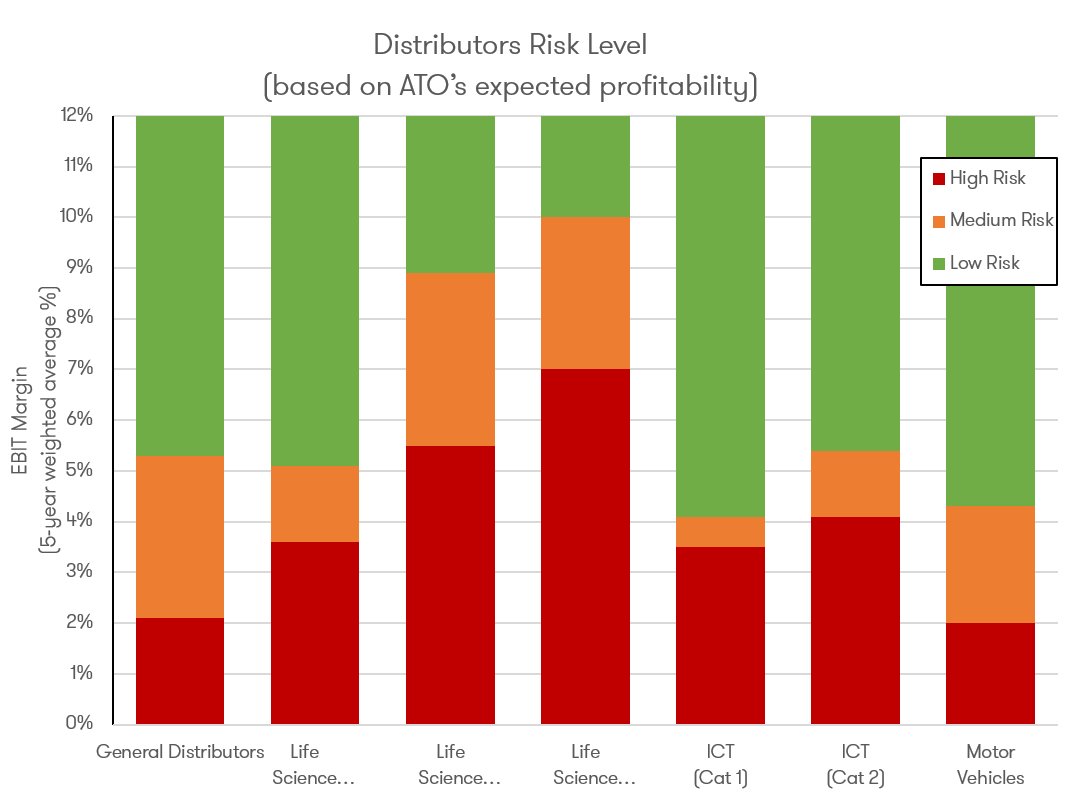 Simplified transfer pricing record keeping
It is not all bad news, to reduce distributor's administrative burden, the ATO has updated its eligibility criteria to apply the simplified transfer pricing record keeping options ("PCG 2017/2 Simplified transfer pricing record keeping"). For distributors, the changes include:
removing the requirement not to have related-party dealings with entities in certain tax havens, and
allowing distributors to engage in royalties, licence fees or R&D arrangements of less than a $500,000 (combined).
For inbound distributors, the previous criteria for accessing the simplified transfer pricing record keeping options are :
an annual turnover less than $50 million
a profit-before-tax ratio of 3.0% or greater
have not undergone a restructure within the year, and
have assessed your compliance with the transfer pricing rules.
Where a company meets the above criteria, the ATO will generally not allocate compliance resources to review transfer pricing arrangements.
What should you do?
It is important to note that the Guidelines describe how the ATO will assess a company's transfer pricing risk and allocate compliance resources.
If your risk assessment falls outside the low risk, it does not mean that your transfer pricing arrangements are uncommercial or do not comply with the Australian transfer pricing rules. However a risk assessment other than low does mean that the ATO will monitor/test/verify the transfer pricing outcomes. The higher the risk rating, the more likely the ATO is to review your arrangements as a matter of priority.
Companies with a medium or high risk assessment have three options:
transition to the low risk zone
seek certainty through an Advance Pricing Arrangement, or
prepare additional documentation to support the profit outcomes.
Next steps
Based on the new Guidelines, companies will need to:
Determine whether the PCG affects your business.
Evaluate your risk rating based on the ATO framework.
Ensure you have transfer pricing documentation in place to support the arm's length nature of your distribution arrangements.
Consider preparing additional supporting documentation.
How can we help?
Grant Thornton has developed proprietary technology to assist taxpayers undertake a risk rating assessment for their distribution arrangements in accordance with the draft Guidelines.
For more information, please contact: