Agribusiness, food & beverage

Home
Bite Size Dealtracker
Food, Beverage & Agribusiness industry insights
Key insights for the Australian Food, Beverage & Agribusiness industry.
Royal Commission wrap up
Top 10 things for Financial Services providers
Eleven months on from the first round of hearings for the Royal Commission into Misconduct in the Banking, Superannuation and Financial Services Industry, Commissioner Hayne's final report has been released.
Health & aged care

Home
Aged Care Royal Commission
Setting the tone for the Aged Care Royal Commission
Last week's hearings for the Royal Commission into Aged Care Quality and Safety, introduced the leaders of some of Australia's peak bodies, unions, consumer organisations and the Secretary to the Department, Glenys Beauchamp. In all 26 witnesses were called.
Life sciences

Home
Biotechnology Industry Position survey
Australia's biotechnology industry drives economic growth
The 2019 Biotechnology Industry Position survey conducted by Ausbiotech and supported by Grant Thornton has revealed that new technologies across regenerative medicine and medicinal cannabis are disrupting the industry, and Australia's global strength in clinical trials continues to drive contributions to the economic and social fabric of the country.
Manufacturing

Home
mid-sized business report
Manufacturing is critical to our economy – how can we support the sector?
Although the knock-on effects of the Australian automotive industry exiting our country are yet to be fully understood, the industry is evolving, and manufacturing continues to be a major employer and critical to our overall economy.
Not for Profit

Home
NATIONAL OUTCOMES MEASUREMENT PROGRAM
A practical framework
Royal Commissions and federal budgets are critical things for Nonprofit human service providers to be thinking about at this point in time.
Real estate & construction

Home
mid-sized business report
Supporting affordable housing requires planning, certainty – and tax reform
There is a lot of noise around the property sector at the moment – and it's not all positive. Prices are down – but this shouldn't be a surprise when some markets (namely Sydney & Melbourne) saw unprecedented hikes in recent years.
Retail & consumer products

Home
GNC Group Consulting
The Technology Trap: Online innovation in retail
I recently attended the NRF Retail Big Show in New York, an overwhelming smorgasbord of retail technology and new store concepts.
Scaling-up for Growth
From start-up to scale-up
Navigating the complexities of growth and maintaining previous success is a challenge for all mid-size businesses.
Australian tax incentive assisting Early Stage Innovation Companies (ESICs) to attract funding
Many Early Stage Innovation Companies (ESICs) face stiff competition for investor capital. In response, and as part of the Science and Innovation Agenda, the Australian Government introduced the ESIC measures to incentivise investment in such companies.
ESIC regime – What is it and why is it so attractive?
The ESIC regime provides both short and long-term tax incentives to investors who acquire shares directly from ESICs, assisting in the funding of those companies.
Short Term Incentives
Non-refundable - 20% tax offset for total annual investment in eligible ESIC (subject to thresholds which apply at different rates for "sophisticated" and "non-sophisticated" investors)

Long Term Incentive
Capital gains tax exemption for ESIC shares held for at least 12 months and less than 10 years (i.e. no capital gains tax if sold for a gain during this period).
For ESIC shares that are held for a period greater than 10 years, an uplift in the tax cost base of the shares to the market value of the shares 10 years after acquisition.
How do you know if your company is ESIC eligible?
To be an eligible ESIC a company broadly needs to be an innovative company in its early stages with high-growth potential, a geographically broad offering and the ability to scale-up.
The tests to determine this are outlined below:
Early stage test
This test identifies whether or not a company is in its 'early stages'. This is evidenced by a company's previous year's income and expenses, along with its date of incorporation or registration. The criteria can be found here.
Innovation test (only need to satisfy one)
100-point test (objective) – To pass the 100-point test, a company is required to accumulate at least 100 points based on specific criteria determined to be indicative of an innovative company. Refer to this table provided by the ATO to determine whether your company is able to satisfy the specific criteria and accumulate at least 100-points; or
Principles-based test (subjective) – This test identifies if a company is developing a new or significantly improved innovation (product, process, service) to be commercialised (i.e. to generate income) and has high-growth potential with the ability to scale across a broad market. Due to the subjectivity in applying this test, it is good practice (and our recommendation) to obtain a Private Binding Ruling (PBR) from the ATO to confirm eligibility.
Our experience
We have undertaken a significant number of ESIC reviews for companies both under the principles-based test and the 100-point test. Some of our key findings to date are as follows:
The ATO is well aware that some companies implement contrived 'schemes' designed to enable them to be an eligible ESIC.
The ATO is keen to engage proactively with companies to determine their eligibility, particularly when companies engage under the PBR program.
Investors are demanding evidence from ESICs about how they have determined their eligibility.
The ATO views the ESIC measures as strictly applicable for companies 'developing' new or improved products, processes or, services and is alert to companies that have already developed their product, process or, service.
Depending on your specific circumstance we offer two options to help a company determine if they are an ESIC:
Review Option: We can provide you a tailored template to assist with your documentation for support (generally a PBR application), review the document and manage correspondence with the ATO where required; or
Preparation Option: We draft the support document, liaise with the ATO (where required) and submit the PBR on your behalf (where required).
We have contacts across Australia – so feel free to reach out to your local team lead.
ESIC incentives in practice
An individual who is a sophisticated investor invests $1m in a company, subscribing for newly issued shares. The shares are sold 5 years later for $2.5m. In the year of the sale, assume the investor has $1m of other net taxable income but no taxable income in the years prior. Let's compare the outcomes of investing in a non-ESIC (Company A) and an ESIC (Company B) and then selling the shares later.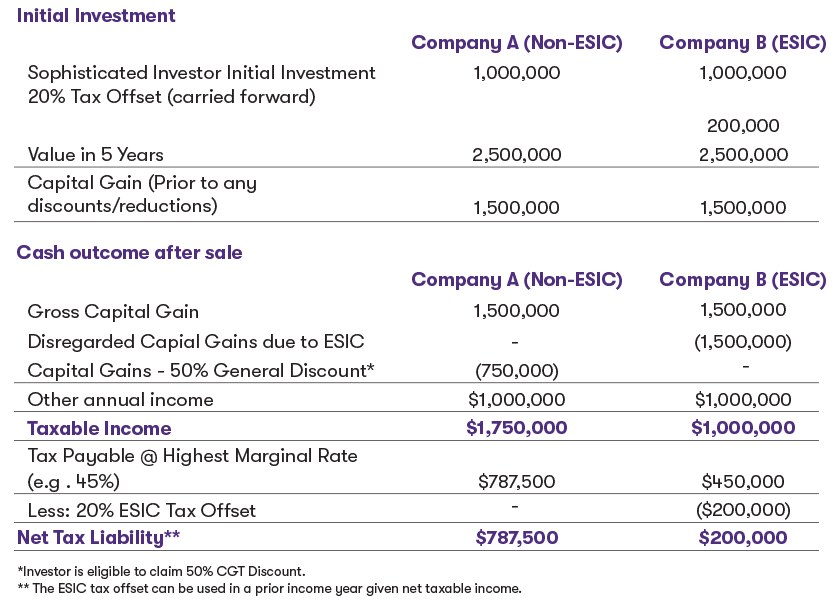 Grant Thornton Australia Contacts
New South Wales
Michael Catterall – Partner
P: +61 2 8297 2535
E: Michael.Catterall@au.gt.com
Queensland
Charl Van Den Berg – Manager
P: +61 7 3222 0351
South Australia
Tom Paltridge – Partner
P: +61 8 8372 6686
Victoria
Daniel Kave– Partner
P: +61 3 8663 6314
Western Australia
Mark Trewhella – Partner
P: +61 8 9480 2174