The most successful growth market in the world, the AIM Market of the London Stock Exchange provides mid-size growth companies with an opportunity to raise capital and a liquid marketplace to trade shares.
For internationally focused Australian companies, the market's attractions include:
Access to the UK capital market, one of the deepest pools of capital in the world
Access to international institutional investors
Higher valuations possible due to the focus on growth companies
Potential to raise international business profile and assist in expanding into new markets
Simplified regulatory environment specifically designed for the needs of growing companies
No minimum entry criteria in relation to company size, track record, number of shares in public hands etc.
Australian companies with international businesses that would benefit from the increased exposure of an international listing should consider accessing the funding opportunities presented by an AIM IPO or dual listing.
Read the report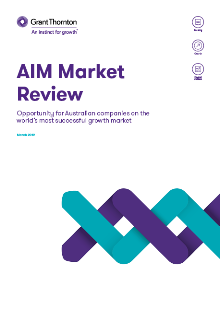 Previous AIM Market reports
Subscribe to receive our publications
Subscribe now to be kept up-to-date with timely and relevant insights, unique to the nature of your business, your areas of interest and the industry in which you operate.