Financial crises, corporate collapses, shareholder disputes and creative accounting practices have taken their toll on trust in our institutions.
Customers, communities and regulators are increasingly expecting more, and the bar continues to lift on what a good corporate citizen looks like.
In Australia, the Australian Tax Office (ATO) plays a vital role in facilitating transparency and good corporate governance, lifting business tax risk from "back of office" to become a key responsibility of company directors and the Board. Together, they must demonstrate the company has an effective, robust tax risk management and governance framework in place.
Failure to do so can result in increased ATO scrutiny which could include a detailed review of business activities and taxation positions taken, and intense scrutiny of tax systems, tax processes and tax controls.
It is important to start reviewing existing processes, controls and documentation for your tax function in anticipation of increased transparency and scrutiny.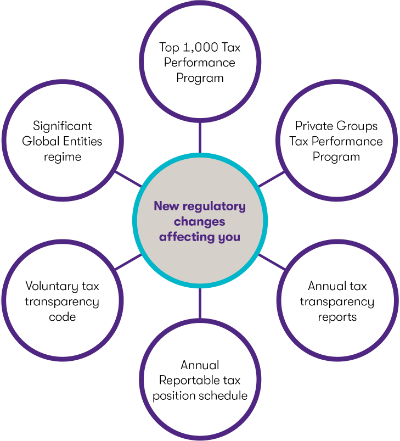 With our years of experience working with corporates, as well as many of our Partners working closely with ATO and the Tax Institute on initiatives and reform, we have a deep understanding of the ATO's decision-making process and their current policy positions.
We can work with you to establish or strengthen your company's tax governance and risk framework to help Management and the Board better identify, manage and document ongoing tax risks. A robust framework would support the company to withstand any ATO scrutiny, and mitigate the risk of extensive reviews and/or reputational damage. To do this, we can:
conduct a gap analysis of your current tax policies and procedures against the ATO's Tax Risk Management Governance Framework;

provide commercial and practical assistance in resolving key control weaknesses;

assist you with preparing or reviewing your existing tax governance framework, including advising on the relevant controls, policies, and documentation required; and

provide effective management of ATO audits and reviews.
"Justified Trust" initiative
"Justified Trust" as a concept originated from the Organisation for Economic Cooperation and Development (OECD) to help improve the levels of trust in our corporate sector.
The ATO is taking a "Justified Trust" approach when dealing with taxpayers with turnover over $50m, which involves obtaining assurance that the correct income tax and GST is being paid by taxpayers and examining the internal processes underpinning the numbers disclosed.
In doing so, the ATO wants to understand a company's tax risk management and governance framework and has provided a guide of its expectations:
Is the Board actively considering and discussing income tax and GST matters?

Does Management have the right skills and tools to maintain clear oversight of all tax risks?

Are the right policies and procedures in place, documented and followed to identify and manage tax risks as they arise?
Tax litigation, audits and reviews can exhaust a company's time and resources. It is therefore essential that these are, where possible, prevented and managed effectively.
Related content
The ATO is coming no matter your size – are you ready?
When the ATO released its updated Tax Risk Management and Governance Review Guide, it set the benchmark in terms of the accountability for tax it expects from the directors of all Australian businesses – whether large or small.