Agribusiness, food & beverage

Home
Bite Size Dealtracker
Food, Beverage & Agribusiness industry insights
Key insights for the Australian Food, Beverage & Agribusiness industry.
Royal Commission wrap up
Top 10 things for Financial Services providers
Eleven months on from the first round of hearings for the Royal Commission into Misconduct in the Banking, Superannuation and Financial Services Industry, Commissioner Hayne's final report has been released.
Health & aged care

Home
Aged Care Royal Commission
Perspectives on the Future of Ageing
Transitions in ageing are not consistent and systematic as they are described by our ageing systems. Sometimes they are incremental, sometimes accidental, sometimes monumental, and they are always personal. We can create something better.
Life sciences

Home
Biotechnology Industry Position survey
Australia's biotechnology industry drives economic growth
The 2019 Biotechnology Industry Position survey conducted by Ausbiotech and supported by Grant Thornton has revealed that new technologies across regenerative medicine and medicinal cannabis are disrupting the industry, and Australia's global strength in clinical trials continues to drive contributions to the economic and social fabric of the country.
Manufacturing

Home
mid-sized business report
Manufacturing is critical to our economy – how can we support the sector?
Although the knock-on effects of the Australian automotive industry exiting our country are yet to be fully understood, the industry is evolving, and manufacturing continues to be a major employer and critical to our overall economy.
Not for Profit

Home
NATIONAL OUTCOMES MEASUREMENT PROGRAM
A practical framework
Royal Commissions and federal budgets are critical things for Nonprofit human service providers to be thinking about at this point in time.
Real estate & construction

Home
mid-sized business report
Supporting affordable housing requires planning, certainty – and tax reform
There is a lot of noise around the property sector at the moment – and it's not all positive. Prices are down – but this shouldn't be a surprise when some markets (namely Sydney & Melbourne) saw unprecedented hikes in recent years.
Retail & consumer products

Home
GNC Group Consulting
The Technology Trap: Online innovation in retail
I recently attended the NRF Retail Big Show in New York, an overwhelming smorgasbord of retail technology and new store concepts.
Scaling-up for Growth
From start-up to scale-up
Navigating the complexities of growth and maintaining previous success is a challenge for all mid-size businesses.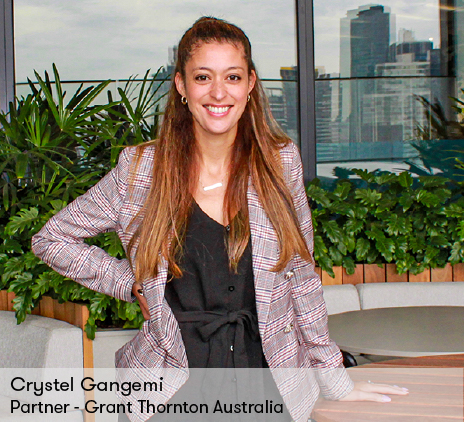 Crystel Gangemi's 14-year tenure at Grant Thornton, which she began as an undergrad, has taken its own diverse path.
There has been a secondment to Atlanta, USA, two parental leave breaks and a change from full time to part-time. When she became a working mother five years ago, Crystel was determined to realise her career ambitions and family balance, and she has done so largely with her own drive and key support from her mentor and family. Upon reaching her biggest career milestone yet in July 2019 — the promotion to Audit & Assurance Partner — it was important to Crystel that others that followed would see it is possible.
"How do you be something you cannot see? Through honest and open conversations, support from colleagues and a touch of bravery and self-belief."
Crystel Gangemi, Partner - Grant Thornton Australia
As a young professional, Crystel watched many female leaders reach a certain level in their careers and then quit to have a family. She didn't want to choose between family and career — nor should she have to — but had no existing role model of how it was achievable.
"My biggest challenge was visualising and understanding how I would balance professional and family life. It was hard to know how it would be returning from maternity leave.
"How would I be supported? Could I manage a portfolio on a part-time basis? I saw a gap in our team that I believed I could fill," she said.
With the support of the leadership team and her mentor, Crystel endeavoured to become the team benchmark.
"When I started my journey as a working mother, I wanted to be an example for others that I didn't have in my early career," she reflected.
Crystel's mentor encouraged her to apply for a directorship shortly after returning from maternity leave. Crystel was the first person in the Melbourne Audit team to be promoted on a part-time basis. And a few years later, she was the first again at the Partner level.
"I worked really hard to get where I am in my career. At the time of my first parental leave break, I had been with the firm for 11 years.
"So, later on, I was adamant about going through the Partner process and maintaining my three working days because it was important to me to show others it is possible. A benchmark that is well executed has a knock-on effect.
"That is not to say it is easy. Maintaining work and family balance at times has been really challenging and I believe that it is give-and-take from both sides when you work flexible hours.
"I hope I am an example to all my peers, both male and female, that flexible working, managing a successful portfolio and maintaining balance — whether for family or other pursuits — is very possible at this level," she said.
Helped in part by her example, the shift in the attitude of the team is apparent. It is one of many examples across the wider industry that is contributing to change.
"As a woman, you want to be promoted because you deserve it, not to meet a quota. But metrics like parity on Boards does something that is so important: they drive awareness, conversations and education. They help people shift their mindset, understand needs and expectations and create solutions to achieve them.
"Flexibility is definitely give-and-take, and I believe, ultimately, the change starts with us. It just takes one successful and positive experience for that to filter through and reinforces the culture of a business.
"But being gender diverse doesn't automatically mean there is an inclusive or positive environment. That requires dedication and engagement. We will continue to build on the positive examples set so diversity evolves from a conversation to 'that's the way it is'.
"I think a key part of this is sharing personal stories. They are powerful. And it isn't just women sharing stories — men have to be part of this conversation in order to gain balanced insight and understand challenges," she added.
Aside from sharing stories and experiences, Crystel believes strongly in the power of mentoring to help drive inclusion and diversity.
"I am actively supporting a few individuals and believe a mentoring relationship is most successful when it is open and honest. I see it as supporting and challenging someone through their journey. Where I can't help people individually, I try to make sure that I am setting an example and advocate for everybody equally, irrespective of gender.
"I am fortunate to have had the same mentor throughout my career who has supported and challenged me. I wouldn't be where I am without it," she said.
Champions for Action
Creating change lies within all of us
2019 Report
Women in business: building a blueprint for action
Report
Mid-sized Business Report
Subscribe to receive our publications
Subscribe now to be kept up-to-date with timely and relevant insights, unique to the nature of your business, your areas of interest and the industry in which you operate.