Agribusiness, food & beverage

Home
Bite Size Dealtracker
Food, Beverage & Agribusiness industry insights
Key insights for the Australian Food, Beverage & Agribusiness industry.
Royal Commission wrap up
Top 10 things for Financial Services providers
Eleven months on from the first round of hearings for the Royal Commission into Misconduct in the Banking, Superannuation and Financial Services Industry, Commissioner Hayne's final report has been released.
Health & aged care

Home
Aged Care Royal Commission
Perspectives on the Future of Ageing
Transitions in ageing are not consistent and systematic as they are described by our ageing systems. Sometimes they are incremental, sometimes accidental, sometimes monumental, and they are always personal. We can create something better.
Life sciences

Home
Biotechnology Industry Position survey
Australia's biotechnology industry drives economic growth
The 2019 Biotechnology Industry Position survey conducted by Ausbiotech and supported by Grant Thornton has revealed that new technologies across regenerative medicine and medicinal cannabis are disrupting the industry, and Australia's global strength in clinical trials continues to drive contributions to the economic and social fabric of the country.
Manufacturing

Home
mid-sized business report
Manufacturing is critical to our economy – how can we support the sector?
Although the knock-on effects of the Australian automotive industry exiting our country are yet to be fully understood, the industry is evolving, and manufacturing continues to be a major employer and critical to our overall economy.
Not for Profit

Home
NATIONAL OUTCOMES MEASUREMENT PROGRAM
A practical framework
Royal Commissions and federal budgets are critical things for Nonprofit human service providers to be thinking about at this point in time.
Real estate & construction

Home
mid-sized business report
Supporting affordable housing requires planning, certainty – and tax reform
There is a lot of noise around the property sector at the moment – and it's not all positive. Prices are down – but this shouldn't be a surprise when some markets (namely Sydney & Melbourne) saw unprecedented hikes in recent years.
Retail & consumer products

Home
GNC Group Consulting
The Technology Trap: Online innovation in retail
I recently attended the NRF Retail Big Show in New York, an overwhelming smorgasbord of retail technology and new store concepts.
Scaling-up for Growth
From start-up to scale-up
Navigating the complexities of growth and maintaining previous success is a challenge for all mid-size businesses.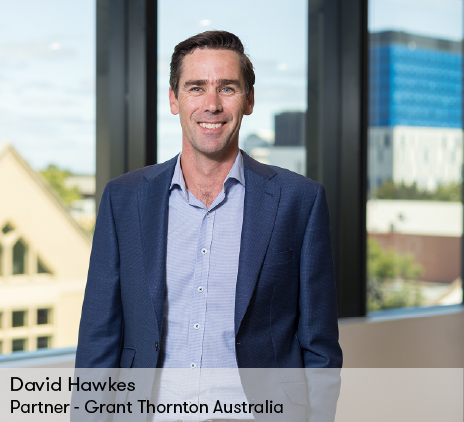 David Hawkes, Head of Tax in Adelaide at Grant Thornton, believes that the promotion and genuine support of diversity is a role for everyone — both men and women.
While real change is happening now, a focus on equity, and not just equality, is where we will begin to see real movement towards an even playing field.
"I was at a space industry panel discussion in Adelaide recently where there was a four-person panel of aeronautic engineers, space engineers and industry leaders, who were all females.
"I took a photo of it for my 10-year-old daughter, who is passionate about engineering and space, because I thought she would be excited that it was four women leading the discussion. I showed it to her and asked what she noticed about the photo. She couldn't see or pick that it was an all-female panel.
"So I found it interesting that the mindset is shifting — a 10-year-old girl didn't actually see anything special about four female leaders. To her, that's just normal. It is great that the shift is happening but we can't wait 15 to 20 years for those girls to become leaders for it to solidify. It needs to happen now," he said.
To David, diversity drives huge benefits for everyone — businesses, clients and individuals.
"I like to be challenged. In the absence of diversity, we can become fairly linear in our thought process and maintain the status quo. So I think having people from all walks of life — from gender and sexuality, to ethnicity — opens up different perspectives and insights and perhaps changes the course that you would have otherwise taken.
"I think that the focus needs to be on equity rather than just equality. Furthering diversity in the workplace drives huge benefits for our business and our clients. To achieve that doesn't mean that we treat everyone equally, it means we may need to treat them differently, at different times, to ensure equality.
David Hawkes, Partner - Grant Thornton Australia
"Equally important: diversity is not a threat to men, a sentiment you sometimes hear. The further we support diversity then the greater opportunities there will also be for men to achieve success. It is not about beating up men. It's about elevating women," he said.
David believes that open, honest conversation will help to continue to drive diversity and shift behaviours.
"The conversation around this is critical as well as modelling behaviour. A friend of mine in the UK is a member of HeForShe and wears a pin to show his support.
"He told me it has given him the visual license to speak up in meetings and ask 'what does that mean' from a gender perspective. He has formally committed to calling out behaviour that undermines diversity.
"It's positive action that really resonated with me. Even though I don't wear a pin — and you certainly don't have to — I try to champion and support opportunities for all team members. It's about encouraging other people to adopt more supportive behaviour and seeing it in action is important," he said.
An important way of enabling diversity is flexible working, which, for David personally, required a mental shift.
"I work flexible hours to juggle my various family commitments. It took me a while to not feel guilty, but I feel real acceptance and support at all levels. Moreover, I hope that flexibility of this kind enables more female professionals to pursue both their career and personal goals.
"I think flexible work is really about juggling all aspects of your life, not just family commitments. Pursuing that balance allows other people to see what's possible," he said.
So, how do we maintain momentum? David sees men as a critical component to the success of diversity.
"I think momentum needs to be driven by everyone, including supportive, articulate male leaders that demonstrate the importance of equity and diversity. If we make sure the conversation is part of everyday life and a part of how we work, then we open the door to female team members and those with leadership aspirations to pursue it."
Champions for Action
Creating change lies within all of us
2019 Report
Women in business: building a blueprint for action
Report
Mid-sized Business Report
Subscribe to receive our publications
Subscribe now to be kept up-to-date with timely and relevant insights, unique to the nature of your business, your areas of interest and the industry in which you operate.