Agribusiness, food & beverage

Home
Bite Size Dealtracker
Food, Beverage & Agribusiness industry insights
Key insights for the Australian Food, Beverage & Agribusiness industry.
Royal Commission wrap up
Top 10 things for Financial Services providers
Eleven months on from the first round of hearings for the Royal Commission into Misconduct in the Banking, Superannuation and Financial Services Industry, Commissioner Hayne's final report has been released.
Health & aged care

Home
Aged Care Royal Commission
Perspectives on the Future of Ageing
Transitions in ageing are not consistent and systematic as they are described by our ageing systems. Sometimes they are incremental, sometimes accidental, sometimes monumental, and they are always personal. We can create something better.
Life sciences

Home
Biotechnology Industry Position survey
Australia's biotechnology industry drives economic growth
The 2019 Biotechnology Industry Position survey conducted by Ausbiotech and supported by Grant Thornton has revealed that new technologies across regenerative medicine and medicinal cannabis are disrupting the industry, and Australia's global strength in clinical trials continues to drive contributions to the economic and social fabric of the country.
Manufacturing

Home
mid-sized business report
Manufacturing is critical to our economy – how can we support the sector?
Although the knock-on effects of the Australian automotive industry exiting our country are yet to be fully understood, the industry is evolving, and manufacturing continues to be a major employer and critical to our overall economy.
Not for Profit

Home
NATIONAL OUTCOMES MEASUREMENT PROGRAM
A practical framework
Royal Commissions and federal budgets are critical things for Nonprofit human service providers to be thinking about at this point in time.
Real estate & construction

Home
mid-sized business report
Supporting affordable housing requires planning, certainty – and tax reform
There is a lot of noise around the property sector at the moment – and it's not all positive. Prices are down – but this shouldn't be a surprise when some markets (namely Sydney & Melbourne) saw unprecedented hikes in recent years.
Retail & consumer products

Home
GNC Group Consulting
The Technology Trap: Online innovation in retail
I recently attended the NRF Retail Big Show in New York, an overwhelming smorgasbord of retail technology and new store concepts.
Scaling-up for Growth
From start-up to scale-up
Navigating the complexities of growth and maintaining previous success is a challenge for all mid-size businesses.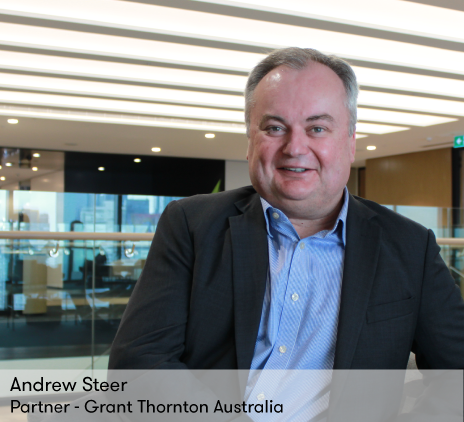 Over his 30-year career, Grant Thornton's Andrew Steer has watched the diversity conversation evolve. Noting that Australia is in a far different place now than even five years ago, he believes diversity and inclusion comes down to one simple thing: respect.
"For me, the ability to understand all forms of diversity, including gender diversity, is fundamentally a respect issue. Diversity and inclusion is just common sense at a humanitarian level, and, in turn, good business sense. It is crucial from a strategy development perspective to take into account as many different individual experiences and perspectives as possible," he said.
While it has taken our society sometimes, Andrew highlights that the step we need to take now is making sure that diversity and inclusion become second nature.
"There has obviously been a clear shift in thinking around diversity and inclusion, and more recently, indemonstrable actions. Ten to fifteen years ago the idea of someone going part-time or working from home was considered a problem. Invariably, that was gender connected and people would leave because it was too hard.
"It is terrific to see the change in thinking, and it is now a part of all conversations, whether it is partner appointments or discussions with clients. It is talked about regularly alongside any other issue or event facing a business.
"Importantly, it's changing societal attitudes. Our lives, our clients and our business can be so much better by being far more inclusive," Andrew said.
Action that influences the diversity and inclusion conversation most often starts with individual leadership and modelling the way. Providing team members with the opportunity to be engaged and accelerate their own commitment is an important part of it.
"It can be as simple as taking an interest in people and giving as many equal opportunities as possible. I try to make sure everyone feels included, that they aren't missing out and that the environment doesn't get too 'blokey'. Again, it is showing the respect that each person deserves and language that is honest, upfront and open.
Andrew Steer, Partner - Grant Thornton Australia
"In each of the client projects I've worked on over the last 12 months, it has been personally rewarding to see team members seize an opportunity to get involved, be confident within themselves and contribute to advice provided. They then share their experiences with their colleagues and act as role models, creating further momentum and embedding diversity and inclusion into our client delivery and our culture as a whole."
Progressing diversity and inclusion is, however, not without its roadblocks.
"The need for role models at all levels throughout an organisation is a very difficult issue. No matter how hard male partners try, there are certain things we can't do or be.
"It is really the case of identifying where those role models will come from. Is there a clear pipeline of talent, male and female, that can step up? Groups always need fresh thinking, and hence, we need to make sure no stone is unturned to ensure there is an inclusive environment.
"At all times we as leaders, whether male or female, need to be visible on this issue and become the role models. In saying that, males sometimes need to recognise that they need help — and asking is not always easy," he said.
There is still a need to gain greater momentum and translate strategic intent into daily practice.
"Momentum is a case of continuing to lead into the market and ensuring our talented women have opportunities and platforms to excel in their roles and out in the market.
"Gender diversity will be a complete success when it is obsolete and simply the norm."
"If we seek to make changes and put the client at the centre of it, it is more likely to happen as opposed to an issue standing out by itself. We need to talk to clients about their journey. We want to hear what our clients have to say, and to know we are delivering the right solutions.
"I think another important approach is continuing to find ways for our people to share their stories. We have lots of interesting people with diverse backgrounds. I believe the best ways are through simple, informal forums without it seeming forced.
"Men need to be a part of this conversation, too. Flexibility and balance is important for everyone. Challenges around balancing family life and other commitments are met by both genders. We have to make sure we are bringing everyone along through the journey," Andrew said.
Champions for Action
Creating change lies within all of us
2019 Report
Women in business: building a blueprint for action
Report
Mid-sized Business Report
Subscribe to receive our publications
Subscribe now to be kept up-to-date with timely and relevant insights, unique to the nature of your business, your areas of interest and the industry in which you operate.