Agribusiness, food & beverage

Home
Bite Size Dealtracker
Food, Beverage & Agribusiness industry insights
Key insights for the Australian Food, Beverage & Agribusiness industry.
Royal Commission wrap up
Top 10 things for Financial Services providers
Eleven months on from the first round of hearings for the Royal Commission into Misconduct in the Banking, Superannuation and Financial Services Industry, Commissioner Hayne's final report has been released.
Health & aged care

Home
Aged Care Royal Commission
Perspectives on the Future of Ageing
Transitions in ageing are not consistent and systematic as they are described by our ageing systems. Sometimes they are incremental, sometimes accidental, sometimes monumental, and they are always personal. We can create something better.
Life sciences

Home
Biotechnology Industry Position survey
Australia's biotechnology industry drives economic growth
The 2019 Biotechnology Industry Position survey conducted by Ausbiotech and supported by Grant Thornton has revealed that new technologies across regenerative medicine and medicinal cannabis are disrupting the industry, and Australia's global strength in clinical trials continues to drive contributions to the economic and social fabric of the country.
Manufacturing

Home
mid-sized business report
Manufacturing is critical to our economy – how can we support the sector?
Although the knock-on effects of the Australian automotive industry exiting our country are yet to be fully understood, the industry is evolving, and manufacturing continues to be a major employer and critical to our overall economy.
Not for Profit

Home
NATIONAL OUTCOMES MEASUREMENT PROGRAM
A practical framework
Royal Commissions and federal budgets are critical things for Nonprofit human service providers to be thinking about at this point in time.
Real estate & construction

Home
mid-sized business report
Supporting affordable housing requires planning, certainty – and tax reform
There is a lot of noise around the property sector at the moment – and it's not all positive. Prices are down – but this shouldn't be a surprise when some markets (namely Sydney & Melbourne) saw unprecedented hikes in recent years.
Retail & consumer products

Home
GNC Group Consulting
The Technology Trap: Online innovation in retail
I recently attended the NRF Retail Big Show in New York, an overwhelming smorgasbord of retail technology and new store concepts.
Scaling-up for Growth
From start-up to scale-up
Navigating the complexities of growth and maintaining previous success is a challenge for all mid-size businesses.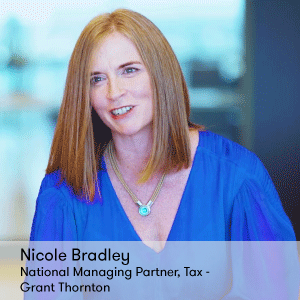 It's almost unheard of in this day and age to spend 25 years working for one company.
"It's definitely not the norm these days," says Nicole Bradley who started her career with Grant Thornton in Philadelphia. After five years and reaching the level of manager, she was offered an 18-month secondment in Australia.
Turns out, she liked it so much that she stayed. Nearly 20 years later, Nicole is still here. What made her stay with the one company all this time?
"I've managed to stay fulfilled – in part – because I've worked for a firm which has provided me with quality opportunities to progress my career," says Bradley, who has held several leadership roles as a Partner at Grant Thornton Australia, including currently as the National Managing Partner of Tax, former Office Managing Partner in Sydney, Service Line Leader Audit - Sydney and as a member of the Board of Directors.
"It's a company where diversity and inclusion is led from the highest level including the Board, CEO and senior leadership team."
But, she says, it hasn't all been smooth sailing and there have been plenty of hurdles she - and the company - have had to overcome to get to where they are today.
"In the early days it was challenging," she says of her career progression to Partner.
"I did face barriers in gaining promotion, but I put some of them there myself…I feel that I absolutely fit the common paradigm of not having enough self-belief. I did not push for the next promotion; I waited to be recognised."
Bradley says hindsight has helped her learn some valuable lessons.
"I now understand that this has meant there were points in my career that males - who were at times less capable than me - were promoted before me because they pursued the promotion."
Underpinning this lack of self-promotion, she says, was the fact that for many years there were very few female role models. It was hard to see how I fit the mold.
"I worked for a few female partners during my career but none had children. Even when I was just starting out in my career, this did not resonate with my goals around relationships and family.
"I was the first female partner in Sydney and it would have felt like a big risk for the existing partners to support me in my bid for partnership, and an even bigger risk for those who personally sponsored me." I appreciate the influence that support had to this day.
Bradley says that although a lot has changed for the better - when it comes to diversity and women reaching senior management positions – many still face barriers.
"Even today as one of the more senior partners in the practice, there are assumptions made about me that I feel would not be made of my male counterparts."
But, she says, these barriers are faced not only industry wide, but throughout society.
"I don't believe the lack of progress is due to a lack of desire or recognition of the priorities … It is hard!" She says. If there was a silver bullet there would be gender parity today.
"Just look at the numbers. There is extensive research regarding gender-based biases in the workplace."
"Many organisations that are addressing these barriers are having significant transformation in their businesses. But it takes a huge amount of time and effort to create change."
This cannot be underestimated.
Along with the development of a long-term strategy around diversity, Bradley believes having leaders who believe in diversity and can recognise barriers, is also key to a catalyst for change.
"You need really committed senior leaders and middle management to ensure the barriers are removed on a daily basis. They need to be able to challenge the barriers (even unconscious ones) – if they miss these barriers, the problem is hard to recognise and even harder to address."
According to Bradley, this is often where organisations can be derailed.
"Systems need to be included in an organisation's diversity and inclusion strategy to support a change in behaviour and enable cultural alignment. These two areas require a deep dive into your current processes and long-term commitment to drive the change."
But that's not all that needs to be done to progress women's advancement.
"Leading diversity and inclusion from the highest levels and empowering leaders through knowledge is fundamental," she says.
"Ultimately this will build and reinforce the business case for diversity and create an inclusive environment by celebrating that diversity."
Yet, says Bradley, there is one other crucially important accelerator for the growth of gender diversity.
"This is talent identification. Our annual talent mapping process identifies talent with the highest potential which leads to discussion about how we retain that talent, what attributes they may need to develop to get to the next level (and ultimately partnership), and how those individuals may need to be supported differently."
"It also helps to identify where parts of our business may have unconscious bias in their identification of high potential talent. This can act as a powerful circuit breaker in some key decision points in our business."
But reflecting upon what brings her the greatest job satisfaction, it was an easy answer: helping others grow and progress their careers and knowing that she's had influence.
"I'm most proud of playing a role in multiple people's successful careers and lives. But I am especially proud of the ability to influence the change of landscape for senior leadership at Grant Thornton. It is hugely satisfying from a career point of view not only to get to leadership positions and have the ability to take an organisation forward toward a goal, but also to have an ability to grow those behind you," she says.
"Being a partner at Grant Thornton is a huge privilege and my part to play on developing the next generation of leaders is a great gift."
Champions for Action
Creating change lies within all of us
2019 Report
Women in business: building a blueprint for action
Report
Mid-sized Business Report
Subscribe to receive our publications
Subscribe now to be kept up-to-date with timely and relevant insights, unique to the nature of your business, your areas of interest and the industry in which you operate.