As Budgets go, this one is special. Australia will head to the polls in May to either return the incumbent government, or welcome a new one. This Budget is as much an election promise as it is a budget blueprint for the next financial year.
This Budget estimates a return to surplus of $7.1 billion (0r 0.4% of GDP) in 2020. The last time we were in surplus was in 2008, right when the Global Financial Crisis hit. It is a good place to be and now we must look at how we can continue to foster the right economic conditions for growth in light of a softer property market and slow wage growth.
Prime Minister Scott Morrison promised a "pro-growth Budget". Perhaps it's an incremental growth Budget with most initiatives aimed at individuals. We see continued investment across the key areas of education, health & aged care and energy, as well as the moving up of income tax cuts – keeping more money in our pockets. We also see a ramping up of investment for our financial services regulators – tangible action out of the Hayne Royal Commission to help repair the image of our financial services sector.
But what does it mean for you?
From a business perspective – companies, particularly our mid-sized clients, need certainty.
We've seen some great initiatives for small business which we would ideally like to see expanded for mid-sized business. Research and development (R&D) incentives remain unchanged in this Budget, but we always hope for more. Our clients in the health & aged care space will benefit from additional funding across the health system. And the energy sector has been bolstered with more funding for new technologies and projects aimed at increasing energy security and alternative energy solutions.
Read our Budget 2019 snapshot to see the highlights in government spending.
Budget 2019 Snapshot
The Budget Reply
The Budget Reply this year is of equal importance and interest as the Budget itself. Given the same budget, how would the Opposition split the bill?
Savings from the removal of the franking benefits, changes to capital gains tax and negative gearing will help to fund generous packages to support cancer patients, improve access to preschool children from one year to two years, and significantly increase funding for TAFE and apprenticeships.
The significant $15 billion in funding for climate change and energy projects – as well as clear targets for renewable energy generation – provides a clear opportunity for our clients in this sector to invest.
Budget 2019 Reply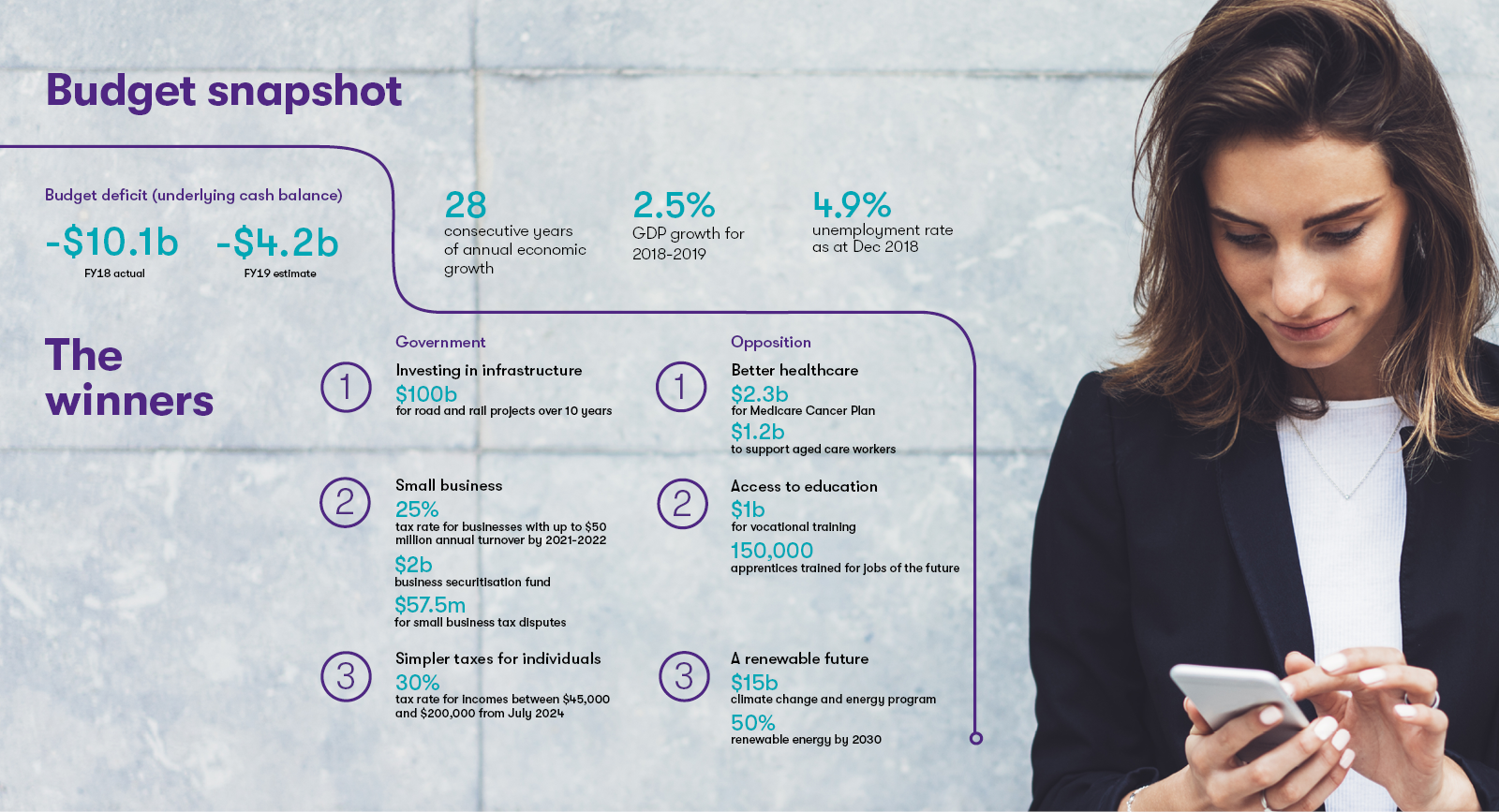 Subscribe to receive our publications
Subscribe now to be kept up-to-date with timely and relevant insights, unique to the nature of your business, your areas of interest and the industry in which you operate.