Agribusiness, food & beverage

Home
Bite Size Dealtracker
Food, Beverage & Agribusiness industry insights
Key insights for the Australian Food, Beverage & Agribusiness industry.
Royal Commission wrap up
Top 10 things for Financial Services providers
Eleven months on from the first round of hearings for the Royal Commission into Misconduct in the Banking, Superannuation and Financial Services Industry, Commissioner Hayne's final report has been released.
Health & aged care

Home
Aged Care Royal Commission
Perspectives on the Future of Ageing
Transitions in ageing are not consistent and systematic as they are described by our ageing systems. Sometimes they are incremental, sometimes accidental, sometimes monumental, and they are always personal. We can create something better.
Life sciences

Home
Biotechnology Industry Position survey
Australia's biotechnology industry drives economic growth
The 2019 Biotechnology Industry Position survey conducted by Ausbiotech and supported by Grant Thornton has revealed that new technologies across regenerative medicine and medicinal cannabis are disrupting the industry, and Australia's global strength in clinical trials continues to drive contributions to the economic and social fabric of the country.
Manufacturing

Home
mid-sized business report
Manufacturing is critical to our economy – how can we support the sector?
Although the knock-on effects of the Australian automotive industry exiting our country are yet to be fully understood, the industry is evolving, and manufacturing continues to be a major employer and critical to our overall economy.
Not for Profit

Home
NATIONAL OUTCOMES MEASUREMENT PROGRAM
A practical framework
Royal Commissions and federal budgets are critical things for Nonprofit human service providers to be thinking about at this point in time.
Real estate & construction

Home
mid-sized business report
Supporting affordable housing requires planning, certainty – and tax reform
There is a lot of noise around the property sector at the moment – and it's not all positive. Prices are down – but this shouldn't be a surprise when some markets (namely Sydney & Melbourne) saw unprecedented hikes in recent years.
Retail & consumer products

Home
GNC Group Consulting
The Technology Trap: Online innovation in retail
I recently attended the NRF Retail Big Show in New York, an overwhelming smorgasbord of retail technology and new store concepts.
Scaling-up for Growth
From start-up to scale-up
Navigating the complexities of growth and maintaining previous success is a challenge for all mid-size businesses.
Mid-size businesses (MSB) in Australia make an outsize contribution to the Australian economy. With combined annual turnover in excess of $1.1 trillion, the MSB sector injects an estimated $241 billion into the economy annually in wages and salaries. Yet despite their economic heft, they're curiously invisible to government and generally under-supported. While small businesses are rewarded in this budget, many are questioning whether it is friend or foe to the MSB.
In New South Wales alone, MSBs generate around four million jobs. But they're the quiet achievers of the economy, obscured as they tend to be, between the populous small business sector and the heft of the large corporates, with their ability to generate and influence media attention and policy.
There were four measures that this budget could have delivered to support MSBs growth:
Lifted the cap on export market development grants to $250 million to support international expansion
Delivered better departmental resourcing for faster and more efficient processing of business visas to allow MSBs to manage talent for growth
Reduced the company tax rate for MSBs because the middle market currently carries a disproportionate share of the tax burden
Supported more flexible financing options from non-traditional sources
Whilst the Government has not delivered these specific measures, the changes build the foundation for moving towards greater support for MSBs - the engine room of the Australia economy. There are a number of measures that demonstrate the laying of the foundation.
Supporting exports and international expansion through Free Trade Agreements between Australia and China, Japan, Korea and, in the future, India, as well as the $5 billion of infrastructure investments in northern Australia will be welcomed by the mid-market who are primed for export.
Read the full Federal Budget 2015/16 | Friend or foe to mid-size businesses? report
Download PDF [4729 kb]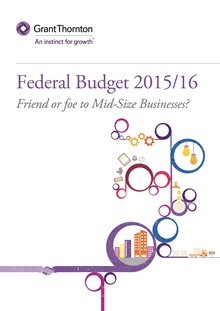 The Budget provides targeted spending on new jobs initiatives aimed at employers and young and old job seekers alike to encourage greater participation in the workforce. Mid-size businesses managing their talent pool will no doubt draw on these incentives as they look to grow.
While support for small businesses (with turnover of less than $2 million), including reducing the company tax rate to 28.5% and access to immediate asset write offs for new investments up to $20,000 in value will no doubt be welcome for some, this relief should be extended more broadly across the economy to create a level playing field in Australia and internationally.
Encouraging crowdfunding to help start-ups and small businesses is certainly a welcome measure, and we encourage the Government to expand this thinking to include other adjustments to policy and regulatory settings to create an environment for more non-traditional funding for Australian businesses. Superannuation and pension funds providing capital to MSBs as well as peer-to-peer lending could create a much more competitive funding landscape for the mid-market.
In listening to our MSB clients Government needs to put in place policy settings to boost investment, confidence and jobs and restore trust in the political process.
This Budget is a budget that both sides of Parliament should be able to arrive at a comprise that allows for the implementation of a majority of measures in part or full and will deliver the much needed political and economic certainty that MSBs are seeking from Federal Government.
Overall, we give the 2015/16 Federal Budget a 3/5 in its support of Australia's quiet chorus, MSB.
Our report - Federal Budget 2015/16: Friend or foe to mid size businesses? outlines what we believe the Federal Budget means for the growth of mid-size businesses in Australia.
Industry perspectives - Grant Thornton industry leaders provide insights into the impact of the Federal Budget on industry including mid-size business growth, ability to innovate, export and productivity.
View your industry here:
Our wishlist infographic - suggests four ways the government can support mid-size business growth.

Greg Keith, CEO, T +61 2 8297 2480, E greg.keith@au.gt.com
Read the wishlist
Download PDF [3414 kb]