Agribusiness, food & beverage

Home
Bite Size Dealtracker
Food, Beverage & Agribusiness industry insights
Key insights for the Australian Food, Beverage & Agribusiness industry.
Royal Commission wrap up
Top 10 things for Financial Services providers
Eleven months on from the first round of hearings for the Royal Commission into Misconduct in the Banking, Superannuation and Financial Services Industry, Commissioner Hayne's final report has been released.
Health & aged care

Home
Aged Care Royal Commission
Perspectives on the Future of Ageing
Transitions in ageing are not consistent and systematic as they are described by our ageing systems. Sometimes they are incremental, sometimes accidental, sometimes monumental, and they are always personal. We can create something better.
Life sciences

Home
Biotechnology Industry Position survey
Australia's biotechnology industry drives economic growth
The 2019 Biotechnology Industry Position survey conducted by Ausbiotech and supported by Grant Thornton has revealed that new technologies across regenerative medicine and medicinal cannabis are disrupting the industry, and Australia's global strength in clinical trials continues to drive contributions to the economic and social fabric of the country.
Manufacturing

Home
mid-sized business report
Manufacturing is critical to our economy – how can we support the sector?
Although the knock-on effects of the Australian automotive industry exiting our country are yet to be fully understood, the industry is evolving, and manufacturing continues to be a major employer and critical to our overall economy.
Not for Profit

Home
NATIONAL OUTCOMES MEASUREMENT PROGRAM
A practical framework
Royal Commissions and federal budgets are critical things for Nonprofit human service providers to be thinking about at this point in time.
Real estate & construction

Home
mid-sized business report
Supporting affordable housing requires planning, certainty – and tax reform
There is a lot of noise around the property sector at the moment – and it's not all positive. Prices are down – but this shouldn't be a surprise when some markets (namely Sydney & Melbourne) saw unprecedented hikes in recent years.
Retail & consumer products

Home
GNC Group Consulting
The Technology Trap: Online innovation in retail
I recently attended the NRF Retail Big Show in New York, an overwhelming smorgasbord of retail technology and new store concepts.
Scaling-up for Growth
From start-up to scale-up
Navigating the complexities of growth and maintaining previous success is a challenge for all mid-size businesses.
IFRS 16 is the first fundamental change in lease accounting in over a generation.
It reflects a conceptual change that will impact the measurement of performance of all entities reporting in Australia, with varying degrees of impact depending on the nature of the market each entity operates within.
Unlike many other accounting standards, AASB 16 is also not 'set and forget'. Decisions are required regarding the likelihood of lease extensions on at least an annual basis. If elements of uncertainty are included in lease payments (such as CPI or market price renewals) updates to Right of Use Asset and Lease Liability may be required on a regular basis — typically annually or upon renewal.
As a result, lease accounting is now subject to a complete lifecycle and ongoing maintenance — management can no longer 'set and forget' and retain comfort into the future that outcomes remain sufficiently accurate.


Find out more
Merilyn Gwan
Head of National Assurance Quality
Contact Merilyn
How we can help
Due to the scope and complexity of the standard, we have developed expertise in delivering a wide range of technical assistance to companies, from educational, to acting as an outsourced provider of expertise, and everything in between.
Resource constraints have also made adoption particularly challenging for lean organisations with large numbers of leases. We can quickly and efficiently provide bookkeeping services to establish lease accounting records and platforms for utilisation into the future.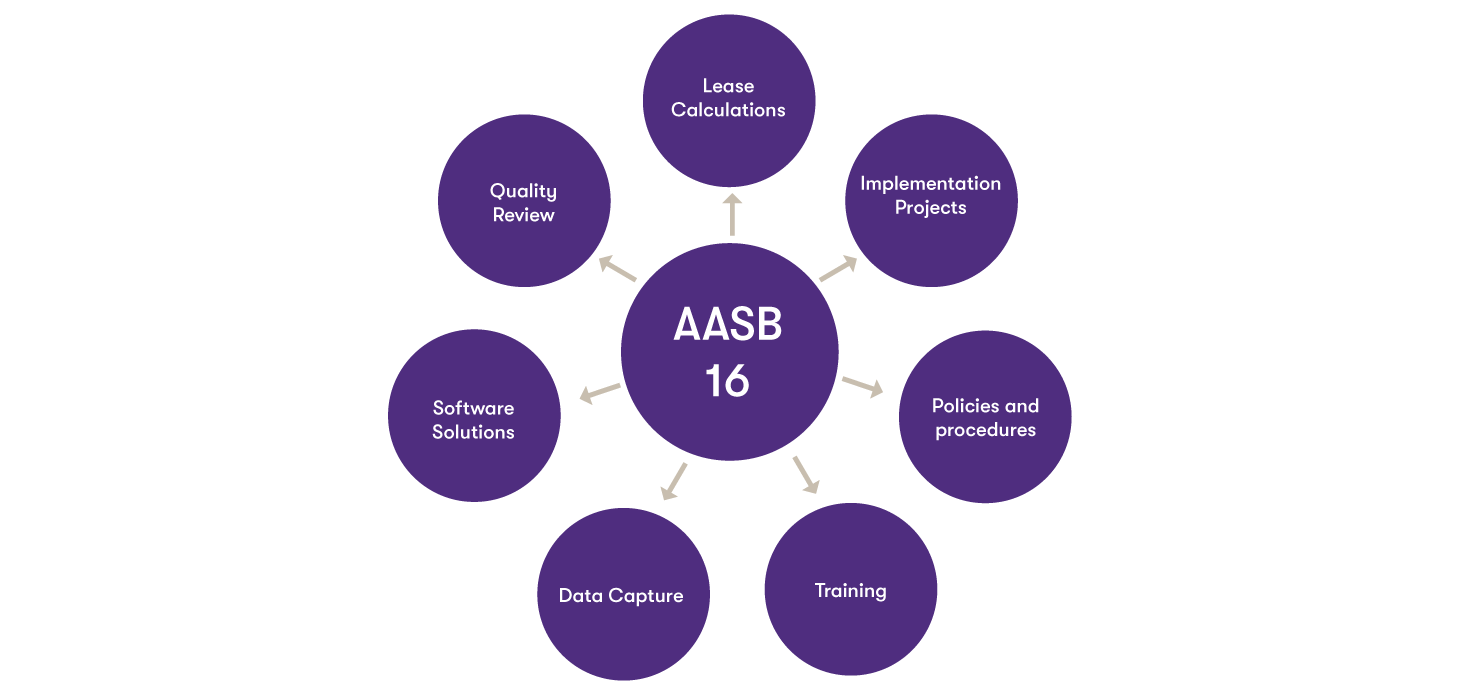 How we've assisted clients
Quality review of calculations completed by either management or a third party
Preparation of lease calculations for management, under management direction
Full implementation projects, including project management, data capture, lease calculations, and provision of white papers
Drafting of policies and procedures
One-on-one or group training sessions, including case studies and real-life examples
Data capture of key lease clauses for rapid data import
Provision and implementation of in-house software solutions
AASB 16 Software
We developed bespoke and unique software that is available for license by a small-to-medium enterprise. Targeting entities with up to 200 leases, the intuitive and user-friendly software runs on industry-standard back and front ends and allows management to calculate monthly accounting entries, including the impacts of transition, lease modifications and/or pricing changes.
Upon request, you can purchase a license to this software with any other projects. Grant Thornton Australia acts as a reseller for other Grant Thornton International affiliated firms. Support is provided by those affiliated firms.