Agribusiness, food & beverage

Home
Bite Size Dealtracker
Food, Beverage & Agribusiness industry insights
Key insights for the Australian Food, Beverage & Agribusiness industry.
Royal Commission wrap up
Top 10 things for Financial Services providers
Eleven months on from the first round of hearings for the Royal Commission into Misconduct in the Banking, Superannuation and Financial Services Industry, Commissioner Hayne's final report has been released.
Health & aged care

Home
Aged Care Royal Commission
Perspectives on the Future of Ageing
Transitions in ageing are not consistent and systematic as they are described by our ageing systems. Sometimes they are incremental, sometimes accidental, sometimes monumental, and they are always personal. We can create something better.
Life sciences

Home
Biotechnology Industry Position survey
Australia's biotechnology industry drives economic growth
The 2019 Biotechnology Industry Position survey conducted by Ausbiotech and supported by Grant Thornton has revealed that new technologies across regenerative medicine and medicinal cannabis are disrupting the industry, and Australia's global strength in clinical trials continues to drive contributions to the economic and social fabric of the country.
Manufacturing

Home
mid-sized business report
Manufacturing is critical to our economy – how can we support the sector?
Although the knock-on effects of the Australian automotive industry exiting our country are yet to be fully understood, the industry is evolving, and manufacturing continues to be a major employer and critical to our overall economy.
Not for Profit

Home
NATIONAL OUTCOMES MEASUREMENT PROGRAM
A practical framework
Royal Commissions and federal budgets are critical things for Nonprofit human service providers to be thinking about at this point in time.
Real estate & construction

Home
mid-sized business report
Supporting affordable housing requires planning, certainty – and tax reform
There is a lot of noise around the property sector at the moment – and it's not all positive. Prices are down – but this shouldn't be a surprise when some markets (namely Sydney & Melbourne) saw unprecedented hikes in recent years.
Retail & consumer products

Home
GNC Group Consulting
The Technology Trap: Online innovation in retail
I recently attended the NRF Retail Big Show in New York, an overwhelming smorgasbord of retail technology and new store concepts.
Scaling-up for Growth
From start-up to scale-up
Navigating the complexities of growth and maintaining previous success is a challenge for all mid-size businesses.
AASB 15 replaces the legacy revenue guidance contained in multiple places (in particular AASB 118 Revenue) as the accounting standard applied to the majority of commercial transactions with customers.
The relatively general wording of AASB 118 resulted in significant disparity in practice for entities entering into transactions with similar economics – AASB 15 introduces a common framework for revenues to apply when recognising revenue, while also changing the decision process for determining "principal" and "agent" relationships.
Find out more
Meriyln Gwan
Head of National Assurance Quality
Contact Meriyln
The common framework – typically referred to as "The Five-Step Model" – requires that an entity: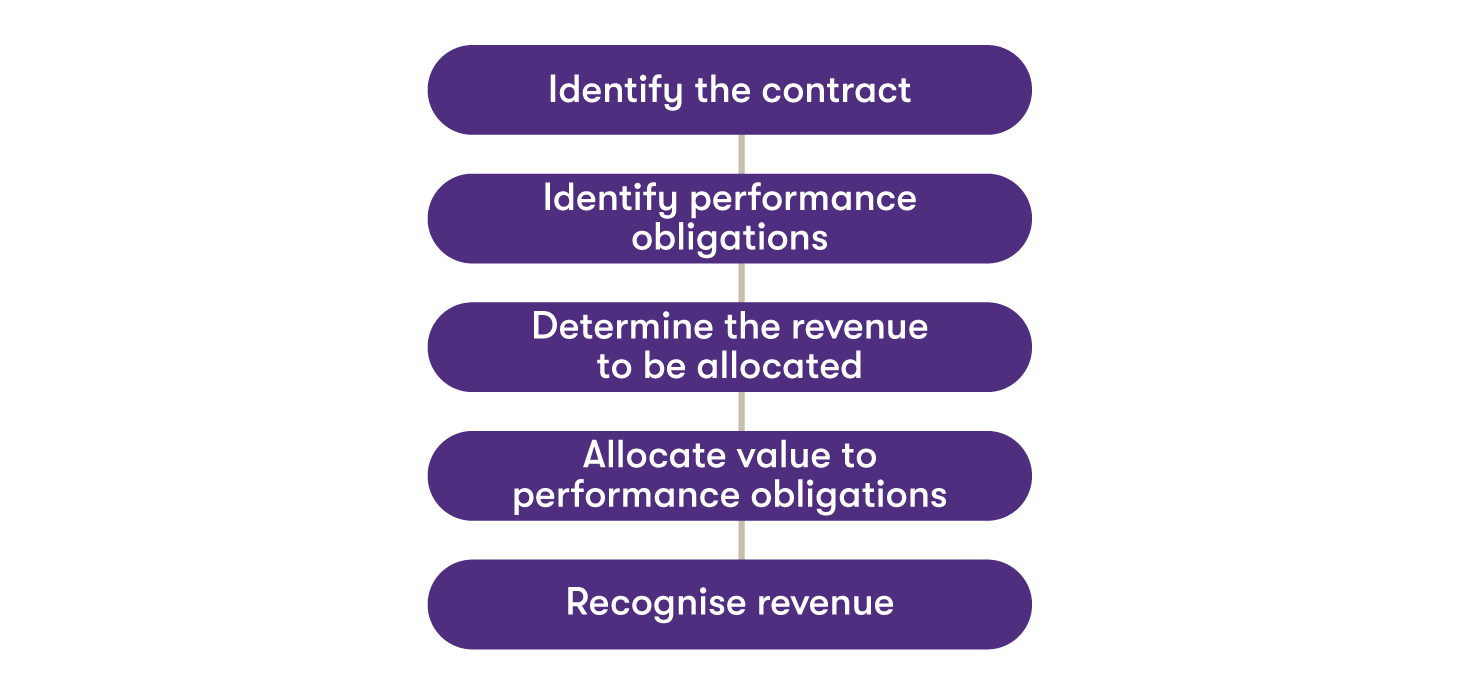 While a seemingly simple progression from one step to the next, additional complexity is introduced at each step, including:
grouping of contracts
differentiating in a contract between "promises" and "performance obligations"
measuring non-fixed consideration
measuring the relative values of each performance obligation
determining whether revenue is recognised at a point in time or overtime, and the most appropriate method of recognising revenue over time.
How we can help
Revenue transactions are recurring in nature. Any advice must address the technical ramifications of a contract or series of contracts to ensure technical accuracy, and result in policies and procedures that can be consistently and quickly applied to the financial information you generate.
Our team has multiple years of experience in applying the new framework to complex revenue recognition situations, prioritising simple and reusable outcomes.
We can help you by:
developing technical white papers
drafting revenue accounting policies
providing guidance in developing models or systems to assist in the accounting for revenue.
For some, the complexity of AASB 15 has resulted in errors in the initial application, especially where a formal assessment was not undertaken. Contracts of a new form — for example, with new revenue arrangements and/or for previously undelivered goods and services — may introduce additional complexity not previously considered.
We are commonly asked to assist with:
applying AASB 15 when other standards take precedent — especially AASB 16 Leases
measuring revenue in the presence of other contractual arrangements, especially those with governments — commonly known as Service Concession Arrangements, the AASB has issued Interpretation 12 to address such contracts
reviewing similar contracts with different customers varying between point-in-time and over-time revenue recognition, depending on specific contractual provisions
differentiating in a contract between a 'promise' and a 'performance obligation'
differentiating in a contract between 'milestones' and 'performance obligations'
measuring variable consideration – especially where significant uncertainty exists.