Grant Thornton Consulting
Our Realising Deal Value team provides practical advice to ensure the greatest possible outcome and value from business transactions.
An integrated approach to supporting your M&A journey
We work with you through all stages of the deal to maximise deal value and performance, through a robust approach to strategic planning, stakeholder engagement, value mapping and change management.
As your organisation contemplates a merger or acquisition, we will work systematically with you to ensure:
you have a clear strategy for the transaction, and a plan to maximise value
you have a stakeholder management and communication plan in order to engage with stakeholders and teams at different stages of the process
you have effectively analysed and maximised the key value drivers and synergies of the deal
you have mapped out a clear change management process that will provide a pathway to success well beyond deal close
you are in a position to manage and mitigate all identified risks
navigate the unknown, and remove pressure and distraction from management teams and business operations
Successful acquisitions require in-depth, careful management. Given the high stakes and opportunity associated with strategic transactions, it is important to have a comprehensive plan to effectively drive the process from start to finish, and ensure success beyond deal close.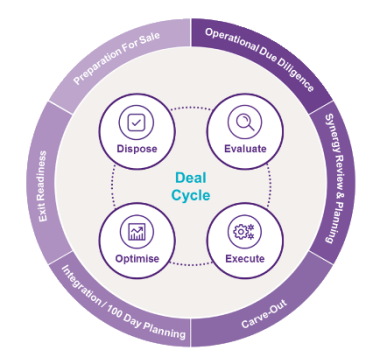 Operational due diligence - assessing the key opportunities and risks inherent in a proposed transaction for either buyers or vendors.
Synergy review – identifying the synergies that exist in a potential deal in order to lay the foundations for business integration.
Carve-out - divesting or acquiring a non-core business from within a parent company, including advising on the operational, financial and regulatory implications.
Integration - guiding the integration of an acquired business, including managing risk and maximising value in the first 100 days post-completion
Exit readiness/preparation for sale - enhancing business value through operational improvements in the critical 12-18 months before a sale