Agribusiness, food & beverage

Home
Bite Size Dealtracker
Food, Beverage & Agribusiness industry insights
Key insights for the Australian Food, Beverage & Agribusiness industry.
Royal Commission wrap up
Top 10 things for Financial Services providers
Eleven months on from the first round of hearings for the Royal Commission into Misconduct in the Banking, Superannuation and Financial Services Industry, Commissioner Hayne's final report has been released.
Health & aged care

Home
Aged Care Royal Commission
Perspectives on the Future of Ageing
Transitions in ageing are not consistent and systematic as they are described by our ageing systems. Sometimes they are incremental, sometimes accidental, sometimes monumental, and they are always personal. We can create something better.
Life sciences

Home
Biotechnology Industry Position survey
Australia's biotechnology industry drives economic growth
The 2019 Biotechnology Industry Position survey conducted by Ausbiotech and supported by Grant Thornton has revealed that new technologies across regenerative medicine and medicinal cannabis are disrupting the industry, and Australia's global strength in clinical trials continues to drive contributions to the economic and social fabric of the country.
Manufacturing

Home
mid-sized business report
Manufacturing is critical to our economy – how can we support the sector?
Although the knock-on effects of the Australian automotive industry exiting our country are yet to be fully understood, the industry is evolving, and manufacturing continues to be a major employer and critical to our overall economy.
Not for Profit

Home
NATIONAL OUTCOMES MEASUREMENT PROGRAM
A practical framework
Royal Commissions and federal budgets are critical things for Nonprofit human service providers to be thinking about at this point in time.
Real estate & construction

Home
mid-sized business report
Supporting affordable housing requires planning, certainty – and tax reform
There is a lot of noise around the property sector at the moment – and it's not all positive. Prices are down – but this shouldn't be a surprise when some markets (namely Sydney & Melbourne) saw unprecedented hikes in recent years.
Retail & consumer products

Home
GNC Group Consulting
The Technology Trap: Online innovation in retail
I recently attended the NRF Retail Big Show in New York, an overwhelming smorgasbord of retail technology and new store concepts.
Scaling-up for Growth
From start-up to scale-up
Navigating the complexities of growth and maintaining previous success is a challenge for all mid-size businesses.
Financial crises, corporate collapses, shareholder disputes and creative accounting practices have taken their toll on trust in our institutions.
Customers, communities and regulators are increasingly expecting more, and the bar continues to lift on what a good corporate citizen looks like.
In Australia, the Australian Tax Office (ATO) plays a vital role in facilitating transparency and good corporate governance, lifting business tax risk from "back of office" to become a key responsibility of company directors and the Board. Together, they must demonstrate the company has an effective, robust tax risk management and governance framework in place.
Failure to do so can result in increased ATO scrutiny which could include a detailed review of business activities and taxation positions taken, and intense scrutiny of tax systems, tax processes and tax controls.
ATO's next round of tax reviews – Private Groups.
The ATO has just announced the next business category it will focus on the 'Next 5,000 Program'. That is high wealth private groups that are Australian resident individuals who, together with their associates, control the wealth of more than $50 million. Under the Next 5,000 Program, the ATO will conduct a streamlined assurance review (SAR), which will include a review of significant activities, events and transactions of the private group. The SAR will primarily focus on income tax with possible extension to GST.
Are you ready?
Download PDF [511 kb]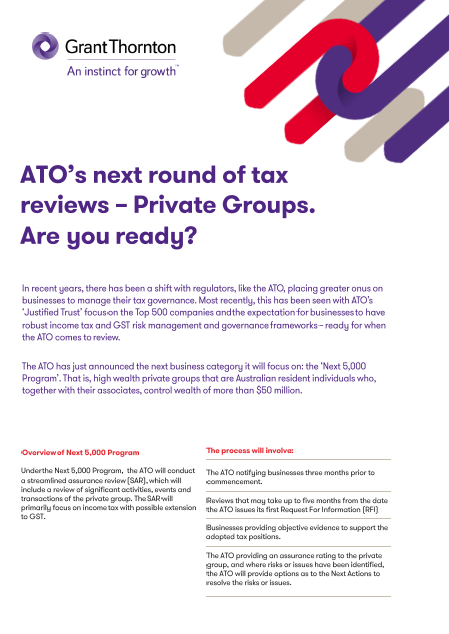 It is important to start reviewing existing processes, controls and documentation for your tax function in anticipation of increased transparency and scrutiny.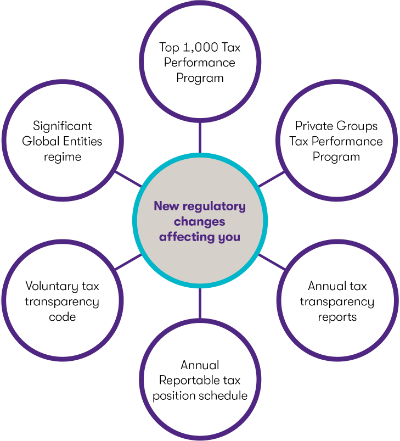 With our years of experience working with corporates, as well as many of our Partners working closely with ATO and the Tax Institute on initiatives and reform, we have a deep understanding of the ATO's decision-making process and their current policy positions.
We can work with you to establish or strengthen your company's tax governance and risk framework to help Management and the Board better identify, manage and document ongoing tax risks. A robust framework would support the company to withstand any ATO scrutiny, and mitigate the risk of extensive reviews and/or reputational damage. To do this, we can:
conduct a gap analysis of your current tax policies and procedures against the ATO's Tax Risk Management Governance Framework;

provide commercial and practical assistance in resolving key control weaknesses;

assist you with preparing or reviewing your existing tax governance framework, including advising on the relevant controls, policies, and documentation required; and

provide effective management of ATO audits and reviews.
"Justified Trust" initiative
"Justified Trust" as a concept originated from the Organisation for Economic Cooperation and Development (OECD) to help improve the levels of trust in our corporate sector.
The ATO is taking a "Justified Trust" approach when dealing with taxpayers with turnover over $50m, which involves obtaining assurance that the correct income tax and GST is being paid by taxpayers and examining the internal processes underpinning the numbers disclosed.
In doing so, the ATO wants to understand a company's tax risk management and governance framework and has provided a guide of its expectations:
Is the Board actively considering and discussing income tax and GST matters?

Does Management have the right skills and tools to maintain clear oversight of all tax risks?

Are the right policies and procedures in place, documented and followed to identify and manage tax risks as they arise?
Tax litigation, audits and reviews can exhaust a company's time and resources. It is therefore essential that these are, where possible, prevented and managed effectively.
Related content
The ATO is coming no matter your size – are you ready?
When the ATO released its updated Tax Risk Management and Governance Review Guide, it set the benchmark in terms of the accountability for tax it expects from the directors of all Australian businesses – whether large or small.
Tax governance, transparency and the marriage of accounting and tax disclosures
In a world where a company's tax payments (or lack thereof) are under increasing scrutiny, both the Australian Taxation Office (ATO) and the Australian Accounting Standard Board are now enforcing new reporting obligations that will see companies disclose their "uncertain" tax positions in their annual tax returns and financial statements.