Agribusiness, food & beverage

Home
Bite Size Dealtracker
Food, Beverage & Agribusiness industry insights
Key insights for the Australian Food, Beverage & Agribusiness industry.
Royal Commission wrap up
Top 10 things for Financial Services providers
Eleven months on from the first round of hearings for the Royal Commission into Misconduct in the Banking, Superannuation and Financial Services Industry, Commissioner Hayne's final report has been released.
Health & aged care

Home
Aged Care Royal Commission
Perspectives on the Future of Ageing
Transitions in ageing are not consistent and systematic as they are described by our ageing systems. Sometimes they are incremental, sometimes accidental, sometimes monumental, and they are always personal. We can create something better.
Life sciences

Home
Biotechnology Industry Position survey
Australia's biotechnology industry drives economic growth
The 2019 Biotechnology Industry Position survey conducted by Ausbiotech and supported by Grant Thornton has revealed that new technologies across regenerative medicine and medicinal cannabis are disrupting the industry, and Australia's global strength in clinical trials continues to drive contributions to the economic and social fabric of the country.
Manufacturing

Home
mid-sized business report
Manufacturing is critical to our economy – how can we support the sector?
Although the knock-on effects of the Australian automotive industry exiting our country are yet to be fully understood, the industry is evolving, and manufacturing continues to be a major employer and critical to our overall economy.
Not for Profit

Home
NATIONAL OUTCOMES MEASUREMENT PROGRAM
A practical framework
Royal Commissions and federal budgets are critical things for Nonprofit human service providers to be thinking about at this point in time.
Real estate & construction

Home
mid-sized business report
Supporting affordable housing requires planning, certainty – and tax reform
There is a lot of noise around the property sector at the moment – and it's not all positive. Prices are down – but this shouldn't be a surprise when some markets (namely Sydney & Melbourne) saw unprecedented hikes in recent years.
Retail & consumer products

Home
GNC Group Consulting
The Technology Trap: Online innovation in retail
I recently attended the NRF Retail Big Show in New York, an overwhelming smorgasbord of retail technology and new store concepts.
Scaling-up for Growth
From start-up to scale-up
Navigating the complexities of growth and maintaining previous success is a challenge for all mid-size businesses.
Started in 1968, Special Olympics is a world-wide movement and the largest sporting organisation for people with intellectual disabilities.
The organisation uses sport to open the hearts and minds of people and to change perceptions about people with intellectual disabilities.
Over the course of the year Special Olympics provides weekly training across a variety of different sports, monthly games, quarterly competitions and annual national competitions in addition to sending athletes to compete at World Games every four years.
As a Not-for-Profit organisation, they are reliant on corporate sponsorships, donations and volunteers to continue the work they do. Not only does the Special Olympics program provide sporting opportunities for people with intellectual disabilities – it provides a network of support and friendship for a community that has traditionally been marginalised and isolated.
Our Perth office has been involved with Special Olympics for many years – both as a corporate sponsor and as volunteers at various events.
In 2018 we welcomed Special Olympics as a national partner of The Grant Thornton Foundation and in 2019 we hosted our very first Mini Olympics in our Sydney office. Eighteen athletes competed against 40 accountants, auditors and advisors across various indoor disciplines including golf, soccer, cricket and bowling. It was an opportunity to learn more about each other while bonding over the great social barrier-breaker that is sport.
There will be more Mini Olympics hosted by our offices across Australia. Our support is as much about creating opportunities for inclusion as much at is about helping to fund their programs.
Download report
Download PDF [3184 kb]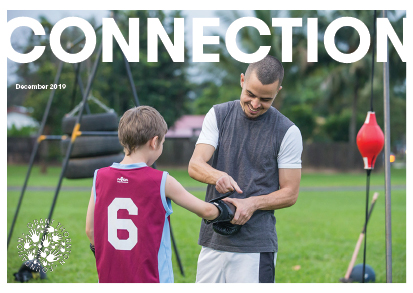 We often don't recognise the value in an hour
Cait McGowan
I was introduced to Special Olympics 22 years ago in Boise, Idaho while still in school. I partnered up with a fellow classmate and joined the Buddy Program, participating side-by-side with Erica in an upcoming sporting competition. It was my first experience of a Special Olympics event and I was amazed by how completely inclusive the organisation is – regardless of ability or disability.


When I moved to Perth five and a half years ago, one of the first things I did was reach out to my local Special Olympics branch to get involved. From that day, I have become more and more involved in the organisations in many different ways, from providing grass-roots competition to organising State events to being a part of Team Australia at World Games 2019. One of my favourite moments – and there are many small moments that make Special Olympics rewarding – was during my time at the World Games held in Abu Dhabi this year.


One of the athletes that travelled with us is autistic and non-verbal due to anxiety. This young woman is incredibly shy. But once at the Games, and surrounded by the energy and comradery that is so endearing to Special Olympics, she came out of her shell and could not stop talking and telling jokes. I remember her photobombing not just the Australian athletes, but the athletes of many other countries as well. It was an absolute joy for her parents, and for the rest of Team Australia to see this young woman at her happiest and best.


Coming from the US program, I see so much scope and potential for Special Olympics to grow in Australia. What we sometimes don't realise is the value of an hour, something so mundane to most of us. This one hour – whether spent handing out water at a sporting competition, organising donations for fundraising events, assisting in general bookkeeping or providing grass-roots support at weekly training – can mean the world to these athletes who would otherwise have no interaction with people outside of the organisation. More than that, this hour is greeted by people who are genuinely happy and excited to have you there. So, what if you don't have an hour to spare? A small monthly donation can help to provide sporting equipment and venue hire to keep programs running throughout the year. Again, this small donation may seem so minor but when multiplied by many people over the course of the year can be the difference in keeping the program running.


I would encourage anyone to participate and support in any way they can. Every little bit helps and every hour is precious.