Agribusiness, food & beverage

Home
Bite Size Dealtracker
Food, Beverage & Agribusiness industry insights
Key insights for the Australian Food, Beverage & Agribusiness industry.
Royal Commission wrap up
Top 10 things for Financial Services providers
Eleven months on from the first round of hearings for the Royal Commission into Misconduct in the Banking, Superannuation and Financial Services Industry, Commissioner Hayne's final report has been released.
Health & aged care

Home
Aged Care Royal Commission
Perspectives on the Future of Ageing
Transitions in ageing are not consistent and systematic as they are described by our ageing systems. Sometimes they are incremental, sometimes accidental, sometimes monumental, and they are always personal. We can create something better.
Life sciences

Home
Biotechnology Industry Position survey
Australia's biotechnology industry drives economic growth
The 2019 Biotechnology Industry Position survey conducted by Ausbiotech and supported by Grant Thornton has revealed that new technologies across regenerative medicine and medicinal cannabis are disrupting the industry, and Australia's global strength in clinical trials continues to drive contributions to the economic and social fabric of the country.
Manufacturing

Home
mid-sized business report
Manufacturing is critical to our economy – how can we support the sector?
Although the knock-on effects of the Australian automotive industry exiting our country are yet to be fully understood, the industry is evolving, and manufacturing continues to be a major employer and critical to our overall economy.
Not for Profit

Home
NATIONAL OUTCOMES MEASUREMENT PROGRAM
A practical framework
Royal Commissions and federal budgets are critical things for Nonprofit human service providers to be thinking about at this point in time.
Real estate & construction

Home
mid-sized business report
Supporting affordable housing requires planning, certainty – and tax reform
There is a lot of noise around the property sector at the moment – and it's not all positive. Prices are down – but this shouldn't be a surprise when some markets (namely Sydney & Melbourne) saw unprecedented hikes in recent years.
Retail & consumer products

Home
GNC Group Consulting
The Technology Trap: Online innovation in retail
I recently attended the NRF Retail Big Show in New York, an overwhelming smorgasbord of retail technology and new store concepts.
Scaling-up for Growth
From start-up to scale-up
Navigating the complexities of growth and maintaining previous success is a challenge for all mid-size businesses.
Sian Sinclair on the outlook for real estate & construction
The global economy has entered another period of uncertainty, with the Greek elections threatening to reignite the eurozone crisis and the dramatic fall in the oil price spooking markets. However, key fundamentals such as strong growth forecasts in major markets such as India, the UK and US, a rising and more mobile world population, combined with rapid urbanisation suggest the long-term outlook for the real estate & construction sector in 2015 is positive.
Business leaders in the sector remain buoyant according to our International Business Report, a quarterly global confidence barometer. Expectations for increased revenues have averaged 51% over the past 12 months, up from 48% in 2013 and 38% in 2012. Accordingly, hiring and investment plans have also ticked upwards. The proportion of businesses citing a shortage of orders fell again, down to 34%, from 35% and 40% in 2013 and 2012 respectively. The financial crisis hit the sector disproportionately hard and consequently, the recovery has taken some time. Our indicators are showing that businesses have had a renewed vigour over the past 24 months.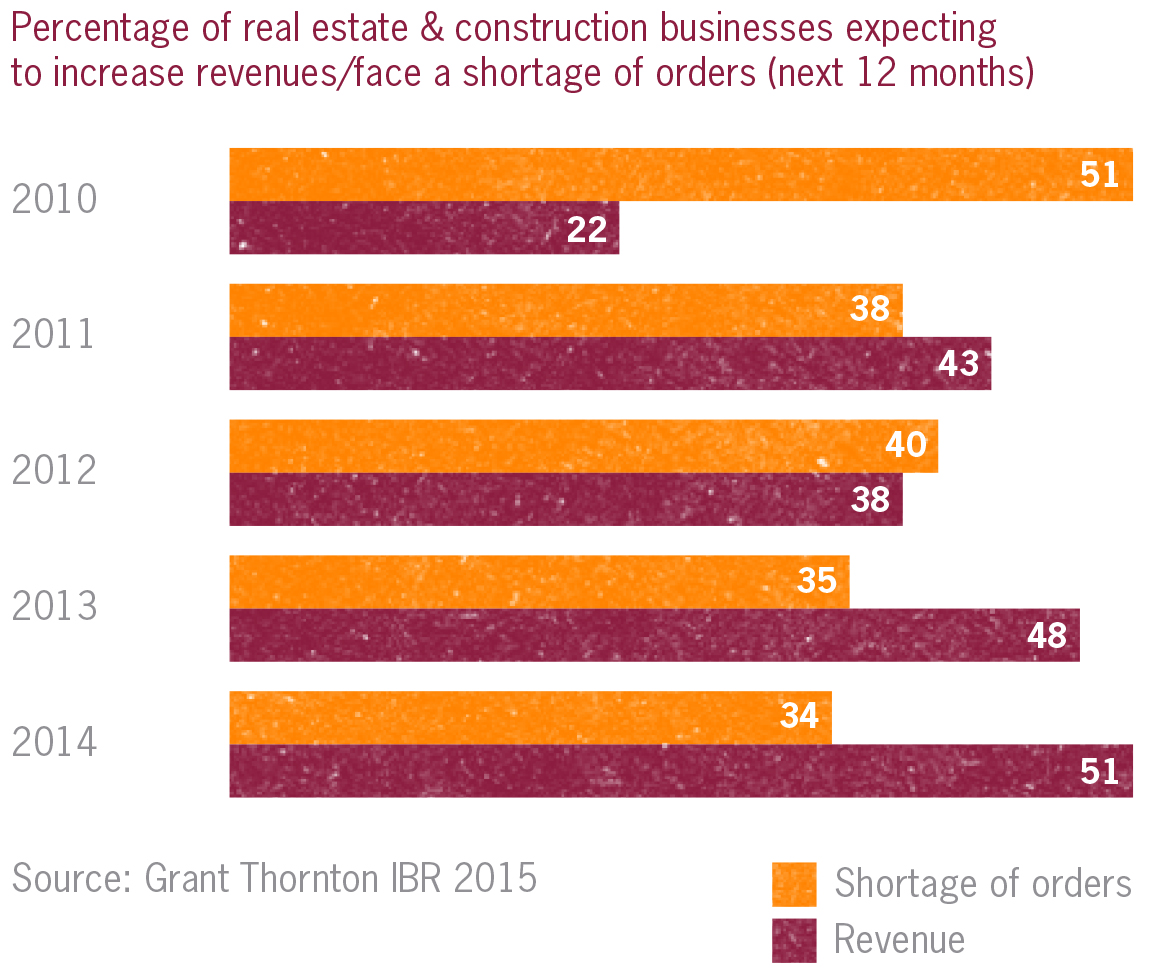 While real estate & construction businesses are not expecting to see their prices decline (net 25% of the sector plan to increase selling prices in 2015, which is marginally above the all-sector average), their profitability expectations have gone backwards in the past 12 months – down to 36%, from 41% in 2013 and the lowest since 2010. This squeeze may be driven by slowing house prices in major markets such as the eurozone (up only 0.5% year-on-year in 2014) and the US (4.3% - the slowest in two years); while China actually saw a decline of 3.6%. Of course, some markets have performed much better: UK and Ireland have seen double-digit increases (on the back of sharp downturns).
A highly leveraged sector means demand will be sensitive to monetary policy, however low inflation across much of the globe (driven in part by declining oil prices) means there is no upward pressure on interest rates in the key markets of China, Europe, the UK and US, indicating mortgage rates will stay lower for longer. The cloud on the horizon being if any of these markets slip into deflation (inflation in the eurozone stands at 0.6% excluding energy), then the long term real value of debt will rise, increasing repayment pressures on homeowners and developers.
Adding political uncertainty, weakness in the eurozone and Japanese markets into the mix and it is clear that the sector will face a number of challenges in 2015. The good news is that capital inflows into prime residential and commercial property (from Russia into Europe, and from China into Asia Pacific and elsewhere), are expected to remain strong. This will create pockets of opportunity in major cities around the world, particularly established cities such as New York, Paris and Hong Kong where urban renewal is generating desirable investment opportunities. Dynamic businesses should be looking at how to tap into these opportunities. It seems the risk-reward trade-off from property investment could reach new heights in 2015.