Agribusiness, food & beverage

Home
Bite Size Dealtracker
Food, Beverage & Agribusiness industry insights
Key insights for the Australian Food, Beverage & Agribusiness industry.
Royal Commission wrap up
Top 10 things for Financial Services providers
Eleven months on from the first round of hearings for the Royal Commission into Misconduct in the Banking, Superannuation and Financial Services Industry, Commissioner Hayne's final report has been released.
Health & aged care

Home
Aged Care Royal Commission
Perspectives on the Future of Ageing
Transitions in ageing are not consistent and systematic as they are described by our ageing systems. Sometimes they are incremental, sometimes accidental, sometimes monumental, and they are always personal. We can create something better.
Life sciences

Home
Biotechnology Industry Position survey
Australia's biotechnology industry drives economic growth
The 2019 Biotechnology Industry Position survey conducted by Ausbiotech and supported by Grant Thornton has revealed that new technologies across regenerative medicine and medicinal cannabis are disrupting the industry, and Australia's global strength in clinical trials continues to drive contributions to the economic and social fabric of the country.
Manufacturing

Home
mid-sized business report
Manufacturing is critical to our economy – how can we support the sector?
Although the knock-on effects of the Australian automotive industry exiting our country are yet to be fully understood, the industry is evolving, and manufacturing continues to be a major employer and critical to our overall economy.
Not for Profit

Home
NATIONAL OUTCOMES MEASUREMENT PROGRAM
A practical framework
Royal Commissions and federal budgets are critical things for Nonprofit human service providers to be thinking about at this point in time.
Real estate & construction

Home
mid-sized business report
Supporting affordable housing requires planning, certainty – and tax reform
There is a lot of noise around the property sector at the moment – and it's not all positive. Prices are down – but this shouldn't be a surprise when some markets (namely Sydney & Melbourne) saw unprecedented hikes in recent years.
Retail & consumer products

Home
GNC Group Consulting
The Technology Trap: Online innovation in retail
I recently attended the NRF Retail Big Show in New York, an overwhelming smorgasbord of retail technology and new store concepts.
Scaling-up for Growth
From start-up to scale-up
Navigating the complexities of growth and maintaining previous success is a challenge for all mid-size businesses.
Every year we spend time interviewing our clients to better understand their businesses and what concerns them most. This includes the significant number of clients we serve in the food and beverage sector, which continues to be a dynamic market with significant opportunities for growth both within Australia and overseas.
In FY18 our clients in the food and beverage sector revealed their top three concerns were related to risk and regulation, operations, and talent management.

While at face level this isn't dissimilar to what we've heard from clients in other sectors (risk and regulation being the number one issue across the board, thanks to political uncertainty and increased regulatory requirements), the specific nature of these concerns is aligned to the unique attributes of the food and beverage sector.
When it comes to operations for example, food and beverage client concerns included rising energy costs, challenges of technology adoption, and managing an environment rife with M&A (merger and acquisition) activity.
Food and beverage manufacturers, who typically have high energy consumption requirements, have been subject to rising energy costs that have in turn impacted profitability. The continuing diversification in the energy sector – including alternative sources of energy – over the next five years may help ease at least some of the pain.
Automation also presents challenges for food and beverage clients. While digital transformation is easier to adopt for data entry work, or within distribution warehouses (if you haven't seen footage of the robots at the Alibaba warehouse then I highly recommend you Google), automation adoption by the food and beverage sector is slower for various reasons, including variability of raw materials and sanitation requirements. Industry 4.0 is, however, providing the required 'industrial revolution', and governments (state and commonwealth) continue to focus policy in support of industry investment in advanced manufacturing technology.
Our Business to Government team has successfully identified and secured government co-funding for a number of exciting food and beverage plant investments in FY18.
Finally managing growth and market position is particularly challenging, given the food and beverage sector has been one of the most active sectors in terms of M&A in Australia. We're seeing consolidation and growth within Australia as a primary driver, with numerous clients targeting offshore opportunities once scale and efficiencies have been achieved.
Australia's reputation for quality food and beverages, both in bulk and premium produce, means there is plenty of appetite for Australian goods – particularly from our Asian neighbours, who in 2017 accounted for 63% of our food and beverage exports.
Our advice for any of our clients in the sector looking at M&A is to get your house in order. Ensure your corporate structure is simplified, your tax structure is efficient and you have the right people in the right jobs. We can certainly advise you on all of this, as well as the best ways to enter new international markets, or leverage government funding support.
Thank you to all of the clients that we have interviewed in FY18. If you have any questions about the trends impacting the food and beverage sector, or how we can support your growth strategy, please feel free to drop me a line.
Federal Budget
A focus on sovereign capability could transform the agribus
Australia produces a lot of food. We are a unique market in that we cannot consume everything that we produce – we must export.
Read full article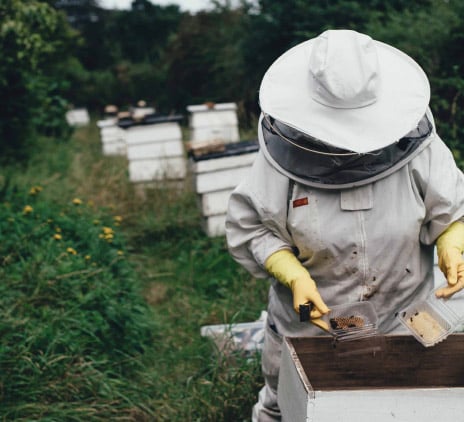 WATCH ON-DEMAND
Cultivating growth
Despite generational droughts, floods, trade wars and global pandemics, the Australian agribusiness, food & beverage sector has been remarkably resilient – and regularly, the envy of the world.
Read full article