Agribusiness, food & beverage

Home
Bite Size Dealtracker
Food, Beverage & Agribusiness industry insights
Key insights for the Australian Food, Beverage & Agribusiness industry.
Royal Commission wrap up
Top 10 things for Financial Services providers
Eleven months on from the first round of hearings for the Royal Commission into Misconduct in the Banking, Superannuation and Financial Services Industry, Commissioner Hayne's final report has been released.
Health & aged care

Home
Aged Care Royal Commission
Perspectives on the Future of Ageing
Transitions in ageing are not consistent and systematic as they are described by our ageing systems. Sometimes they are incremental, sometimes accidental, sometimes monumental, and they are always personal. We can create something better.
Life sciences

Home
Biotechnology Industry Position survey
Australia's biotechnology industry drives economic growth
The 2019 Biotechnology Industry Position survey conducted by Ausbiotech and supported by Grant Thornton has revealed that new technologies across regenerative medicine and medicinal cannabis are disrupting the industry, and Australia's global strength in clinical trials continues to drive contributions to the economic and social fabric of the country.
Manufacturing

Home
mid-sized business report
Manufacturing is critical to our economy – how can we support the sector?
Although the knock-on effects of the Australian automotive industry exiting our country are yet to be fully understood, the industry is evolving, and manufacturing continues to be a major employer and critical to our overall economy.
Not for Profit

Home
NATIONAL OUTCOMES MEASUREMENT PROGRAM
A practical framework
Royal Commissions and federal budgets are critical things for Nonprofit human service providers to be thinking about at this point in time.
Real estate & construction

Home
mid-sized business report
Supporting affordable housing requires planning, certainty – and tax reform
There is a lot of noise around the property sector at the moment – and it's not all positive. Prices are down – but this shouldn't be a surprise when some markets (namely Sydney & Melbourne) saw unprecedented hikes in recent years.
Retail & consumer products

Home
GNC Group Consulting
The Technology Trap: Online innovation in retail
I recently attended the NRF Retail Big Show in New York, an overwhelming smorgasbord of retail technology and new store concepts.
Scaling-up for Growth
From start-up to scale-up
Navigating the complexities of growth and maintaining previous success is a challenge for all mid-size businesses.
On Friday, 24 May 2019, Grant Thornton Australia was awarded Bronze Employer Status in the Australian Workplace Equality Index (AWEI) – the national benchmarking instrument for LGBTI+ inclusion within Australian workplaces.
This is the first time Grant Thornton has qualified for Bronze Employer recognition – and is a testament to an active and passionate PRISM network that helps to drive awareness and initiatives for our LGBTI+ and Ally community.
"I'm incredibly proud of our PRISM network – in the last 12 months we have held more events internally, as well as attending more events externally to learn from our peers about how we can continue to foster an inclusive workplace that embraces and encourages diversity of all kinds," Greg Keith, CEO Grant Thornton Australia, said.
PRISM boasts over 300 members since its inception in August. Each of our offices has a PRISM lead coordinating events, advocating for improvement in the workplace and creating a safe and confidential space where people can access support from their peers. We also recently hosted our first Interfirm professional networking event in our Melbourne office, with peers across the market hearing from Zac Murphy-Draper, the Melbourne Operations Officer of Wear it Purple, who shared insights into Wear It Purple's mission and impact on the community.
Each year, the threshold to qualify in each tier climbs, in line with best practice and the increasing number of participating companies and small businesses in the Index. We're proud to be joining our contemporaries in the Bronze tier, including a number of professional services firms.
"Indexes like the AWEI are so important to help people identify workplaces where they will be welcomed and they can thrive. We will continue to invest in our people and our communities to ensure that every person can be comfortable being themselves, and have a fulfilling and long career at Grant Thornton," Greg Keith said.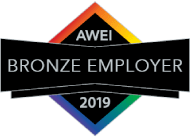 - ends -
Further enquiries, please contact:
Therese Raft
National Communications Manager
Grant Thornton Australia
T +61 2 8297 2724
E therese.raft@au.gt.com