Agribusiness, food & beverage

Home
Bite Size Dealtracker
Food, Beverage & Agribusiness industry insights
Key insights for the Australian Food, Beverage & Agribusiness industry.
Royal Commission wrap up
Top 10 things for Financial Services providers
Eleven months on from the first round of hearings for the Royal Commission into Misconduct in the Banking, Superannuation and Financial Services Industry, Commissioner Hayne's final report has been released.
Health & aged care

Home
Aged Care Royal Commission
Perspectives on the Future of Ageing
Transitions in ageing are not consistent and systematic as they are described by our ageing systems. Sometimes they are incremental, sometimes accidental, sometimes monumental, and they are always personal. We can create something better.
Life sciences

Home
Biotechnology Industry Position survey
Australia's biotechnology industry drives economic growth
The 2019 Biotechnology Industry Position survey conducted by Ausbiotech and supported by Grant Thornton has revealed that new technologies across regenerative medicine and medicinal cannabis are disrupting the industry, and Australia's global strength in clinical trials continues to drive contributions to the economic and social fabric of the country.
Manufacturing

Home
mid-sized business report
Manufacturing is critical to our economy – how can we support the sector?
Although the knock-on effects of the Australian automotive industry exiting our country are yet to be fully understood, the industry is evolving, and manufacturing continues to be a major employer and critical to our overall economy.
Not for Profit

Home
NATIONAL OUTCOMES MEASUREMENT PROGRAM
A practical framework
Royal Commissions and federal budgets are critical things for Nonprofit human service providers to be thinking about at this point in time.
Real estate & construction

Home
mid-sized business report
Supporting affordable housing requires planning, certainty – and tax reform
There is a lot of noise around the property sector at the moment – and it's not all positive. Prices are down – but this shouldn't be a surprise when some markets (namely Sydney & Melbourne) saw unprecedented hikes in recent years.
Retail & consumer products

Home
GNC Group Consulting
The Technology Trap: Online innovation in retail
I recently attended the NRF Retail Big Show in New York, an overwhelming smorgasbord of retail technology and new store concepts.
Scaling-up for Growth
From start-up to scale-up
Navigating the complexities of growth and maintaining previous success is a challenge for all mid-size businesses.
A retailer based in an area that is likely to be rezoned within three years has had their property valued at a current market rate of $20 million. An analysis on the property has added up to $20 million to the value should it be marketed as a residential development site. This is a prime example of where a retailer can create enormous opportunity through a joint venture development.
Download the full article
Download PDF [6075 kb]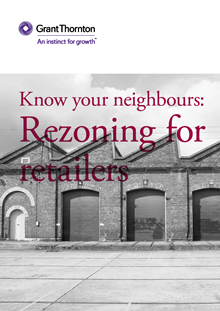 John Elvy
A Grant Thornton Australia property and construction advisor. A real estate and development professional for over 40 years, John advises on property investment strategies, project development and building national and international property networks.
Angela Spowart
A partner specialising in the retail sector with Grant Thornton Australia. She spoke with John about the impact of property rezoning and how retailers should be thinking innovatively to capitalise and get ahead of the game before it's too late.
Angela: When we last spoke you mentioned the rezoning of existing outer-city industrial areas to residential. In particular you mentioned Waterloo and Rosebery, the fashion district of Sydney where a lot of big name retailers are located. Could you explain what the rezonings mean for these retailers?
John: In New South Wales the Roseberry/ Alexandria/Waterloo/Mascot area has become far more residential in the past five years, and this is due to people's desire to live closer to the city and to transport hubs. Therefore, developers are prepared to pay far more for a site that's currently zoned industrial, with the intention to develop it as a residential site in the future. Similar cases are happening across the country.
What areas are undergoing similar zoning changes in other states?
Melbourne east is starting to transform from being historically an industrial area to a more residential area. Places like Templestowe, Doncaster and Lower Plenty. Those areas will go through a similar transformation. Brisbane and suburbs to the north and south are also being transformed. Housing demand is strong in the inner Brisbane suburbs and the city. The Sunshine and Gold Coast markets have improved and seem to continually attract lifestyle residents and investors. These areas are going to have a greater value being residential than they would being industrial spaces.
When are these rezonings going to happen?
I don't have a crystal ball, but I can assure you the way the Roseberry/Alexandria/ Waterloo/ Mascot areas have been tracking in the last five years, they will eventually end up as residential environments.
So what does that mean for retailers currently located in these areas?
Retailers need to plan now because in two to three years' time, their options will be limited. By understanding what's happening now, what will happen and what their options are, retailers can get ahead and seek future capital growth.
So what exactly do retailers need to do?
Well, there are a couple of opportunities here. Firstly, those who own property should consider their growth strategy. For example, do they want to increase capital for re-investment into the business by selling the property and leasing back? Or is it better to hold off for an opportunity to sell the property to a developer for a premium at a later date, taking all other
factors into consideration? They also have the option of redeveloping the site themselves, either in their own right, or in a joint venture. One scenario is they contribute their site and have the developer take the risk; the end result being that they get market value for their land, plus a share of the development profit.
And for lessees?
Those who lease their property have the downside of being forced out of it at the end of a lease. However, this can potentially be turned around by investing in the property now to secure short-term facilities and a greater return on capital in the longer term.
Lessees also have another potential advantage in that the lessor may make an attractive financial offer to terminate the lease. Lessees are not obliged to move out until the lease term expires, and if the lease has an option, the lessee has the added comfort of extending the time before the owner can take possession.
Is there anything else retailers need to consider in their office and warehousing locations?
Yes. As we know, property is a cycle and the cycle will continue again in a new location. If retailers have sold or are priced out of their existing location, they should consider where the next hot spot will be. Do they want to move to where the new fashion hub will be? Do they want to move to a location which will be rezoned residential to create the greatest capital growth? It is possible to do both.
So can you give us any hints as to where these locations will be?
While I don't know the exact locations, new and planned infrastructure is a major key. In Sydney the M2, the M5 and the M7 are examples of how major transport links influence the relocation of businesses and assist in opening up new land for housing. Once those transport corridors are built they add immediate value to surrounding properties. So look for areas that have easy access. Many industrial areas close to motorway entrances and exits will one day be prime residential areas.
Alternatively, look where population is centred, or where the major business districts are. The outskirts of these will be industrial areas, which will become future residential areas as the population grows and people seek to move closer to these growing business areas. This is currently occurring in the Penrith region in NSW.
Are you brave enough to predict the next fashion capital of Sydney?
The next major hub is Parramatta. It's in a major growth phase right now; it's identified as Sydney's second CBD, and in the next five years it will be a very substantial business precinct. Penrith, Campbelltown and Liverpool will follow. Newcastle is going to go through the roof; and the Illawarra's starting now, around Wollongong.
In closing, do you have any further insights for our readers?
Retailers should carry out a detailed evaluation of their property holdings. Whether they own or lease, what I would say to them is, assess your property commitments and investments and ask yourself these questions:
Should I sell and lease back?
Have I carried out a 'highest and best use' analysis
What are my risks?
Is there value in a redevelopment with a joint venture partner?