Agribusiness, food & beverage

Home
Bite Size Dealtracker
Food, Beverage & Agribusiness industry insights
Key insights for the Australian Food, Beverage & Agribusiness industry.
Royal Commission wrap up
Top 10 things for Financial Services providers
Eleven months on from the first round of hearings for the Royal Commission into Misconduct in the Banking, Superannuation and Financial Services Industry, Commissioner Hayne's final report has been released.
Health & aged care

Home
Aged Care Royal Commission
Perspectives on the Future of Ageing
Transitions in ageing are not consistent and systematic as they are described by our ageing systems. Sometimes they are incremental, sometimes accidental, sometimes monumental, and they are always personal. We can create something better.
Life sciences

Home
Biotechnology Industry Position survey
Australia's biotechnology industry drives economic growth
The 2019 Biotechnology Industry Position survey conducted by Ausbiotech and supported by Grant Thornton has revealed that new technologies across regenerative medicine and medicinal cannabis are disrupting the industry, and Australia's global strength in clinical trials continues to drive contributions to the economic and social fabric of the country.
Manufacturing

Home
mid-sized business report
Manufacturing is critical to our economy – how can we support the sector?
Although the knock-on effects of the Australian automotive industry exiting our country are yet to be fully understood, the industry is evolving, and manufacturing continues to be a major employer and critical to our overall economy.
Not for Profit

Home
NATIONAL OUTCOMES MEASUREMENT PROGRAM
A practical framework
Royal Commissions and federal budgets are critical things for Nonprofit human service providers to be thinking about at this point in time.
Real estate & construction

Home
mid-sized business report
Supporting affordable housing requires planning, certainty – and tax reform
There is a lot of noise around the property sector at the moment – and it's not all positive. Prices are down – but this shouldn't be a surprise when some markets (namely Sydney & Melbourne) saw unprecedented hikes in recent years.
Retail & consumer products

Home
GNC Group Consulting
The Technology Trap: Online innovation in retail
I recently attended the NRF Retail Big Show in New York, an overwhelming smorgasbord of retail technology and new store concepts.
Scaling-up for Growth
From start-up to scale-up
Navigating the complexities of growth and maintaining previous success is a challenge for all mid-size businesses.
Innovate or perish – if not the motto for the Technology & Media sector, it is at least the theme song to which most businesses in this space dance to.
The sector is dynamic and fiercely competitive – and having a great product doesn't guarantee success.
In Australia, we have a wide range of businesses in the sector – from the large and established telcos through to digital start-ups. And of course, technology is pervasive. Think about your own company – even if you don't work in the sector, you are using technology to perform better, connect and manage your processes or provide a better client experience. Think about your home and social life – how you share and connect with friends and family, how you find that perfect recipe, research a fun family holiday. All powered by technology – and refined by algorithms that learn from your online behaviour to surface information and search results most relevant to you.
More than any other sector, technology is global – but locally we are fostering our own Technology & Media sector. It's a relatively small sector, made smaller due to our sparse population and fewer incentives to innovate and commercialise than other jurisdictions. Yet Australians are early adopters of technology and some successful technology start-ups originated on our shores, like Atlassian, Afterpay, Nearmap and Canva.
There are some unique challenges in this sector – particularly for start-ups and the mid-sized tech companies. The ability to invest in research and development, as well as a tax system that hasn't kept up with advancements in the sector can stymie companies in this space from getting to market first, and then scaling up.
Download our mid-sized business report to read the full Technology & Media insight.
Download report
Download PDF [5091 kb]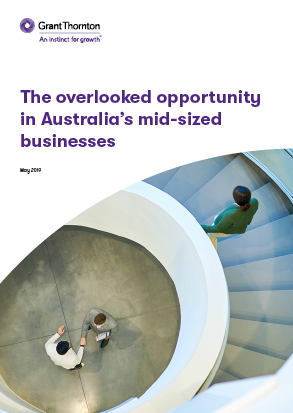 Here is a short introduction to our three recommendations to help boost the Technology & Media sector:
Access to R&D incentives and collaboration

Innovation in the tech sector is not a one-off project. It is continuous and it is constant. In the US, the top 15 companies for R&D spending were mostly from the technology sector – the top spot going to Amazon which spent US$22.6b in 2017.

Global competitiveness and a lagging tax system

Put plainly, many tech companies move overseas because they can access more funding, better incentives, and a larger market in another jurisdiction. The UK is a great example of a jurisdiction that is not only attractive to tech companies, but regularly runs programs in places like Australia to entice tech companies to move their base or list on the AIM. How can we keep Australian tech companies here?

Marrying a great product with great marketing

The experience of the product, and the client experience for issue resolution, technology updates and training can all influence whether or not a product will stand the test of time.
Subscribe to receive our publications
Subscribe now to be kept up-to-date with timely and relevant insights, unique to the nature of your business, your areas of interest and the industry in which you operate.