Agribusiness, food & beverage

Home
Bite Size Dealtracker
Food, Beverage & Agribusiness industry insights
Key insights for the Australian Food, Beverage & Agribusiness industry.
Royal Commission wrap up
Top 10 things for Financial Services providers
Eleven months on from the first round of hearings for the Royal Commission into Misconduct in the Banking, Superannuation and Financial Services Industry, Commissioner Hayne's final report has been released.
Health & aged care

Home
Aged Care Royal Commission
Perspectives on the Future of Ageing
Transitions in ageing are not consistent and systematic as they are described by our ageing systems. Sometimes they are incremental, sometimes accidental, sometimes monumental, and they are always personal. We can create something better.
Life sciences

Home
Biotechnology Industry Position survey
Australia's biotechnology industry drives economic growth
The 2019 Biotechnology Industry Position survey conducted by Ausbiotech and supported by Grant Thornton has revealed that new technologies across regenerative medicine and medicinal cannabis are disrupting the industry, and Australia's global strength in clinical trials continues to drive contributions to the economic and social fabric of the country.
Manufacturing

Home
mid-sized business report
Manufacturing is critical to our economy – how can we support the sector?
Although the knock-on effects of the Australian automotive industry exiting our country are yet to be fully understood, the industry is evolving, and manufacturing continues to be a major employer and critical to our overall economy.
Not for Profit

Home
NATIONAL OUTCOMES MEASUREMENT PROGRAM
A practical framework
Royal Commissions and federal budgets are critical things for Nonprofit human service providers to be thinking about at this point in time.
Real estate & construction

Home
mid-sized business report
Supporting affordable housing requires planning, certainty – and tax reform
There is a lot of noise around the property sector at the moment – and it's not all positive. Prices are down – but this shouldn't be a surprise when some markets (namely Sydney & Melbourne) saw unprecedented hikes in recent years.
Retail & consumer products

Home
GNC Group Consulting
The Technology Trap: Online innovation in retail
I recently attended the NRF Retail Big Show in New York, an overwhelming smorgasbord of retail technology and new store concepts.
Scaling-up for Growth
From start-up to scale-up
Navigating the complexities of growth and maintaining previous success is a challenge for all mid-size businesses.
There is a lot of noise around the property sector at the moment – and it's not all positive.
Prices are down – but this shouldn't be a surprise when some markets (namely Sydney & Melbourne) saw unprecedented hikes in recent years.
The cooling activity put in place by the regulators to combat these hikes coincided with a number of other factors. A drop in foreign investor numbers due to targeted taxing of these buyers and China's currency controls, along with a banking Royal Commission, has wiped out any of the brashness that banks may have regained since the GFC and helped bring things back into line – perhaps at a quicker rate than expected.
Despite assurances from the bank that they have funding available, the current lending hurdles are higher and tax policies directly impacting property investment could mean significant change to investor outcomes. Conversely, we're seeing significant commitment for State and Federal investment in city and region shaping infrastructure. While this should buoy confidence and employment opportunities, it hasn't yet re-balanced negative market sentiment.
Download report
Download PDF [5091 kb]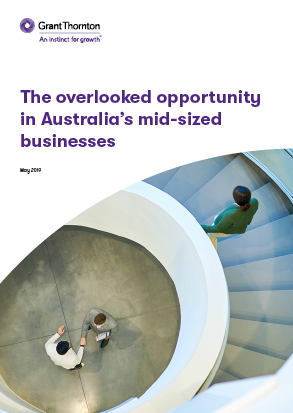 This sector is multifaceted in terms of policy – requiring cooperation between Federal, State and Local governments to achieve the right conditions for both investors and customers and to meet social needs. I don't believe anyone would say we have found the right balance yet, but the sector is resilient and continues to work with governments to innovate and adopt new ways to stimulate the market.
Mid-sized companies in this space have an important role to play, particularly creating hubs and unlocking housing opportunities outside of the major cities where the big companies tend to dominate. Take one of our clients, Springfield City Group – they have successfully created an award winning master-planned community with its own CBD, Greater Springfield in South East Queensland with a planned population of 138,000 by 2030. This project would never have been undertaken by a large multi-national, and this is why our mid-sized clients should be encouraged to thrive and innovate.
Watch Raynuha Sinnathamby, Managing Director of Springfield City Group talk about customer-centricity as a key driver of growth here
Three ways in which we can incentivise mid-sized businesses in the real estate and construction sector which will support business growth as well as community outcomes, centre around collaboration, planning and certainty.
Download our mid-sized business report to read the full Real Estate & Construction insight.
Here is a short introduction to our three recommendations to help boost the Real Estate & Construction sector:
Better planning and collaboration between the tiers of government

The availability of land, coupled with the correct planning platform and infrastructure creates a fertile environment for investment in housing and productive communities.

Put broader tax reform back on the table

In 2016 the OECD average for tax revenue from property as a percentage of GDP was 5.7%. In Australia this was 10.8%. It is time to review where our tax revenue is coming from as a nation and ensure our productive industries are appropriately sharing the tax burden.

Providing better certainty

Investment decisions around property are significant longer term decisions. From securing the right location, designing and testing the concept through to development approvals, construction, marketing and ongoing management – the process can take years and unexpected changes to legislation can alter the intended outcomes. The sector needs certainty and stability to enable it to act on opportunities confidently.
Subscribe to receive our publications
Subscribe now to be kept up-to-date with timely and relevant insights, unique to the nature of your business, your areas of interest and the industry in which you operate.