Agribusiness, food & beverage

Home
Bite Size Dealtracker
Food, Beverage & Agribusiness industry insights
Key insights for the Australian Food, Beverage & Agribusiness industry.
Royal Commission wrap up
Top 10 things for Financial Services providers
Eleven months on from the first round of hearings for the Royal Commission into Misconduct in the Banking, Superannuation and Financial Services Industry, Commissioner Hayne's final report has been released.
Health & aged care

Home
Aged Care Royal Commission
Perspectives on the Future of Ageing
Transitions in ageing are not consistent and systematic as they are described by our ageing systems. Sometimes they are incremental, sometimes accidental, sometimes monumental, and they are always personal. We can create something better.
Life sciences

Home
Biotechnology Industry Position survey
Australia's biotechnology industry drives economic growth
The 2019 Biotechnology Industry Position survey conducted by Ausbiotech and supported by Grant Thornton has revealed that new technologies across regenerative medicine and medicinal cannabis are disrupting the industry, and Australia's global strength in clinical trials continues to drive contributions to the economic and social fabric of the country.
Manufacturing

Home
mid-sized business report
Manufacturing is critical to our economy – how can we support the sector?
Although the knock-on effects of the Australian automotive industry exiting our country are yet to be fully understood, the industry is evolving, and manufacturing continues to be a major employer and critical to our overall economy.
Not for Profit

Home
NATIONAL OUTCOMES MEASUREMENT PROGRAM
A practical framework
Royal Commissions and federal budgets are critical things for Nonprofit human service providers to be thinking about at this point in time.
Real estate & construction

Home
mid-sized business report
Supporting affordable housing requires planning, certainty – and tax reform
There is a lot of noise around the property sector at the moment – and it's not all positive. Prices are down – but this shouldn't be a surprise when some markets (namely Sydney & Melbourne) saw unprecedented hikes in recent years.
Retail & consumer products

Home
GNC Group Consulting
The Technology Trap: Online innovation in retail
I recently attended the NRF Retail Big Show in New York, an overwhelming smorgasbord of retail technology and new store concepts.
Scaling-up for Growth
From start-up to scale-up
Navigating the complexities of growth and maintaining previous success is a challenge for all mid-size businesses.
Welcome to the second edition of Bite Size Dealtracker which focuses on merger and acquisition (M&A) and equity market activity in the food, beverage and agribusiness industry during the 3 and a half year period from 1 July 2014 to 31 December 2017. Our previous Bite Size Dealtracker (first edition) covered the 3 and a half year period to 30 June 2014.
"It's pleasing to see the industry continue to grow as Australian food, beverage and agribusiness assets are perceived as high quality and are able to translate well into different overseas regions.
Given the size of the Australian M&A market in comparison to other countries, Australia accounts for a proportionally large share of global M&A transactions."
- Cameron Bacon, Corporate Finance Partner
Download report
Download PDF [1560 kb]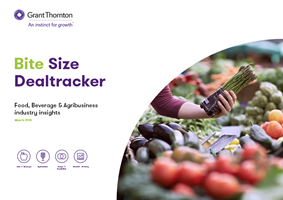 Key insights for the Australian Food, Beverage & Agribusiness industry

Strong deal activity
Total M&A deals across the globe have increased by 8.8% to 2,801 since the first edition which reported 2,575 deals. Not only are global deal volumes stronger as time goes on, but also the deal transaction multiples are increasing.
Australia continued to rank fifth in the world for M&A deal activity. The top 10 global deals during this period are shared between acquisitions of US and UK based businesses. No Australian transactions made this list.

There has been significant IPO activity in Australia and throughout the Asia Pacific region. Australia ranks third for Global IPOs with a total of 16 IPOs and 2 of those making the Top 10 Global IPOs.

Continued flow of overseas acquirers
We are continuing to see interest from overseas purchasers, particularly from China, Hong Kong, the UK and the US, as Australian brands strengthen and become more reputable in international markets.

Foreign buyers continue to acquire larger mid-sized businesses and are willing to pay healthy multiples to secure premium strategic assets, pushing up transaction prices. Asia Pacific investor interest continues to increase as there is a growing demand from the rising Asian middle class.

Activity in the private equity market
Private Equity firms accounted for 17% of overall transactions and are targeting mid-sized Australian businesses, particularly in the packaged foods & meats sub-sector, as they look to leverage premium brands, intellectual property and distribution channels into new markets across the Asian Pacific and other global regions.
Private Equity was involved with a number of the Top 10 Global Deals and the Top 10 Australian Deals.

Growing interest
We expect investor interest in the industry to continue to grow as Australian food, beverage and agribusiness assets are perceived as high quality and are able to translate well into different overseas regions. As new sector trends unfold we expect to see continued M&A activity take place in Australia's craft brewing and agriculture sectors including "free-from" and "paddock to plate" options.
Also the shift towards healthy and alternative food options continues to develop across the entire industry as the population becomes more health aware and educated about food intake and origin.