Agribusiness, food & beverage

Home
Bite Size Dealtracker
Food, Beverage & Agribusiness industry insights
Key insights for the Australian Food, Beverage & Agribusiness industry.
Consumer products & retail

Home
GNC Group Consulting
The Technology Trap: Online innovation in retail
I recently attended the NRF Retail Big Show in New York, an overwhelming smorgasbord of retail technology and new store concepts.
Royal Commission wrap up
Top 10 things for Financial Services providers
Eleven months on from the first round of hearings for the Royal Commission into Misconduct in the Banking, Superannuation and Financial Services Industry, Commissioner Hayne's final report has been released.
Health & aged care

Home
Aged Care Royal Commission
Setting the tone for the Aged Care Royal Commission
Last week's hearings for the Royal Commission into Aged Care Quality and Safety, introduced the leaders of some of Australia's peak bodies, unions, consumer organisations and the Secretary to the Department, Glenys Beauchamp. In all 26 witnesses were called.
Life sciences

Home
Biotechnology Industry Position survey
Australia's biotechnology industry drives economic growth
The 2019 Biotechnology Industry Position survey conducted by Ausbiotech and supported by Grant Thornton has revealed that new technologies across regenerative medicine and medicinal cannabis are disrupting the industry, and Australia's global strength in clinical trials continues to drive contributions to the economic and social fabric of the country.
Manufacturing

Home
mid-sized business report
Manufacturing is critical to our economy – how can we support the sector?
Although the knock-on effects of the Australian automotive industry exiting our country are yet to be fully understood, the industry is evolving, and manufacturing continues to be a major employer and critical to our overall economy.
Not for Profit

Home
NATIONAL OUTCOMES MEASUREMENT PROGRAM
A practical framework
Royal Commissions and federal budgets are critical things for Nonprofit human service providers to be thinking about at this point in time.
Real estate & construction

Home
mid-sized business report
Supporting affordable housing requires planning, certainty – and tax reform
There is a lot of noise around the property sector at the moment – and it's not all positive. Prices are down – but this shouldn't be a surprise when some markets (namely Sydney & Melbourne) saw unprecedented hikes in recent years.
Scaling-up for Growth
From start-up to scale-up
Navigating the complexities of growth and maintaining previous success is a challenge for all mid-size businesses.
FAQs
Frequently asked questions
Choosing where you'd like to work can be a big decision.
To help you understand what it's like working at Grant Thornton, we've addressed some of the questions we usually get asked.
How do I apply for a role at Grant Thornton?
What is involved in your recruitment process?
How can I update my profile and view applications I've previously submitted?
When you apply for a role at Grant Thornton, you'll need to create a profile. This will allow you to login and apply for other roles at our firm in the future. Remember to always update your profile before you apply for each role.
How can I retrieve my username and password?
If you've forgotten your username or password, there's no need to worry. Please visit this page and we'll email you the details you need.
How many placements/graduate roles are there?
Unfortunately, we don't share this information and will depend on the current recruitment needs in each location.
Do you have any tips for the Assessment Centres?
What do I do if I have a pre-existing condition which may affect my performance on the online assessments?
We are an equal opportunity employer. If you require any reasonable adjustments to progress through the recruitment process, please feel free to contact us at GTTalentScouts@au.gt.com prior to completing the assessments.
Do you offer rotation on placements?
Some of our offices do provide rotations depending on the needs of the business at the time. When you meet the People and Culture team during the assessment centre you will have an opportunity to find out whether your location has a rotation program.
Can Grant Thornton Australia sponsor me?
As a general rule our firm does not sponsor graduates who are here on student or work visas. We require applicants to have permanent residency or be Australian citizens.
Can I apply for a role outside of Australia?
Absolutely! You can apply for open positions in more than 130 countries in which we have member firms. Your eligibility will depend on what the role requires, as well as qualification and visa restrictions in the hiring countries. You can find out more about working with Grant Thornton International member firms here.
Do you have any graduate placements for support functions?
We don't have any formal student and graduate programs for non-client facing roles at the moment but it would be great if you could set up for a Job Alert so you can be notified when an opportunity becomes available.
How can I apply for a job alert?
To apply for a Job Alert you need to register with us by creating a profile with a unique username and password here. Once you have registered your profile you will be sent Job Alerts that match your profile.
What kind of people are we looking for?
When we're considering applications, we're looking for people that value the things we value.
We empower our people to make a difference. We want our people to think for themselves, to speak up, and to actively shape our firm's culture and future.
We also genuinely care about our clients. As part of our work, we discover what's important to them and enjoy helping them succeed.
We want our people to bring their whole selves to work. Individuality and authenticity is so important to our firm.
We highly value collaboration. We believe that it's energising and stimulating to collaborate – to learn from and be inspired by others. We believe that teams will always outperform the individual.
We're looking for people who are curious, ambitious and who share our values.
How will Grant Thornton help me to develop my career?
We give graduates and students significant training, development and leadership opportunities from day one. Thanks to our established in-house approach, our CA pass rates are consistently above average. We provide a comprehensive CA support program including paid study leave, mentoring, focus sessions and support material.
We also provide you a comprehensive induction and then a nationally consistent 12-month development program to unlock your potential and assist you to feel more confident as you settle into your new role.
Do I need to complete my CA if I join the graduate program?
If you join the Audit, Private Advisory or Tax teams you will be required to complete your chartered Accountants qualification. If you are joining the Financial Advisory team the requirement to complete the CA or CFA will depend on the requirements of each location and will be provided this information when you meet us at the assessment centres.
Can I apply if my degree is not major in Accounting, eg Economics or Finance?
All service lines excluding Financial Advisory require all candidates to be eligible for entry into the Chartered Accountants Australia and New Zealand CA Program upon completion of their degree. To check if your degree is eligible please click here.
What's Grant Thornton's approach to diversity and inclusion?
At our firm, we encourage our people to bring their whole selves to work. We recognise, appreciate and harness our people's individual skills and talents. And this approach helps us to create a strong and dynamic organisation.
It's a given that we treat everyone fairly and never discriminate on the basis of aspects such as ethnicity, race, religious belief (or lack of), sex, gender identity or intersex status, sexual orientation, pregnancy, family or carer's responsibilities, marital status, age or disability. But beyond that, we celebrate the breadth of experiences and perspectives that people bring to Grant Thornton – especially their diversity of experience, skills and perspectives.
Where can I go for more information?
We'd be delighted to hear from you and answer any questions you might have about the recruitment process and working at Grant Thornton. Please email the Talent Acquisition team at GTTalentScouts@au.gt.com.
Employer awards
As well as winning some prestigious industry awards, we have also been recognised as a great place to work, and to start your career.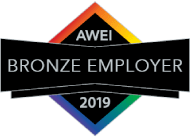 AWEI Bronze Employer 2019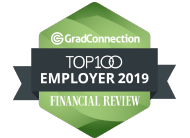 AFR Top 100 Graduate Employer 2019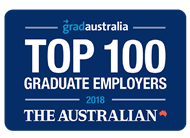 The Australian Top 100 Graduate Employers 2018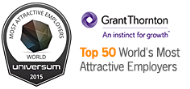 Top 50 World's Most Attractive Employers