Agribusiness, food & beverage

Home
Bite Size Dealtracker
Food, Beverage & Agribusiness industry insights
Key insights for the Australian Food, Beverage & Agribusiness industry.
Royal Commission wrap up
Top 10 things for Financial Services providers
Eleven months on from the first round of hearings for the Royal Commission into Misconduct in the Banking, Superannuation and Financial Services Industry, Commissioner Hayne's final report has been released.
Health & aged care

Home
Aged Care Royal Commission
Perspectives on the Future of Ageing
Transitions in ageing are not consistent and systematic as they are described by our ageing systems. Sometimes they are incremental, sometimes accidental, sometimes monumental, and they are always personal. We can create something better.
Life sciences

Home
Biotechnology Industry Position survey
Australia's biotechnology industry drives economic growth
The 2019 Biotechnology Industry Position survey conducted by Ausbiotech and supported by Grant Thornton has revealed that new technologies across regenerative medicine and medicinal cannabis are disrupting the industry, and Australia's global strength in clinical trials continues to drive contributions to the economic and social fabric of the country.
Manufacturing

Home
mid-sized business report
Manufacturing is critical to our economy – how can we support the sector?
Although the knock-on effects of the Australian automotive industry exiting our country are yet to be fully understood, the industry is evolving, and manufacturing continues to be a major employer and critical to our overall economy.
Not for Profit

Home
NATIONAL OUTCOMES MEASUREMENT PROGRAM
A practical framework
Royal Commissions and federal budgets are critical things for Nonprofit human service providers to be thinking about at this point in time.
Real estate & construction

Home
mid-sized business report
Supporting affordable housing requires planning, certainty – and tax reform
There is a lot of noise around the property sector at the moment – and it's not all positive. Prices are down – but this shouldn't be a surprise when some markets (namely Sydney & Melbourne) saw unprecedented hikes in recent years.
Retail & consumer products

Home
GNC Group Consulting
The Technology Trap: Online innovation in retail
I recently attended the NRF Retail Big Show in New York, an overwhelming smorgasbord of retail technology and new store concepts.
Scaling-up for Growth
From start-up to scale-up
Navigating the complexities of growth and maintaining previous success is a challenge for all mid-size businesses.
The success of Fred IT, a supplier of IT solutions for the pharmacy sector, has brought it to the tipping-point where mid-size becomes large. But as Paul Naismith, co-founder and CEO explains, the positive forces driving Fred forward come with a new set of challenges to overcome.
More details on how to overcome the challenges associated with the growth of a successful mid-size business are in our article and interview with Paul Naismith At the mid-size tipping point.
Want more information on what fast growing mid-size businesses do differently? Click here to read our Growth Engines report.
Download the full interview
Download PDF [1525 kb]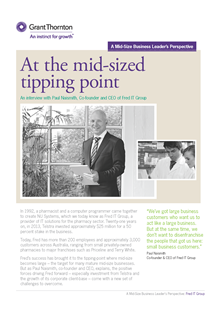 One-size-fits-all rarely works at scale
Products, services, sales, marketing and strategy all need to be customised to new markets. This requires investment, new skills, new ways of thinking and often a new structure. As Fred illustrates, no matter how hard you try to keep it simple, leaders need to fully accept an overall increase in business complexity.
Pumping one tyre, deflates another
Expanding into new customer markets becomes a priority when approaching the growth limits of existing target markets. But in chasing new customers, businesses can often neglect or alienate the customers that keep the lights on. Fred has been very conscious of this risk. As a result, they have protected their independent customer base while building their corporate client list.
Same person, different hairstyle
Scaling-up will always change your business culture but leaders have to actively shape the evolution. It is analogous to growing from teenager to young adult. Will you reinvent yourself as you mature? How much of your core identity will remain the same? It makes sense to think about the DNA of your business, about what really matters. For Fred, and many growing mid-size companies, agility, innovative thinking and entrepreneurial spirit are key things to preserve.
Mid-size business
Growth Engines
Mid-size business
Insights for mid-size businesses
Pathways to growth
Digital disruption