Agribusiness, food & beverage

Home
Bite Size Dealtracker
Food, Beverage & Agribusiness industry insights
Key insights for the Australian Food, Beverage & Agribusiness industry.
Royal Commission wrap up
Top 10 things for Financial Services providers
Eleven months on from the first round of hearings for the Royal Commission into Misconduct in the Banking, Superannuation and Financial Services Industry, Commissioner Hayne's final report has been released.
Health & aged care

Home
Aged Care Royal Commission
Perspectives on the Future of Ageing
Transitions in ageing are not consistent and systematic as they are described by our ageing systems. Sometimes they are incremental, sometimes accidental, sometimes monumental, and they are always personal. We can create something better.
Life sciences

Home
Biotechnology Industry Position survey
Australia's biotechnology industry drives economic growth
The 2019 Biotechnology Industry Position survey conducted by Ausbiotech and supported by Grant Thornton has revealed that new technologies across regenerative medicine and medicinal cannabis are disrupting the industry, and Australia's global strength in clinical trials continues to drive contributions to the economic and social fabric of the country.
Manufacturing

Home
mid-sized business report
Manufacturing is critical to our economy – how can we support the sector?
Although the knock-on effects of the Australian automotive industry exiting our country are yet to be fully understood, the industry is evolving, and manufacturing continues to be a major employer and critical to our overall economy.
Not for Profit

Home
NATIONAL OUTCOMES MEASUREMENT PROGRAM
A practical framework
Royal Commissions and federal budgets are critical things for Nonprofit human service providers to be thinking about at this point in time.
Real estate & construction

Home
mid-sized business report
Supporting affordable housing requires planning, certainty – and tax reform
There is a lot of noise around the property sector at the moment – and it's not all positive. Prices are down – but this shouldn't be a surprise when some markets (namely Sydney & Melbourne) saw unprecedented hikes in recent years.
Retail & consumer products

Home
GNC Group Consulting
The Technology Trap: Online innovation in retail
I recently attended the NRF Retail Big Show in New York, an overwhelming smorgasbord of retail technology and new store concepts.
Scaling-up for Growth
From start-up to scale-up
Navigating the complexities of growth and maintaining previous success is a challenge for all mid-size businesses.
Not for Profit entities face unique accounting challenges.
As a result, the AASB has historically issued multiple industry-specific standards to support consistent financial reporting across the industry.
Effective for years commencing on or after 1 January 2019, AASB 1058 Income of Not-for-Profit Entities was established to assist management of not-for-profit entities in recording income where AASB 15 Revenue from Contracts with Customers does not apply. AASB 1058 operates as a partial replacement for the legacy AASB 1004 Contributions that remain current in an amended form.
Generally, the appropriate standard, either AASB 1058 or AASB 15, is applied according to a decision tree. Certain entities, particularly government entities, do not have full access to the aforementioned policy choices.
Find out more
Merilyn Gwan
Head of National Assurance Quality
Contact Merilyn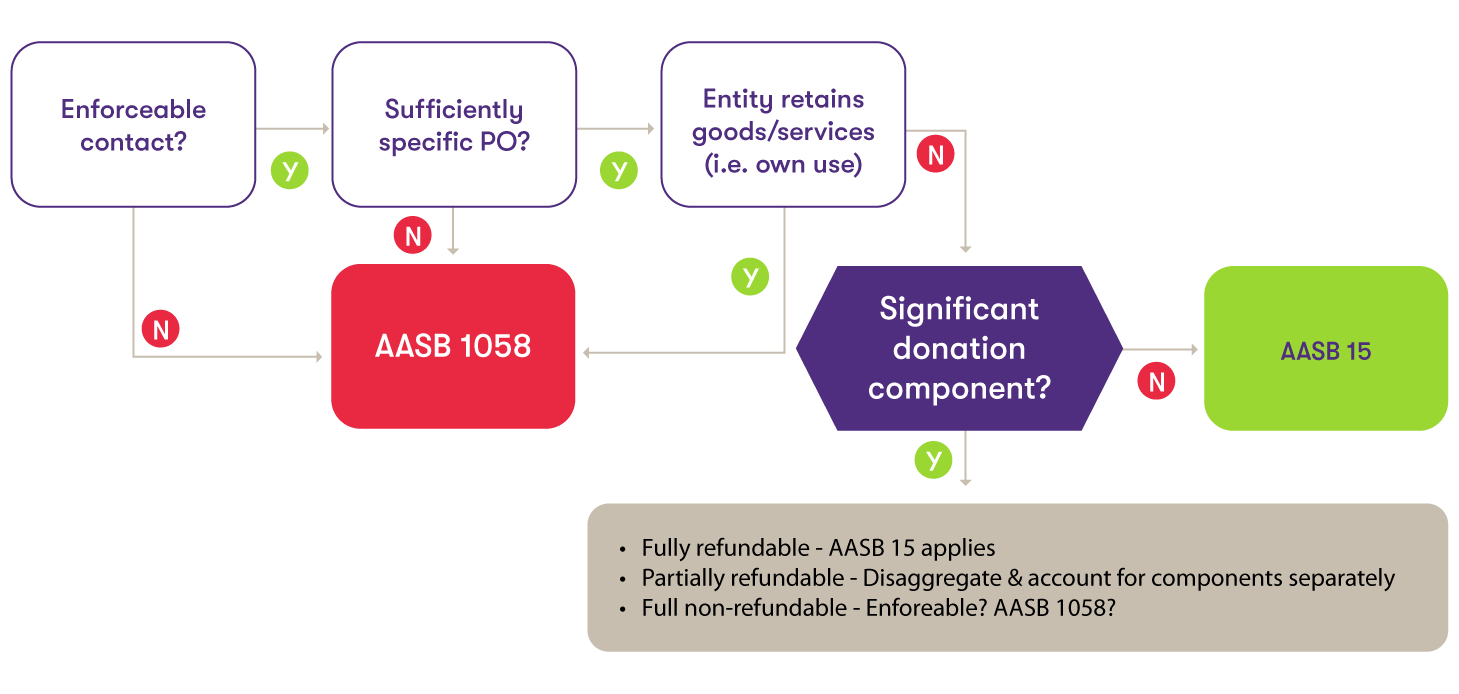 Key impacts – Timing of Revenue / Income
Certain key judgements are required within the decision tree, most especially in determining what is "sufficiently specific". Guidance on the topic is included in AASB 1058, however, complexity exists that may give rise to significant differences in the timing of revenue.
For example, consider a case where a payment is received to provide services to the community. If it is determined that the requirements for the rights to that payment are sufficiently specific – for example, the payment requires a certain number of people to be provided services – the revenue is recognised according to the requirements of AASB 15 and it is likely that the revenue will be recognised over time.
If it is determined that the rights to the payment are not sufficiently specific – for example, the only requirement is that it be spent for the betterment of the community – the income is recognised according to AASB 1058 and likely to be recognised as income upon receipt.
Specific guidance is also provided as it relates to contributions received for the explicit purpose of acquiring a non-financial asset. AASB 1058 requires, generally, that revenue be recognised as the entity satisfies its obligations under the acquisition (i.e. upon purchase of a pre-existing asset or on an over-time basis if construction is required).
Key impacts – Revenue Measurement
AASB 1058 generally requires that benefits received for the purpose of meeting the objectives of a not-for-profit entity be measured at their fair value and income recognised equal to that fair value (for example, donated assets). Certain policy decisions are available for specific topics.
Volunteer Services
Volunteer services are able (for non-government entities) to be excluded from recognition or recognised either as an expense (with commensurate revenue) or as an asset (if AASB 116 or AASB 138 applies).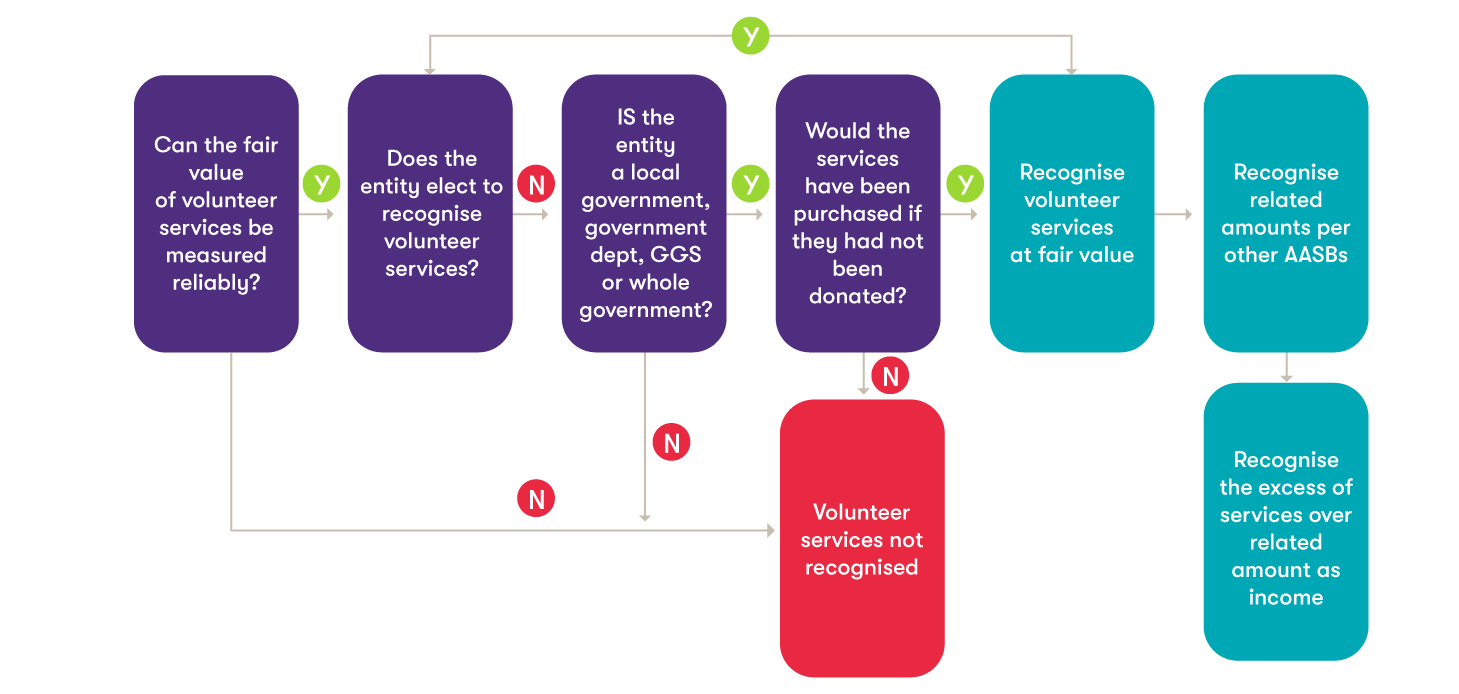 Peppercorn Leases
"Peppercorn" leases are leases entered into for payment significantly below market value. Traditionally, payment was in the form of "one peppercorn" to enable a legal contract to be established.
AASB 1058, as originally drafted, required that such non-market leases be recorded at market value with the excess benefit received being recognised as income. It was subsequently amended such that entities are able to make a policy election to either record the lease at its market value or at its contract value.
We anticipate that most entities will elect to record at contract value to minimise cost of implementation and volatility in net income.