Digital disruption has triggered a technology-driven transformation of Australia's mid-size business landscape.
The pace of change is picking up, with three out of four respondents determined to invest in strengthening their digital presence over the next three years.
67% of respondents surveyed identify technology as an ally for growth. We expect investments in enhancing efficiency and improving digital presence to increase as organisations strive for consolidation and maintaining market share. However, price tags often act as a deterrent to technology investments: cost is the top challenge faced by businesses when updating their systems.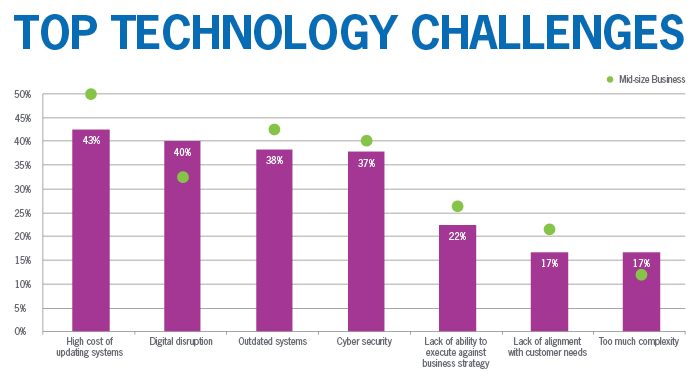 Most respondents are also cautious with regards to new technology: only 16% are currently using cloud platforms and another 15% intend to migrate all applications to the cloud over the next three years, the rest preferring established platforms and hybrid hosting models. They also privilege success on the well-established domestic market to trading abroad, with less than 12% keen on geographical expansion.
Disrupting the Status Quo, Australia's Mid-size Business Technology Landscape Report, outlines the role of technology within companies' overall growth strategy, along with digital transformation and IT investment trends.
Our findings and recommendations are based on survey results of 168 business leaders in Victoria and New South Wales, conducted between June and August 2016.

Not for Profit industry profile
Not for Profits are in a race to develop their digital savvy in order to deliver their services to an increasingly diverse and mobile audience. Smart investment guided by business imperatives will be key to success over the upcoming years.

Professional Services industry profile
The Professional Services industry displays different challenges when compared to the average. Marginally affected by digital disruption so far, firms nevertheless rate it as a top concern. They also seem more concerned with strategic issues rather than operational ones, pointing to a broader industry transformation underway.