Agribusiness, food & beverage

Home
Bite Size Dealtracker
Food, Beverage & Agribusiness industry insights
Key insights for the Australian Food, Beverage & Agribusiness industry.
Royal Commission wrap up
Top 10 things for Financial Services providers
Eleven months on from the first round of hearings for the Royal Commission into Misconduct in the Banking, Superannuation and Financial Services Industry, Commissioner Hayne's final report has been released.
Health & aged care

Home
Aged Care Royal Commission
Perspectives on the Future of Ageing
Transitions in ageing are not consistent and systematic as they are described by our ageing systems. Sometimes they are incremental, sometimes accidental, sometimes monumental, and they are always personal. We can create something better.
Life sciences

Home
Biotechnology Industry Position survey
Australia's biotechnology industry drives economic growth
The 2019 Biotechnology Industry Position survey conducted by Ausbiotech and supported by Grant Thornton has revealed that new technologies across regenerative medicine and medicinal cannabis are disrupting the industry, and Australia's global strength in clinical trials continues to drive contributions to the economic and social fabric of the country.
Manufacturing

Home
mid-sized business report
Manufacturing is critical to our economy – how can we support the sector?
Although the knock-on effects of the Australian automotive industry exiting our country are yet to be fully understood, the industry is evolving, and manufacturing continues to be a major employer and critical to our overall economy.
Not for Profit

Home
NATIONAL OUTCOMES MEASUREMENT PROGRAM
A practical framework
Royal Commissions and federal budgets are critical things for Nonprofit human service providers to be thinking about at this point in time.
Real estate & construction

Home
mid-sized business report
Supporting affordable housing requires planning, certainty – and tax reform
There is a lot of noise around the property sector at the moment – and it's not all positive. Prices are down – but this shouldn't be a surprise when some markets (namely Sydney & Melbourne) saw unprecedented hikes in recent years.
Retail & consumer products

Home
GNC Group Consulting
The Technology Trap: Online innovation in retail
I recently attended the NRF Retail Big Show in New York, an overwhelming smorgasbord of retail technology and new store concepts.
Scaling-up for Growth
From start-up to scale-up
Navigating the complexities of growth and maintaining previous success is a challenge for all mid-size businesses.
Digital disruption has triggered a technology-driven transformation of Australia's mid-size business landscape.
The pace of change is picking up, with three out of four respondents determined to invest in strengthening their digital presence over the next three years.
67% of respondents surveyed identify technology as an ally for growth. We expect investments in enhancing efficiency and improving digital presence to increase as organisations strive for consolidation and maintaining market share. However, price tags often act as a deterrent to technology investments: cost is the top challenge faced by businesses when updating their systems.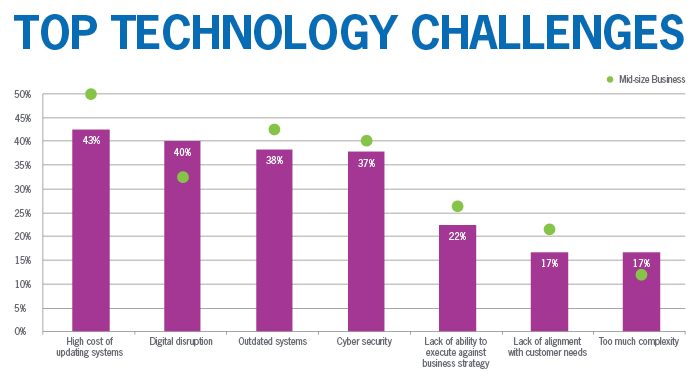 Most respondents are also cautious with regards to new technology: only 16% are currently using cloud platforms and another 15% intend to migrate all applications to the cloud over the next three years, the rest preferring established platforms and hybrid hosting models. They also privilege success on the well-established domestic market to trading abroad, with less than 12% keen on geographical expansion.
Disrupting the Status Quo, Australia's Mid-size Business Technology Landscape Report, outlines the role of technology within companies' overall growth strategy, along with digital transformation and IT investment trends.
Our findings and recommendations are based on survey results of 168 business leaders in Victoria and New South Wales, conducted between June and August 2016.
Download report below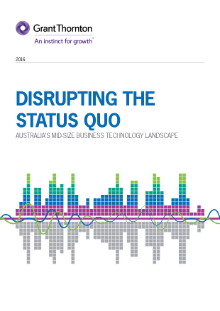 Not for Profit industry profile
Not for Profits are in a race to develop their digital savvy in order to deliver their services to an increasingly diverse and mobile audience. Smart investment guided by business imperatives will be key to success over the upcoming years.

Professional Services industry profile
The Professional Services industry displays different challenges when compared to the average. Marginally affected by digital disruption so far, firms nevertheless rate it as a top concern. They also seem more concerned with strategic issues rather than operational ones, pointing to a broader industry transformation underway.
Mid-size businesses are defined as having turnover between $10-500 million annually