Your career begins well before you finish your degree…the future is now.
Many employers specifically look for relevant work experience when they recruit university graduates. So, while you're studying, it can be valuable to gain some practical experience in a variety of fields.
At Grant Thornton, we give undergraduates like yourselves the opportunity to kick-start your career with our Vacation Experience Program. The program runs for four to six weeks, and offers opportunities across all of our service lines, like business advisory, audit, tax and private advisory. You'll need to be in your penultimate year at university to be eligible for the program.
Get busy with real work
As part of the program, you'll be given actual tasks as part of ongoing projects. You'll have regular contact with partners and clients, and you'll be given a buddy to ensure you're well supported during the program. We'll also give you training opportunities and meaningful feedback so you can build your skills and knowledge.
Build your personal and professional networks
In our program, you'll be welcomed into Grant Thornton. You'll be invited to professional and social events and given opportunities to meet people and grow your networks – including among other people on the vacation program.
Get a foot in the door
At Grant Thornton, you'll gain valuable experience that puts you a step ahead. You'll be putting your studies into practice, as well as seeing what the CA process is like. And at the conclusion of the vacation program, you may be offered a position as a new associate for when you've completed your degree.
Vacationer experience positions will open in February 2018. Check out the application process page so you are ready to apply next year, and don't forget to create an account so you can receive job alerts.
Employer awards
As well as winning some prestigious industry awards, we have also been recognised as a great place to work, and to start your career.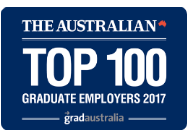 The Australian Top 100 Graduate Employers 2017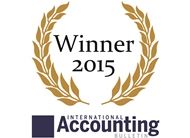 IAB Employer of the Year 2015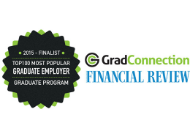 AFR Top 100 Graduate Employer 2015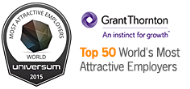 Top 50 World's Most Attractive Employers