Agribusiness, food & beverage

Home
Bite Size Dealtracker
Food, Beverage & Agribusiness industry insights
Key insights for the Australian Food, Beverage & Agribusiness industry.
Royal Commission wrap up
Top 10 things for Financial Services providers
Eleven months on from the first round of hearings for the Royal Commission into Misconduct in the Banking, Superannuation and Financial Services Industry, Commissioner Hayne's final report has been released.
Health & aged care

Home
Aged Care Royal Commission
Perspectives on the Future of Ageing
Transitions in ageing are not consistent and systematic as they are described by our ageing systems. Sometimes they are incremental, sometimes accidental, sometimes monumental, and they are always personal. We can create something better.
Life sciences

Home
Biotechnology Industry Position survey
Australia's biotechnology industry drives economic growth
The 2019 Biotechnology Industry Position survey conducted by Ausbiotech and supported by Grant Thornton has revealed that new technologies across regenerative medicine and medicinal cannabis are disrupting the industry, and Australia's global strength in clinical trials continues to drive contributions to the economic and social fabric of the country.
Manufacturing

Home
mid-sized business report
Manufacturing is critical to our economy – how can we support the sector?
Although the knock-on effects of the Australian automotive industry exiting our country are yet to be fully understood, the industry is evolving, and manufacturing continues to be a major employer and critical to our overall economy.
Not for Profit

Home
NATIONAL OUTCOMES MEASUREMENT PROGRAM
A practical framework
Royal Commissions and federal budgets are critical things for Nonprofit human service providers to be thinking about at this point in time.
Real estate & construction

Home
mid-sized business report
Supporting affordable housing requires planning, certainty – and tax reform
There is a lot of noise around the property sector at the moment – and it's not all positive. Prices are down – but this shouldn't be a surprise when some markets (namely Sydney & Melbourne) saw unprecedented hikes in recent years.
Retail & consumer products

Home
GNC Group Consulting
The Technology Trap: Online innovation in retail
I recently attended the NRF Retail Big Show in New York, an overwhelming smorgasbord of retail technology and new store concepts.
Scaling-up for Growth
From start-up to scale-up
Navigating the complexities of growth and maintaining previous success is a challenge for all mid-size businesses.
Selecting and implementing business technology, whether software applications or IT infrastructure, often leads to unexpected complications ranging from budget blowouts to a failure to meet business needs.
To have the best chance of project success, business leaders need a structured approach to IT procurement. This starts with assessing business requirements and agreeing on a coordinated plan before purchase.
Start with business strategy
"The fact is, technology alone doesn't drive profitable outcomes – business strategy does," says Alex Gelman, Lead Technology Partner at Grant Thornton. "To make the best choice for your business, align your technology strategy with your business objectives."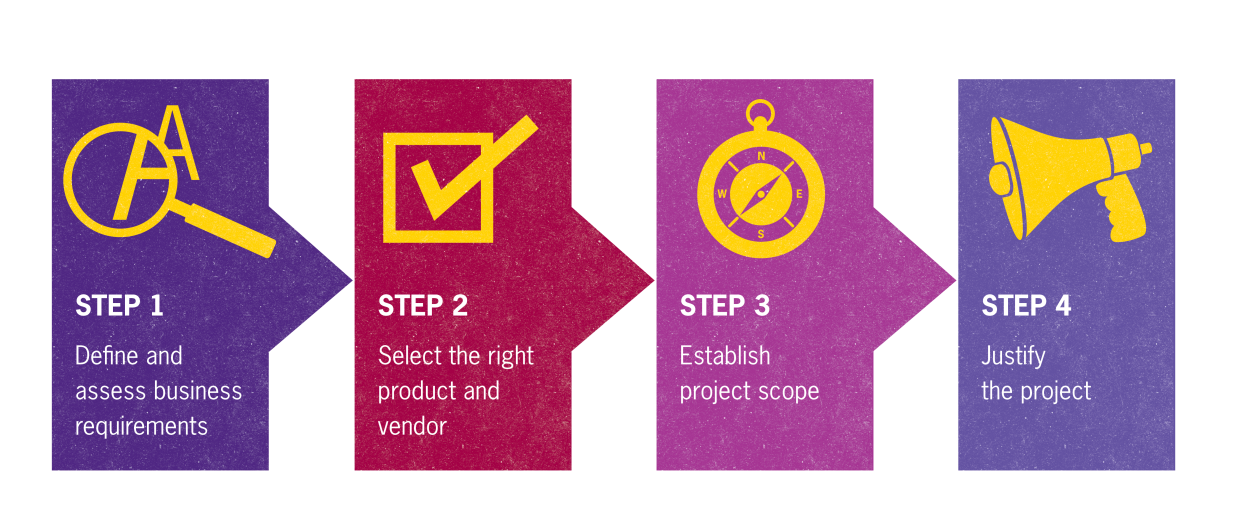 Step one: Define and assess requirements
Having considered their long-term strategy, decision-makers are ready to list, prioritise and agree on business requirements, including any specific technology needs. The best way to do this is to assess where the business is now (the current state or status quo), where it wants to be (the future state), and then create a roadmap to guide the business through this process.

The next step is to create a detailed list of requirements which then form the criteria by which to evaluate new products. The requirements should then be prioritised as mandatory, desirable or optional – this classification is critical to the selection phase. With the prioritised requirements agreed upon by stakeholders, the future state of your business technology is now defined. Now it's time to move on to selecting the right product and vendor.
Step two: Select the right product and vendor
When it comes to product selection, businesses that are unsure of their exact requirements are at a distinct disadvantage; it's easy to be swayed by charismatic sales people and dazzling presentations. In stark contrast, businesses that define and prioritise requirements are in a much stronger position to select a product that meets their short and medium-term goals.
The procurement process can be fast-tracked by using the 'vendor informed procurement' approach, which involves a shortlist of vendors demonstrating their ability to meet requirements on agreed scenarios of relevance for the business and should include a compliance column.
Step three: Establish project scope and implementation plan
The goal of the scoping or implementation planning phase is to take the outcomes of the previous two steps and include them in a proposed project plan. This has three main components:
Solution scope – this clearly defines what the solution is, which problems it will address and the chosen approach to implementation.
Resources – this document outlines the staffing, financial and technology resources required to complete the project.
Project timeline – it's important to agree upon deadlines for each implementation milestone, thus increasing the likelihood that products will be installed in time.
Step four: Justify the project
The justification phase might just be the most important step in the process. It involves producing a formal business case outlining the costs and benefits of the proposed solution and demonstrates how it will support the business' strategic goals.

At the core of the business case is a benefits analysis that demonstrates exactly why the proposed solution will help your business. The benefits fall into three categories: ongoing tangible benefits, one-off tangible benefits, and intangible benefits.

We recommend that our clients present the completed proposal to their management team or board to give them an opportunity to assess the project benefits and ask any relevant questions.
Measure twice, cut once
Whether you're choosing a new system for your whole business or solving a specific problem, make sure you're in a position to ask the right questions, get the right answers, and, ultimately, make a great choice. By following Grant Thornton's methodology, you'll be able to do just that, bringing maximum benefits to your business and taking a confident step towards achieving the business' strategic vision.