Asia is a stand-out exception to current global economic trends.
Fast growing mid-size businesses are finding ways to go global fast; rethinking business models and reinventing product and service offerings with the booming Asian market in their sights.
They also have confidence and the ability to think outside the box.
Combine this entrepreneurial spirit with the right tools, accurate information and the investment of time to explore growth opportunities, the Asian market is a pathway to growth for Australian mid-size businesses.
We've highlighted the characteristics to expand successfully into the Asian market as well as providing a clear, yet flexible process to help you match your growth expectations, products or services, and culture to the best-fitted Asian markets.
You'll find the details in our special report: Pathways to Growth: Asia. Download it now [ 170 kb ] to find out more about how an Asian expansion strategy can drive growth in your business.
Pathways to Growth: Asia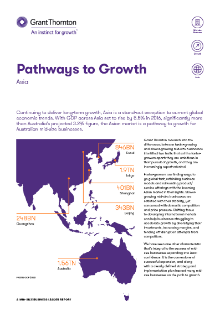 Further reading on mid-size business