Agribusiness, food & beverage

Home
Bite Size Dealtracker
Food, Beverage & Agribusiness industry insights
Key insights for the Australian Food, Beverage & Agribusiness industry.
Royal Commission wrap up
Top 10 things for Financial Services providers
Eleven months on from the first round of hearings for the Royal Commission into Misconduct in the Banking, Superannuation and Financial Services Industry, Commissioner Hayne's final report has been released.
Health & aged care

Home
Aged Care Royal Commission
Perspectives on the Future of Ageing
Transitions in ageing are not consistent and systematic as they are described by our ageing systems. Sometimes they are incremental, sometimes accidental, sometimes monumental, and they are always personal. We can create something better.
Life sciences

Home
Biotechnology Industry Position survey
Australia's biotechnology industry drives economic growth
The 2019 Biotechnology Industry Position survey conducted by Ausbiotech and supported by Grant Thornton has revealed that new technologies across regenerative medicine and medicinal cannabis are disrupting the industry, and Australia's global strength in clinical trials continues to drive contributions to the economic and social fabric of the country.
Manufacturing

Home
mid-sized business report
Manufacturing is critical to our economy – how can we support the sector?
Although the knock-on effects of the Australian automotive industry exiting our country are yet to be fully understood, the industry is evolving, and manufacturing continues to be a major employer and critical to our overall economy.
Not for Profit

Home
NATIONAL OUTCOMES MEASUREMENT PROGRAM
A practical framework
Royal Commissions and federal budgets are critical things for Nonprofit human service providers to be thinking about at this point in time.
Real estate & construction

Home
mid-sized business report
Supporting affordable housing requires planning, certainty – and tax reform
There is a lot of noise around the property sector at the moment – and it's not all positive. Prices are down – but this shouldn't be a surprise when some markets (namely Sydney & Melbourne) saw unprecedented hikes in recent years.
Retail & consumer products

Home
GNC Group Consulting
The Technology Trap: Online innovation in retail
I recently attended the NRF Retail Big Show in New York, an overwhelming smorgasbord of retail technology and new store concepts.
Scaling-up for Growth
From start-up to scale-up
Navigating the complexities of growth and maintaining previous success is a challenge for all mid-size businesses.
According to industry best practice guidance in Australian Cyber Security Centre's Essential Eight, a business's first step is to identify: what systems to protect, what information is likely to be targeted and how much protection is required.
Who is at risk? Every business is a target. Mid-sized businesses are particularly vulnerable as they are wealthy enough to be attractive without equal resources of large corporations to invest in defense.
What is the threat and potential cost to business? In IBM Security-Ponemon Institute Cost of Data Breach 2019 global report, a data breach in the last year cost on average $US3.92m ($A5.67m) and involved 25,575 records. In this study, mid-sized businesses were found to feel the effects of a breach much more sharply with average losses of more than $US2.5m ($A3.62m) on average.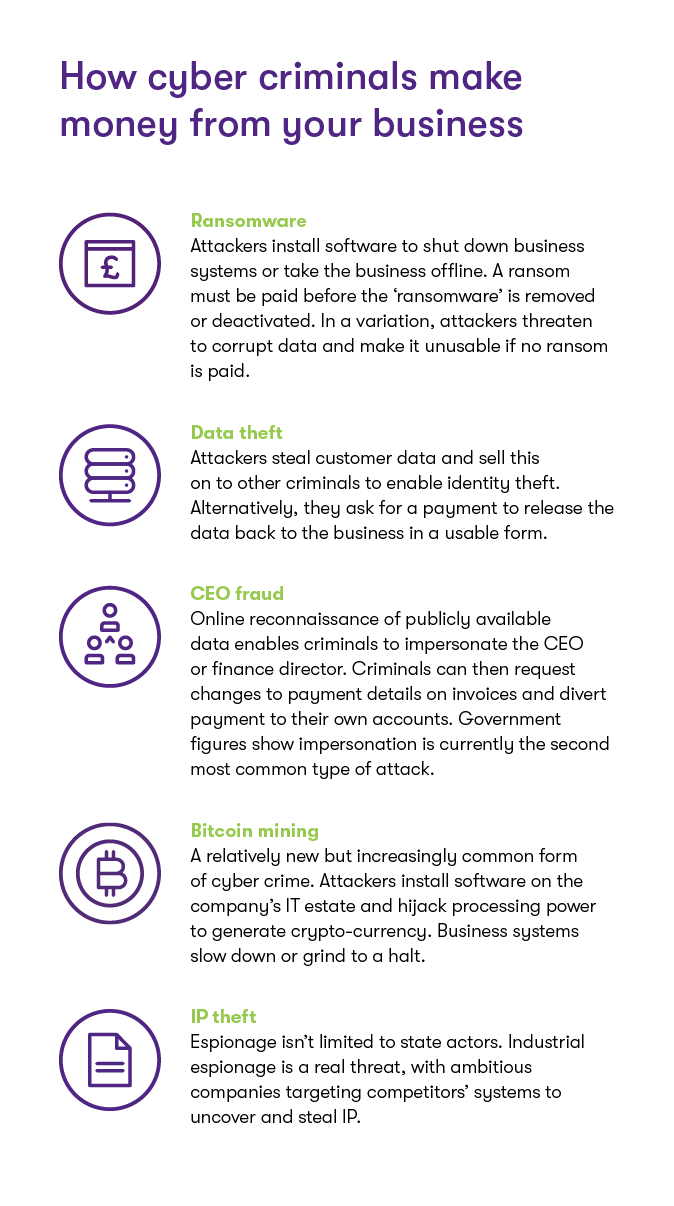 When should you undertake cybersecurity reviews? If it hasn't been done in your business, as soon as possible! A proactive approach to cybersecurity helps to prevent or contain the damage of a breach. Reviews should occur at a regular interval that is most appropriate for your business. It is best to begin with a health check or maturity review then conduct technical testing to plug any obvious gaps. With the knowledge acquired from these two assessments, you can build out a program of improvement that includes regular review intervals.
Where are you vulnerable? As noted in our UK cybersecurity report, vulnerability can stem from something as simple as not getting the basics right, such as using robust passwords. The most common causes of vulnerability are: supply chain, over-reliance on software, employees' lack of understanding of their responsibilities and roles in cybersecurity.
How you can protect yourself? Unfortunately, there is not a single solution or software to solve this. Consideration and planning for optimal protection needs to address:
People – educated staff
Process – robust, appropriate approvals and safeguards
Suppliers – a thorough understanding of what are they doing from a security perspective
Technology – designed, configured, tested, implemented and kept up to date
How we can help? Our ultimate objective is to help you prepare and protect your business against cyber risk. We provide detailed, actionable insight that incorporates industry best practice and standards so you can strengthen your cybersecurity position and make better informed commercial decisions.
So what does that actually mean in practical terms? We work with you to understand your current cybersecurity state, detect threats and implement robust defences. We train you to prepare and deal with incidents and provide technical support. Should a breach occur, in addition to the financial and reputational aspects, we help you limit the damage, establish what went wrong, resolve the situation and then work together to prevent a reoccurrence.