Agribusiness, food & beverage

Home
Bite Size Dealtracker
Food, Beverage & Agribusiness industry insights
Key insights for the Australian Food, Beverage & Agribusiness industry.
Royal Commission wrap up
Top 10 things for Financial Services providers
Eleven months on from the first round of hearings for the Royal Commission into Misconduct in the Banking, Superannuation and Financial Services Industry, Commissioner Hayne's final report has been released.
Health & aged care

Home
Aged Care Royal Commission
Perspectives on the Future of Ageing
Transitions in ageing are not consistent and systematic as they are described by our ageing systems. Sometimes they are incremental, sometimes accidental, sometimes monumental, and they are always personal. We can create something better.
Life sciences

Home
Biotechnology Industry Position survey
Australia's biotechnology industry drives economic growth
The 2019 Biotechnology Industry Position survey conducted by Ausbiotech and supported by Grant Thornton has revealed that new technologies across regenerative medicine and medicinal cannabis are disrupting the industry, and Australia's global strength in clinical trials continues to drive contributions to the economic and social fabric of the country.
Manufacturing

Home
mid-sized business report
Manufacturing is critical to our economy – how can we support the sector?
Although the knock-on effects of the Australian automotive industry exiting our country are yet to be fully understood, the industry is evolving, and manufacturing continues to be a major employer and critical to our overall economy.
Not for Profit

Home
NATIONAL OUTCOMES MEASUREMENT PROGRAM
A practical framework
Royal Commissions and federal budgets are critical things for Nonprofit human service providers to be thinking about at this point in time.
Real estate & construction

Home
mid-sized business report
Supporting affordable housing requires planning, certainty – and tax reform
There is a lot of noise around the property sector at the moment – and it's not all positive. Prices are down – but this shouldn't be a surprise when some markets (namely Sydney & Melbourne) saw unprecedented hikes in recent years.
Retail & consumer products

Home
GNC Group Consulting
The Technology Trap: Online innovation in retail
I recently attended the NRF Retail Big Show in New York, an overwhelming smorgasbord of retail technology and new store concepts.
Scaling-up for Growth
From start-up to scale-up
Navigating the complexities of growth and maintaining previous success is a challenge for all mid-size businesses.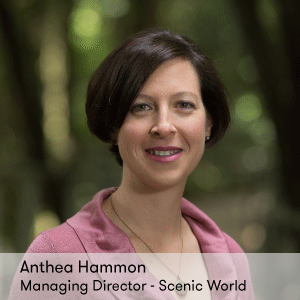 Family – and a tight-knit one at that – has always been a constant in Anthea Hammon's career journey.
As the third generation leader of Scenic World – owned and operated by Hammons Holdings which operates some of NSW's largest tourist attractions - she knows all too well that what works to keep their family strong also proves crucial to their ongoing business success.
"Strong families and successful businesses – there are definite synergies between the two," she starts. "Celebrating difference and diversity fosters a strong company culture that values its people. We have to take action to create a truly inclusive workforce by encouraging and embracing change, constantly evolving as individuals and as a team, and acknowledging each other's contributions."
It's clear these building blocks have played (and continue to play) a pivotal role in the company's journey – from Scenic World's establishment in 1945 by Anthea's grandfather, Harry Hammon, to the company we know today – operating Australia's most visited privately owned tourist attraction in the Blue Mountains that welcomes over one million people every year. Hammons Holdings also holds the 20-year contract to operate tourism activities on the Sydney Harbour Bridge after winning a competitive tender process led by the NSW Government.
Ms Hammon says that while these building blocks certainly support the business, they underpin success is their workforce - and for three generations, diversity of their workforce has been a top priority.
"Our team is the lifeblood of our business," she says.
"We're proud to have an engaged, passionate and enthusiastic workforce that's 78% female, with most leadership positions held by women. Our retention rates are well above industry standard and our staff are at the heart of our cultural journey as we continue to evolve and improve our workplace culture together."
"We treat our staff as equals and we treat our guests as equals."
This sense of equality and the diverse nature of the workforce is something Hammon believes is bringing huge benefits.
"We treat diversity as an asset and aim to create a culture that accepts all employees, embraces individuality and encourages lifelong learning," she says.
"Gender diversity isn't just good for business; our most diverse teams are often more engaged, collaborative and creative which translates to increased productivity, performance and retention."
This sense of equality and the diverse nature of the workforce is something Ms Hammon believes is bringing huge benefits.
Interestingly, the forward-thinking Ms Hammon is part of a minority of family businesses who take this approach.
According to a 2017 survey [ 2758 kb ] of Australian family businesses, women comprised a minority of leadership positions in 66.7% of businesses. Less than 2% of respondents set gender diversity targets.
Across the world the picture is similar. The World Economic Forum predicts it will take more than 200 years to close the economic gender gap globally.
For Ms Hammon though, the glass is always half full. She believes there are many ways we can take action locally to open up more routes for career development which are more 'female friendly'.
"I think it starts at the top by mentoring more women into leadership positions through targeted development programs.
"This naturally translates to a more balanced workforce because it talks to the business culture and the value of having women in leadership positions, which attracts emerging female leaders into these roles."
Easily knocking the diversity challenge on its head ("it's no challenge at all! We currently employ more women than men!") Ms Hammon believes embedding diversity in their business will likely play a starring role in preventing them from becoming a victim of statistics - family businesses in Australia account for about 80% of all businesses, but only 15% survive beyond the third generation.
"An important part of our growth strategy is embracing diversity and creating an inclusive culture – we've done it for three generations and it will help us stay on track to make the fourth generation a reality.
"A business culture needs to adapt as society changes. The need to adapt and maintain a flexible approach - not just in terms of policies, but also in reality - is essential to survival.
"For over seventy years we've taken diversity seriously. We accommodate employees' needs, and we recruit and pay according to experience, not gender. Any business that does this is making a solid investment in their company's future and in the future of the individuals they employ."
Ms Hammon makes the point that flexible working practices are key in enabling a diverse workforce and retaining talent, specifically female talent, and immediately casts her mind back to a story about her sisters.
"My two sisters felt they had no choice but to resign from their professional roles due to workplace inflexibility after maternity leave – one of them with 14-month old twins.
"This experience – among others – showed me that creating a flexible workplace is vital to retain valuable expertise.
"Flexible work practices depend on the business and the needs of its workers, so there is no one-size-fits-all approach. However, businesses really do need to try harder to support parents who are returning to work with a flexible approach that takes their unique needs into account.
She also says that promoting women in business needs vision.
"Fostering a supportive and inclusive work culture requires empathetic leadership with clear goals and vision for the future," which is something Ms Hammon tries to champion at all levels of the business.
"Our cultural journey is never-ending, but our people want to be part of the journey as a team which is great for morale and for business."
And while we may still be a few centuries away from closing the economic gender gap, Ms Hammon says there's no reason not to start promoting diversity within the workplace now.
"We all have an important role to play in helping to shift the conversation and working towards a more inclusive society that celebrates the talents of women who contribute so much vitality to our workplaces and our communities."
Champions for Action
Creating change lies within all of us
2019 Report
Women in business: building a blueprint for action
Report
Mid-sized Business Report