Agribusiness, food & beverage

Home
Bite Size Dealtracker
Food, Beverage & Agribusiness industry insights
Key insights for the Australian Food, Beverage & Agribusiness industry.
Royal Commission wrap up
Top 10 things for Financial Services providers
Eleven months on from the first round of hearings for the Royal Commission into Misconduct in the Banking, Superannuation and Financial Services Industry, Commissioner Hayne's final report has been released.
Health & aged care

Home
Aged Care Royal Commission
Perspectives on the Future of Ageing
Transitions in ageing are not consistent and systematic as they are described by our ageing systems. Sometimes they are incremental, sometimes accidental, sometimes monumental, and they are always personal. We can create something better.
Life sciences

Home
Biotechnology Industry Position survey
Australia's biotechnology industry drives economic growth
The 2019 Biotechnology Industry Position survey conducted by Ausbiotech and supported by Grant Thornton has revealed that new technologies across regenerative medicine and medicinal cannabis are disrupting the industry, and Australia's global strength in clinical trials continues to drive contributions to the economic and social fabric of the country.
Manufacturing

Home
mid-sized business report
Manufacturing is critical to our economy – how can we support the sector?
Although the knock-on effects of the Australian automotive industry exiting our country are yet to be fully understood, the industry is evolving, and manufacturing continues to be a major employer and critical to our overall economy.
Not for Profit

Home
NATIONAL OUTCOMES MEASUREMENT PROGRAM
A practical framework
Royal Commissions and federal budgets are critical things for Nonprofit human service providers to be thinking about at this point in time.
Real estate & construction

Home
mid-sized business report
Supporting affordable housing requires planning, certainty – and tax reform
There is a lot of noise around the property sector at the moment – and it's not all positive. Prices are down – but this shouldn't be a surprise when some markets (namely Sydney & Melbourne) saw unprecedented hikes in recent years.
Retail & consumer products

Home
GNC Group Consulting
The Technology Trap: Online innovation in retail
I recently attended the NRF Retail Big Show in New York, an overwhelming smorgasbord of retail technology and new store concepts.
Scaling-up for Growth
From start-up to scale-up
Navigating the complexities of growth and maintaining previous success is a challenge for all mid-size businesses.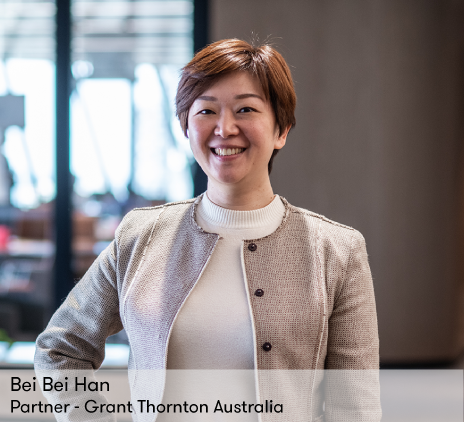 Bei Bei Han, one of Grant Thornton's newest crop of Partners, helps bridge a cultural divide for Asian clients looking to invest in Australia.
As a Partner in the Melbourne Private Advisory team, she is also helping to connect people in her team and encourage greater diversity.
"As a Partner, I think an important part of the role is not only leading people but being a bridge. I see great value in connecting people, educating them and sharing my experiences to create better opportunities and outcomes.
"I also think it is important for professionals to seek out different perspectives. For instance, my mentor is male, which allows me to consider a different angle. That's what diversity is all about: embracing what's different, not just gender, but culture and ethnicity too," she said.
Growing up in China, Bei Bei's story developed during a topical — and controversial — time for families due to the 'One Child' policy. Despite societal emphasis around males, Bei Bei personally didn't feel heightened pressure because of her gender.
"In the 80s, China had the 'One Child' policy. That was the way it was. People had to make the most of it and do everything they could for their child.
"In some ways, I suppose when you have a few children there could be an imbalance with one child getting more education or having more opportunities than others. From my perspective, I think it meant females got equal education and opportunities to study in China and overseas.
"I attribute where I am today to my family. My mum is a classic behind-the-scenes woman who supported my dad to be successful in his work. She held us together as a tight unit and made countless contributions to the family.
"She never said: 'I want you to do this'. Instead, she said: 'Do what you think you are best at'. And my gender didn't matter to my dad. He always encouraged me to chase my dreams."
And that's exactly what she did, while also inadvertently going against the grain of traditional roles she had witnessed.
"I push really hard to succeed not just because I'm female. It's a culmination of everything: my ethnicity, my background and how I am as a person."
Bei Bei Han, Partner - Grant Thornton Australia
"The social assumption can often be that the male are business-focused and females are family-focused, but it is not always true. We are slowly unpicking this as a society."
"In my own life, my husband is very family-focused. I enjoy having dedicated quality time with my family while also building a great career," she said.
Bei Bei recalls a specific time when unconscious bias could have played a big role at an important moment in her career — but it didn't.
"While I was on maternity leave, our business was invited to Thailand to represent Australia at an emerging leader's conference. It was the first time an Australian firm would join this kind of forum.
"At the time my daughter had just been released from hospital. Despite that, I was offered the opportunity and it was my choice to attend or not. The decision wasn't automatically made for me based on assumptions about my priorities.
"Small things like this make a big difference. I think it's a big deal that I was given the choice," Bei Bei said.
Being given choices opens the door to a more supportive, honest and inclusive culture.
"Diversity is from both sides — from management in terms of how they support, encourage and implement diversity in the workplace and from people themselves in their willingness to be open, face challenges and help progress.
"A lot of firms believe in diversity and have made great strides. I think that in some instances we need a regulatory push, like gender parity on Boards, to accelerate things. The challenge is what that push looks like.
"But if we don't make changes because we are too afraid of the consequences, then nothing will ever get better. If you don't try you don't know. And if corporations didn't put metrics around females on executive teams then perhaps we would be in the same place in 50 years," she said.
Bei Bei acknowledges that gender diversity is a conversation topic in mainstream Australia and sees its momentum and impact. The trajectory is promising.
"I think there is still work to do; there always is. You can see the results of progress already — there are lots of young female leaders coming up. The possibilities and benefits of increased diversity are very exciting and tangible, like better profitability, productivity and access to diverse and rich ideas.
"I think that the conversation in five years will be around fine-tuning, in terms of how we continue to drive and improve diversity. At the end of the day you have to hold yourself accountable — you control what you do and how you approach things.
"Even if your only contribution is having a positive attitude to diversity that helps. If everyone does just this one thing as a minimum, it means that the aggregate can have a big impact."
Champions for Action
Creating change lies within all of us
2019 Report
Women in business: building a blueprint for action
Report
Mid-sized Business Report
Subscribe to receive our publications
Subscribe now to be kept up-to-date with timely and relevant insights, unique to the nature of your business, your areas of interest and the industry in which you operate.