Agribusiness, food & beverage

Home
Bite Size Dealtracker
Food, Beverage & Agribusiness industry insights
Key insights for the Australian Food, Beverage & Agribusiness industry.
Royal Commission wrap up
Top 10 things for Financial Services providers
Eleven months on from the first round of hearings for the Royal Commission into Misconduct in the Banking, Superannuation and Financial Services Industry, Commissioner Hayne's final report has been released.
Health & aged care

Home
Aged Care Royal Commission
Perspectives on the Future of Ageing
Transitions in ageing are not consistent and systematic as they are described by our ageing systems. Sometimes they are incremental, sometimes accidental, sometimes monumental, and they are always personal. We can create something better.
Life sciences

Home
Biotechnology Industry Position survey
Australia's biotechnology industry drives economic growth
The 2019 Biotechnology Industry Position survey conducted by Ausbiotech and supported by Grant Thornton has revealed that new technologies across regenerative medicine and medicinal cannabis are disrupting the industry, and Australia's global strength in clinical trials continues to drive contributions to the economic and social fabric of the country.
Manufacturing

Home
mid-sized business report
Manufacturing is critical to our economy – how can we support the sector?
Although the knock-on effects of the Australian automotive industry exiting our country are yet to be fully understood, the industry is evolving, and manufacturing continues to be a major employer and critical to our overall economy.
Not for Profit

Home
NATIONAL OUTCOMES MEASUREMENT PROGRAM
A practical framework
Royal Commissions and federal budgets are critical things for Nonprofit human service providers to be thinking about at this point in time.
Real estate & construction

Home
mid-sized business report
Supporting affordable housing requires planning, certainty – and tax reform
There is a lot of noise around the property sector at the moment – and it's not all positive. Prices are down – but this shouldn't be a surprise when some markets (namely Sydney & Melbourne) saw unprecedented hikes in recent years.
Retail & consumer products

Home
GNC Group Consulting
The Technology Trap: Online innovation in retail
I recently attended the NRF Retail Big Show in New York, an overwhelming smorgasbord of retail technology and new store concepts.
Scaling-up for Growth
From start-up to scale-up
Navigating the complexities of growth and maintaining previous success is a challenge for all mid-size businesses.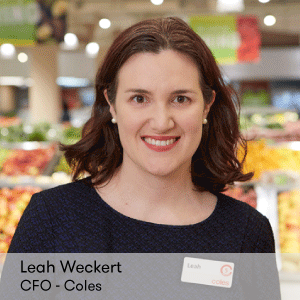 A remarkable woman with an amazing career history, Leah Weckert now steers the financial direction of $17B supermarket giant Coles, which recently listed on the Australian Stock Exchange.
Weckert is also a mother of two children under five, a chemical engineer and a Harvard graduate. But in her current role as CFO, she represents part of a very small 12% of women who hold CFO roles in ASX200 companies. 41 of these 200 companies operate without any women at all on their executive leadership team.
"There is still a long way to go to achieve better balance more broadly, but drilling down at a company level, we are seeing change when it comes to diversity, which is bringing huge benefits and these will trickle up eventually," she says.
As Weckert starts to talk about gender balance and flexible working at Coles which has over 2500 stores and 110,000+ employees, two things becomes clear – CFOs are no longer just 'good with numbers' kind of people … and diversity is no longer just a KPI or tick box for People and Culture leaders.
In her role as CFO, Weckert brings financial nous, but she also brings great skills with people, strategy and critical thinking. She symbolises the new breed of leader essential to companies keen to build a workforce prepared for our changing times – that is, a leader who understands and embraces the fact that diversity is key to cultivating a successful business.
"Diversity breeds innovation"
And in the retail environment we operate in, innovation is absolutely key. We see a strong link between having diverse teams, innovation, and our business results."
But the benefits don't stop there: "I have seen gender diversity leading to stronger performance, better decision making and a more inclusive culture."
She also says that creating a truly diverse and inclusive workforce is also critical in attracting and retaining talent.
"We have consciously put in place practices and principles throughout our talent acquisition process, to ensure that we recruit from a diverse talent pool. This includes supporting our Gender Balance targets and principles when sourcing talent," she says.
What does this all mean in reality? "Some examples include requiring gender balanced shortlists when hiring, unconscious bias training for our talent acquisition team and hiring managers, embedding a strategic sourcing team who can focus on targeting a specific gender for open positions, and creating 'inclusion recruitment specialist' roles focused on ensuring diversity in recruitment practices."
Diversity and developing talent
According to Weckert, one of the driving principles for gender balance in any company is to ensure that all team members have access to the same opportunities to develop and advance their career.
"Our talent strategy ensures all team members with high potential have access to relevant development, get exposure to the right experiences and opportunities to accelerate their progression, and are moved into roles that will help accelerate their advancement in the business," she says.
"We ensure that there is a fair representation of both genders when looking at our top talent, and through a talent review calibration we invite challenges and discussions to overcome any biases, including gender biases."

To specifically support female talent, a women in leadership training program is proving highly successful.
"Aimed at emerging leaders, the program provides a great platform for our female team members to network with their peers and leaders, to ensure our female talent are supported in their career."
Diversity and retaining talent
So, diversity is crucial for acquiring and developing talent. What about retaining them?
"I am really passionate in the belief that a variety of flexible working practices enable talent retention and engagement for both male and female talent," she says.
"We know flexible working improves team members' wellbeing, engagement and performance, which ultimately creates a better experience for all team members and customers."
Weckert recalls several times during her eight year journey with Coles where flexible working in various incarnations has helped her stay with the company: "From part time ramp-up on return from parental leave to currently flexible hours so I can drop off and pick up my kids from school and kindergarten a few times a week. For many years I used to take a 2.5 hour break in the middle of the day on Friday to take my kids to gymbaroo and honestly, I always came back in the afternoon so invigorated!"
"The key to success is being inclusive and having different arrangements that work for different team members and teams."
And, according to Weckert, it's this inclusivity embedded throughout a workplace culture that makes diversity really work and ultimately benefit staff, customers and organisational performance.

"Having diversity and inclusion practices and principles embedded into your business DNA is crucial, as is having leaders who hold themselves and their teams publicly accountable for diversity and inclusion outcomes."
What advice would Weckert give to companies trying to make diversity work for them?
"Have leaders who drive this in the best possible way – through inspiring, energising and empowering their teams to make sure they create a culture where respect, trust, equality, and honesty are key to energising teams … and a culture which allows everyone to bring their authentic selves to work and perform at their best."
Champions for Action
Creating change lies within all of us
2019 Report
Women in business: building a blueprint for action
Report
Mid-sized Business Report
Subscribe to receive our publications
Subscribe now to be kept up-to-date with timely and relevant insights, unique to the nature of your business, your areas of interest and the industry in which you operate.