Agribusiness, food & beverage

Home
Bite Size Dealtracker
Food, Beverage & Agribusiness industry insights
Key insights for the Australian Food, Beverage & Agribusiness industry.
Royal Commission wrap up
Top 10 things for Financial Services providers
Eleven months on from the first round of hearings for the Royal Commission into Misconduct in the Banking, Superannuation and Financial Services Industry, Commissioner Hayne's final report has been released.
Health & aged care

Home
Aged Care Royal Commission
Perspectives on the Future of Ageing
Transitions in ageing are not consistent and systematic as they are described by our ageing systems. Sometimes they are incremental, sometimes accidental, sometimes monumental, and they are always personal. We can create something better.
Life sciences

Home
Biotechnology Industry Position survey
Australia's biotechnology industry drives economic growth
The 2019 Biotechnology Industry Position survey conducted by Ausbiotech and supported by Grant Thornton has revealed that new technologies across regenerative medicine and medicinal cannabis are disrupting the industry, and Australia's global strength in clinical trials continues to drive contributions to the economic and social fabric of the country.
Manufacturing

Home
mid-sized business report
Manufacturing is critical to our economy – how can we support the sector?
Although the knock-on effects of the Australian automotive industry exiting our country are yet to be fully understood, the industry is evolving, and manufacturing continues to be a major employer and critical to our overall economy.
Not for Profit

Home
NATIONAL OUTCOMES MEASUREMENT PROGRAM
A practical framework
Royal Commissions and federal budgets are critical things for Nonprofit human service providers to be thinking about at this point in time.
Real estate & construction

Home
mid-sized business report
Supporting affordable housing requires planning, certainty – and tax reform
There is a lot of noise around the property sector at the moment – and it's not all positive. Prices are down – but this shouldn't be a surprise when some markets (namely Sydney & Melbourne) saw unprecedented hikes in recent years.
Retail & consumer products

Home
GNC Group Consulting
The Technology Trap: Online innovation in retail
I recently attended the NRF Retail Big Show in New York, an overwhelming smorgasbord of retail technology and new store concepts.
Scaling-up for Growth
From start-up to scale-up
Navigating the complexities of growth and maintaining previous success is a challenge for all mid-size businesses.
While IFRS 9's mandatory effective date of 1 January 2018 seems a long time into the future, ADI's should consider evaluating the implications of the new Standard now.
IFRS 9 is an extensive review of accounting for financial instruments combining the existing accounting standards IFRS 32 and IFRS 39. Major areas of change include recognition and measurement, impairment and hedge accounting. Our second publication in a series on IFRS 9 focuses on impairment, as a financial institution, is a critical area of consideration for your business.
Some of the key changes IFRS 9 will introduce include:
recognition of impairment is no longer when a credit loss event is identified, rather a need to always estimate an 'expected loss'
requirement to develop a 3 stage model for assessing the level of expected losses
potential for a 'day one loss' to occur as soon as an ADI buys or originates a loan
What are the implications to you?
a need to gather reliable historical data to inform the provisioning methodology applied under IFRS 9
developing a definition for 'default' suitable for IFRS 9 purposes
consideration of whether early adoption will be of benefit to your institution
Get ready for IFRS 9 - The impairment requirements
At present APRA has not provided any guidance or commentary regarding the implementation of IFRS 9 and any consequences to the current methodology for the General Reserve for Credit Losses.
Download the report
Download PDF [1358 kb]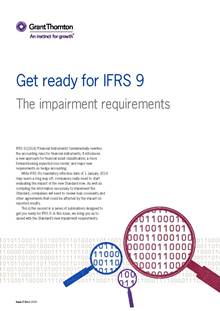 Get ready for IFRS 9 - Classifying and measuring financial instruments
Our first publication on IFRS 9 focussed on the classification and measurement of financial instruments. We believe this area will not have a significant impact to ADI's as most financial assets can continued to be classified at amortised cost. The significant change is the removal of the 'Available-for-sale' classification which may impact any equity investments your business may hold. We expect many of these equity investments would be classified at Fair Value Through Other Comprehensive Income.
Click here to download the report
Download PDF [1277 kb]