Agribusiness, food & beverage

Home
Bite Size Dealtracker
Food, Beverage & Agribusiness industry insights
Key insights for the Australian Food, Beverage & Agribusiness industry.
Royal Commission wrap up
Top 10 things for Financial Services providers
Eleven months on from the first round of hearings for the Royal Commission into Misconduct in the Banking, Superannuation and Financial Services Industry, Commissioner Hayne's final report has been released.
Health & aged care

Home
Aged Care Royal Commission
Perspectives on the Future of Ageing
Transitions in ageing are not consistent and systematic as they are described by our ageing systems. Sometimes they are incremental, sometimes accidental, sometimes monumental, and they are always personal. We can create something better.
Life sciences

Home
Biotechnology Industry Position survey
Australia's biotechnology industry drives economic growth
The 2019 Biotechnology Industry Position survey conducted by Ausbiotech and supported by Grant Thornton has revealed that new technologies across regenerative medicine and medicinal cannabis are disrupting the industry, and Australia's global strength in clinical trials continues to drive contributions to the economic and social fabric of the country.
Manufacturing

Home
mid-sized business report
Manufacturing is critical to our economy – how can we support the sector?
Although the knock-on effects of the Australian automotive industry exiting our country are yet to be fully understood, the industry is evolving, and manufacturing continues to be a major employer and critical to our overall economy.
Not for Profit

Home
NATIONAL OUTCOMES MEASUREMENT PROGRAM
A practical framework
Royal Commissions and federal budgets are critical things for Nonprofit human service providers to be thinking about at this point in time.
Real estate & construction

Home
mid-sized business report
Supporting affordable housing requires planning, certainty – and tax reform
There is a lot of noise around the property sector at the moment – and it's not all positive. Prices are down – but this shouldn't be a surprise when some markets (namely Sydney & Melbourne) saw unprecedented hikes in recent years.
Retail & consumer products

Home
GNC Group Consulting
The Technology Trap: Online innovation in retail
I recently attended the NRF Retail Big Show in New York, an overwhelming smorgasbord of retail technology and new store concepts.
Scaling-up for Growth
From start-up to scale-up
Navigating the complexities of growth and maintaining previous success is a challenge for all mid-size businesses.
Partner & National Head of Family Business Consulting
Private Advisory
Robert is a family enterprise and succession planning specialist who is a fully accredited Specialist Advisor Member of Family Business Australia, the peak body representing family business and their advisors in Australia. Robert is a regular speaker on family enterprises and SME-related issues, and has been frequently interviewed for publications including the Australian Financial Review, Business Review Weekly, and The Australian.
As a reflection of his expertise, Robert has been invited to assist the Australian Federal Government on a number of initiatives over many years. He was a founding member of the Australian Taxation Office's Tax Practitioner Forum SME Working Group, a founding member of the Federal Government's Small Business Advisory Committee, and was recently asked to join an Expert Panel advising the Board of Taxation.
In 2018, Robert received the Family Business Australia Accredited Advisor Award, recognising his valuable contribution to the family business movement and engagement with Family Business Australia.
Key examples of Robert's work include:
facilitating the formation of a family council and development of a family charter for a number of large family enterprises
acting as an advisory board member to assist a family enterprise board of directors on strategic issues
development of generational succession plans for significant mid-size businesses
Family business accreditation and awards
Robert is a Specialist Accredited Advisor accredited adviser with Family Business Australia. He also has a Certificate in Family Business Advising (CFBA) and a Certificate in Family Wealth Advising (CFWA) with the Family Firm Institute, the peak body worldwide representing family business advisory professionals. In 2018, Robert received Family Business Australia's inaugural Accredited Advisor Award.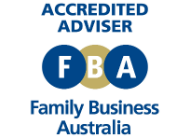 Family Business Australia Accredited Adviser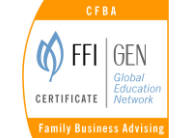 FFI Certificate in Family Business Advising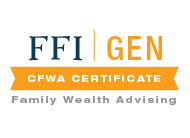 FFI Certificate in Family Wealth Advising
Qualifications
Fellow, Chartered Accountants Australia and New Zealand
Bachelor of Economics, University of Sydney
Specialist Accredited Advisor Member of Family Business Australia
Accredited Commercial Mediator
Registered Tax Agent
Certificates in Family Business Advising (CFBA) and Family Wealth Advising (CFWA) – Family Firm Institute