Agribusiness, food & beverage

Home
Bite Size Dealtracker
Food, Beverage & Agribusiness industry insights
Key insights for the Australian Food, Beverage & Agribusiness industry.
Royal Commission wrap up
Top 10 things for Financial Services providers
Eleven months on from the first round of hearings for the Royal Commission into Misconduct in the Banking, Superannuation and Financial Services Industry, Commissioner Hayne's final report has been released.
Health & aged care

Home
Aged Care Royal Commission
Setting the tone for the Aged Care Royal Commission
Last week's hearings for the Royal Commission into Aged Care Quality and Safety, introduced the leaders of some of Australia's peak bodies, unions, consumer organisations and the Secretary to the Department, Glenys Beauchamp. In all 26 witnesses were called.
Life sciences

Home
Biotechnology Industry Position survey
Australia's biotechnology industry drives economic growth
The 2019 Biotechnology Industry Position survey conducted by Ausbiotech and supported by Grant Thornton has revealed that new technologies across regenerative medicine and medicinal cannabis are disrupting the industry, and Australia's global strength in clinical trials continues to drive contributions to the economic and social fabric of the country.
Manufacturing

Home
mid-sized business report
Manufacturing is critical to our economy – how can we support the sector?
Although the knock-on effects of the Australian automotive industry exiting our country are yet to be fully understood, the industry is evolving, and manufacturing continues to be a major employer and critical to our overall economy.
Not for Profit

Home
NATIONAL OUTCOMES MEASUREMENT PROGRAM
A practical framework
Royal Commissions and federal budgets are critical things for Nonprofit human service providers to be thinking about at this point in time.
Real estate & construction

Home
mid-sized business report
Supporting affordable housing requires planning, certainty – and tax reform
There is a lot of noise around the property sector at the moment – and it's not all positive. Prices are down – but this shouldn't be a surprise when some markets (namely Sydney & Melbourne) saw unprecedented hikes in recent years.
Retail & consumer products

Home
GNC Group Consulting
The Technology Trap: Online innovation in retail
I recently attended the NRF Retail Big Show in New York, an overwhelming smorgasbord of retail technology and new store concepts.
Scaling-up for Growth
From start-up to scale-up
Navigating the complexities of growth and maintaining previous success is a challenge for all mid-size businesses.
Stress testing your strategy
So, you've got a strategy…with clear objectives…and a plan on how to achieve them…with measures so you will know that you have…but have you considered the consequences if you're wrong?
There are a number of methods of stress testing your strategy, however scenario planning offers a clear methodology that allows your Board and executive team to consider environmental variables and explore "upside", "downside", and alternative futures in a safe environment. The development of "learning scenarios" often enhances strategy and increases the robustness of organisational thinking.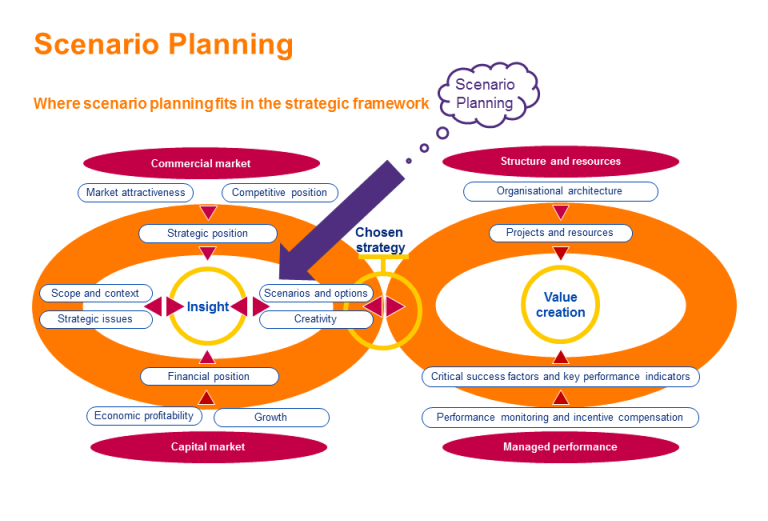 Figure 1. Where scenario planning fits into a strategic planning framework
Scenario planning – what is it?
In the manager's strategic planning toolkit, scenario planning stands out for its ability to capture a whole range of possibilities in rich detail.
By identifying basic trends and uncertainties, managers can construct a series of scenarios that will help to compensate for some common errors in decision making — including overconfidence and tunnel vision.
It operates on the principle that, for some decisions, thinking in terms of multiple possible futures, or scenarios, is more effective than relying on single-point forecasts of the future.
Decisions influenced by multiple sources of uncertainty — where a high-consequence, low-probability event might significantly influence the outcome — are well suited for scenario planning.
Well-crafted scenarios create a "wind tunnel" for designing strategies that are robust across the most important and most uncertain environmental variables. They are responsive enough to anticipate and adapt to the realisation of future events.
What scenario planning can do for you
In short, scenario planning attempts to capture the richness and range of possibilities, stimulating decision makers to consider changes they would otherwise ignore. At the same time, it organises those possibilities into narratives that are easier to grasp and use than great volumes of data. Above all, however, scenarios are aimed at challenging the prevailing mind-set.
Scenario thinking is useful because it forces individuals to step outside their assumptions about the future and recognize that many things they consider predetermined are actually uncertain. Thus, scenario planning prevents groupthink from developing around a single possible future.
Scenario planning attempts to compensate for two common errors in decision making:
under-prediction of change, and
over-prediction of change
Most people and organisations are guilty of the first error. Although change in all aspects of our lives is accelerating dramatically, we tend to imagine the future without such a rate of change.
Who benefits
Scenario planning workshops have created real benefits for clients in a rapidly changing world, including our recent work with a seniors living and aged care provider grappling with the implementation of LLLB and CDC, a supplier to the disability industry, responding to the rapid change that the NDIS calls for.