Why all retailers need to restructure their business
It's a fact of retail – your brand is either on the up or in decline. Much like a rollercoaster, this cycle rolls around regularly, and consumers will tell you with their wallets if you've got your product offering right or wrong.
While there's been underwhelming growth in retail sales in recent years, there are a greater number of competitors jostling for a slice of the pie – international brands, overseas online consumers and auction sites like eBay.
In 2016, the global retail influx will continue, with many analysts advising that the wave of international market entrants is yet to peak (confirmed retailers hunting for spaces include Marks and Spencer, Reiss and All Saints, to name just a few).
Even high performing retail businesses shouldn't take strong results for granted. For example Lovisa, one of the best performing small-cap retail businesses in Australia, is hurting from the devaluation in the dollar which looks set to remain around 70c for the foreseeable period. This decrease in value has made an Australian retailer's typical cost of goods some 15-20 per cent higher than it was a couple of years ago when prices were at parity. With the dollar likely to hover around 70c, this year looks set to be a tough one for many Australian brands.
So if you're a retailer just about to tip over the summit on Space Mountain or worse, already in free fall, we offer some insight here to help you make the right decisions.
1. Acknowledge that your business is under-performing and the reasons why (the 'critical point'). It can be difficult to see the wood for the trees when it's your business, so dedicate some time to do a business review or bring in independent experts to help you while you focus on 'business as usual'. The review should cover finance, strategy, management, operations and stakeholders (including customers and financiers). Be sure to identify where your business sits on the business life cycle, as this determines the options available to you. As you would expect, the further down the decline curve you are, the fewer options available. Early intervention is therefore critical.
"Too often businesses with cash flow crises put their head in the sand and avoid talking. This is the time to over-communicate to keep creditors, employees and stakeholders supportive."
Well-known brands Apple and Domino's have been able to resurrect themselves from near collapse. With hindsight and in contrast, it's obvious why Borders and Kodak were unable to turn around their businesses at the critical point and were doomed to fail, with the inexorable rise of Amazon and online sales, and the rapid take-up of smartphones and digital cameras.
Identify the critical point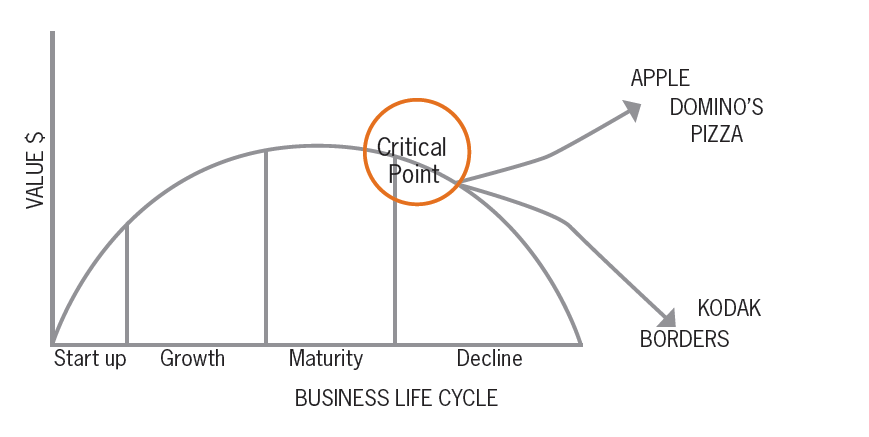 2. Document your findings and turnaround plan. Too often information remains in the head of the business owner and is rarely documented. Once down on paper it provides a platform for discussion and communication to the business's wider stakeholders.
Click here for key areas to consider in a turnaround plan.
3. For a successful turnaround there usually needs to be a financial restructuring that centres on reducing debt and restoring the balance sheet to good health; also operational restructuring that focuses on gross margin and improving earnings.
The immediate focus needs to be on developing operational measures to ensure immediate viability; i.e. making sure the company is a solvent, going concern. The second stage is to develop a model for the restructured company that ensures its ongoing viability.
"The problem may be anything from brand confusion to poor products to inefficient systems to unruly costs or unprofitable stores. Until you have diagnosed the problem, you won't be able to fix it."
4. Implementing the turnaround. For your plan to be successful you need to ensure:
A clear strategy is first defined, and then the detail worked on
Actions are defined by whom; when; level of importance; priority and how you'll measure success. Sounds simple, but motherhood statements without direct accountability for action frequently fail
Stress-test your plan and make sure it's realistic. Model some sensitivities to provide headroom should things not go exactly according to plan. This is critical, as failure to achieve documented milestones – particularly with a debt or equity provider – can see a loss of credibility. Contingency planning and flexibility is important
Provide regular updates to your stakeholders. Give them both the good and bad news but provide an action plan to mitigate the bad and forecast any future risks
"Let innovation drive the restructure - focus on what you are doing today that could be done better; and what you should start and stop doing. Make room for new ideas and efficiencies, and revitalise your business to succeed in the long term. Cost savings for the sake of cost savings aren't usually a drive of long-term success".
Don't leave things too late...
While not an appealing topic for any entrepreneur, it's important to understand when there is no alternative for survival outside of formal insolvency. We've sadly seen business owners sell up the family house and inject funds into a failing business without a credible turnaround plan or fully understanding their options, only for it to shortly collapse into liquidation - "throwing good money after bad". Over the last 12 months, household names have collapsed - Dick Smith, Koko Black, Josh Goot, My Baby Warehouse and Homeart, to name a few. Could they have avoided this situation by acting earlier?

Skilled restructuring management requires the skills to get things done (and quickly). These include ensuring the measures in the plan are undertaken, involve all stakeholders, are transparent and maintain trust. These skills aren't always readily available in a business so consider bringing in dedicated support. The ROI on the right advisor should be quick, and allows management to focus on business-as-usual. This also provides comfort to stakeholders that there are the right resources and independent thinking.
Businesses considering a restructure should try to apply an innovating approach rather than thinking about matters solely in terms of cost cutting. A formal insolvency appointment is, of course, a last resort; however, early planning and stakeholder engagement can provide the best opportunity to ensure business survival.
To remain riding the rollercoaster you need to understand the real issues at work in the business, seek help early and communicate with your stakeholders.
Interested in more from our Insights: The Innovation Issue magazine for the consumer products & retail industry?