Agribusiness, food & beverage

Home
Bite Size Dealtracker
Food, Beverage & Agribusiness industry insights
Key insights for the Australian Food, Beverage & Agribusiness industry.
Royal Commission wrap up
Top 10 things for Financial Services providers
Eleven months on from the first round of hearings for the Royal Commission into Misconduct in the Banking, Superannuation and Financial Services Industry, Commissioner Hayne's final report has been released.
Health & aged care

Home
Aged Care Royal Commission
Perspectives on the Future of Ageing
Transitions in ageing are not consistent and systematic as they are described by our ageing systems. Sometimes they are incremental, sometimes accidental, sometimes monumental, and they are always personal. We can create something better.
Life sciences

Home
Biotechnology Industry Position survey
Australia's biotechnology industry drives economic growth
The 2019 Biotechnology Industry Position survey conducted by Ausbiotech and supported by Grant Thornton has revealed that new technologies across regenerative medicine and medicinal cannabis are disrupting the industry, and Australia's global strength in clinical trials continues to drive contributions to the economic and social fabric of the country.
Manufacturing

Home
mid-sized business report
Manufacturing is critical to our economy – how can we support the sector?
Although the knock-on effects of the Australian automotive industry exiting our country are yet to be fully understood, the industry is evolving, and manufacturing continues to be a major employer and critical to our overall economy.
Not for Profit

Home
NATIONAL OUTCOMES MEASUREMENT PROGRAM
A practical framework
Royal Commissions and federal budgets are critical things for Nonprofit human service providers to be thinking about at this point in time.
Real estate & construction

Home
mid-sized business report
Supporting affordable housing requires planning, certainty – and tax reform
There is a lot of noise around the property sector at the moment – and it's not all positive. Prices are down – but this shouldn't be a surprise when some markets (namely Sydney & Melbourne) saw unprecedented hikes in recent years.
Retail & consumer products

Home
GNC Group Consulting
The Technology Trap: Online innovation in retail
I recently attended the NRF Retail Big Show in New York, an overwhelming smorgasbord of retail technology and new store concepts.
Scaling-up for Growth
From start-up to scale-up
Navigating the complexities of growth and maintaining previous success is a challenge for all mid-size businesses.
"Too often businesses with cash flow crises put their head in the sand and avoid talking. This is the time to over-communicate to keep creditors, employees and stakeholders supportive."
Well-known brands Apple and Domino's have been able to resurrect themselves from near collapse. With hindsight and in contrast, it's obvious why Borders and Kodak were unable to turn around their businesses at the critical point and were doomed to fail, with the inexorable rise of Amazon and online sales, and the rapid take-up of smartphones and digital cameras.
Identify the critical point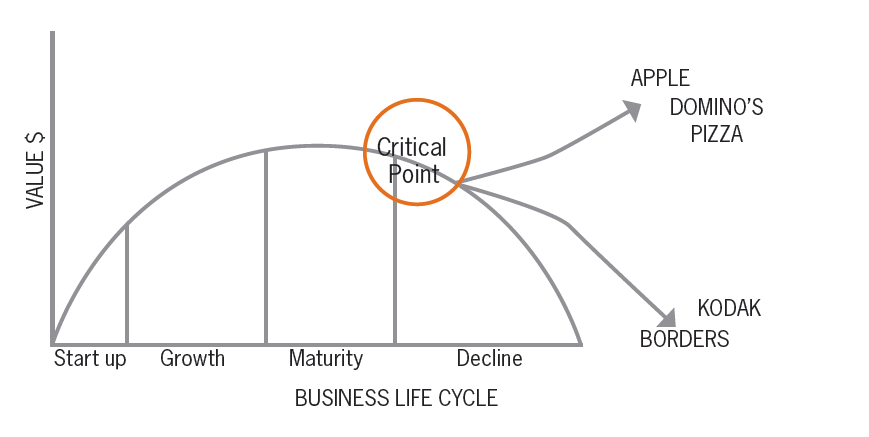 2. Document your findings and turnaround plan. Too often information remains in the head of the business owner and is rarely documented. Once down on paper it provides a platform for discussion and communication to the business's wider stakeholders.
Click here for key areas to consider in a turnaround plan.
3. For a successful turnaround there usually needs to be a financial restructuring that centres on reducing debt and restoring the balance sheet to good health; also operational restructuring that focuses on gross margin and improving earnings.
The immediate focus needs to be on developing operational measures to ensure immediate viability; i.e. making sure the company is a solvent, going concern. The second stage is to develop a model for the restructured company that ensures its ongoing viability.
"The problem may be anything from brand confusion to poor products to inefficient systems to unruly costs or unprofitable stores. Until you have diagnosed the problem, you won't be able to fix it."
4. Implementing the turnaround. For your plan to be successful you need to ensure:
A clear strategy is first defined, and then the detail worked on
Actions are defined by whom; when; level of importance; priority and how you'll measure success. Sounds simple, but motherhood statements without direct accountability for action frequently fail
Stress-test your plan and make sure it's realistic. Model some sensitivities to provide headroom should things not go exactly according to plan. This is critical, as failure to achieve documented milestones – particularly with a debt or equity provider – can see a loss of credibility. Contingency planning and flexibility is important
Provide regular updates to your stakeholders. Give them both the good and bad news but provide an action plan to mitigate the bad and forecast any future risks
"Let innovation drive the restructure - focus on what you are doing today that could be done better; and what you should start and stop doing. Make room for new ideas and efficiencies, and revitalise your business to succeed in the long term. Cost savings for the sake of cost savings aren't usually a drive of long-term success".
Don't leave things too late...
While not an appealing topic for any entrepreneur, it's important to understand when there is no alternative for survival outside of formal insolvency. We've sadly seen business owners sell up the family house and inject funds into a failing business without a credible turnaround plan or fully understanding their options, only for it to shortly collapse into liquidation - "throwing good money after bad". Over the last 12 months, household names have collapsed - Dick Smith, Koko Black, Josh Goot, My Baby Warehouse and Homeart, to name a few. Could they have avoided this situation by acting earlier?

Skilled restructuring management requires the skills to get things done (and quickly). These include ensuring the measures in the plan are undertaken, involve all stakeholders, are transparent and maintain trust. These skills aren't always readily available in a business so consider bringing in dedicated support. The ROI on the right advisor should be quick, and allows management to focus on business-as-usual. This also provides comfort to stakeholders that there are the right resources and independent thinking.
Businesses considering a restructure should try to apply an innovating approach rather than thinking about matters solely in terms of cost cutting. A formal insolvency appointment is, of course, a last resort; however, early planning and stakeholder engagement can provide the best opportunity to ensure business survival.
To remain riding the rollercoaster you need to understand the real issues at work in the business, seek help early and communicate with your stakeholders.
Interested in more from our Insights: The Innovation Issue magazine for the consumer products & retail industry?