Agribusiness, food & beverage

Home
Bite Size Dealtracker
Food, Beverage & Agribusiness industry insights
Key insights for the Australian Food, Beverage & Agribusiness industry.
Royal Commission wrap up
Top 10 things for Financial Services providers
Eleven months on from the first round of hearings for the Royal Commission into Misconduct in the Banking, Superannuation and Financial Services Industry, Commissioner Hayne's final report has been released.
Health & aged care

Home
Aged Care Royal Commission
Perspectives on the Future of Ageing
Transitions in ageing are not consistent and systematic as they are described by our ageing systems. Sometimes they are incremental, sometimes accidental, sometimes monumental, and they are always personal. We can create something better.
Life sciences

Home
Biotechnology Industry Position survey
Australia's biotechnology industry drives economic growth
The 2019 Biotechnology Industry Position survey conducted by Ausbiotech and supported by Grant Thornton has revealed that new technologies across regenerative medicine and medicinal cannabis are disrupting the industry, and Australia's global strength in clinical trials continues to drive contributions to the economic and social fabric of the country.
Manufacturing

Home
mid-sized business report
Manufacturing is critical to our economy – how can we support the sector?
Although the knock-on effects of the Australian automotive industry exiting our country are yet to be fully understood, the industry is evolving, and manufacturing continues to be a major employer and critical to our overall economy.
Not for Profit

Home
NATIONAL OUTCOMES MEASUREMENT PROGRAM
A practical framework
Royal Commissions and federal budgets are critical things for Nonprofit human service providers to be thinking about at this point in time.
Real estate & construction

Home
mid-sized business report
Supporting affordable housing requires planning, certainty – and tax reform
There is a lot of noise around the property sector at the moment – and it's not all positive. Prices are down – but this shouldn't be a surprise when some markets (namely Sydney & Melbourne) saw unprecedented hikes in recent years.
Retail & consumer products

Home
GNC Group Consulting
The Technology Trap: Online innovation in retail
I recently attended the NRF Retail Big Show in New York, an overwhelming smorgasbord of retail technology and new store concepts.
Scaling-up for Growth
From start-up to scale-up
Navigating the complexities of growth and maintaining previous success is a challenge for all mid-size businesses.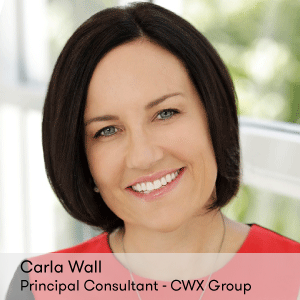 N.B. At the time of the interview, Carla worked for COINS Australia. She is now Principal Consultant at CWX Group.
How can routes to development and advancement be opened up to more women?
I believe a key factor in the development and advancement of women is encouraging full participation by both genders to embrace an equal and inclusive workplace. Fostering a culture where individuals feel comfortable offering their insights and opinions to build a balanced future is vital.
I see four essential ingredients to empowering women, and men – education, self-confidence, exposure and independence. The adoption of a talent management strategy for any organisation is important in assisting with development and advancement including flexible working arrangements, personal development plans and investment in training to develop self-awareness. Further, I believe it's essential to address gender pay inequality and put appropriate measures in place to achieve gender balance.
How can networking opportunities bring more women into senior roles?
I believe that success is based on face-to-face contact, where knowledge is gathered and shared. Networks expose women to new ideas and can grant access to the information and support you need to bring them to life, expand your influence and alert you to opportunities.
Knowledge is exchanged with like-minded people from a variety of professions and backgrounds, with each company and individual having the opportunity to take the relationship one step further. Over time you will have built an army of trusted advisors and confidants around you.
I find the most powerful forums are industry-specific, where women have the ability to expand client and supplier connections through valuable introductions in their related fields.
In what ways can people be empowered to design the working structures and systems that allow them to perform at their best?
A strong set of values and behaviours will steer the both the culture and success of a business, creating a better and more sustainable future for people. I believe minimal policies, procedures and processes need to be in place in order to drive empowerment, autonomy, innovation and creativity. Championing flexible working arrangements and non-traditional ways of operating also gives people permission to set individual work agendas and perform at their best.
COINS Australia's talent management strategy is designed to set individuals and teams up for success, not just for their current role but also for roles beyond our organisation. If your employees are empowered, they will not just survive, they will thrive and your customers will benefit.
What does an inclusive business culture look like?
Diversity brings a workplace enormous benefits such as improved financial performance, enhanced creativity and stronger business relationships. However, a diverse workplace doesn't necessarily have an inclusive business culture.
An inclusive culture indicates the pulse and engagement of a team, where respect, equity and positive recognition of differences are cultivated. Efforts need to be focused on removing barriers around social and institutional "norms", ensuring a positive experience for the whole team. A healthy culture should include transparency, openness, trust, collaboration and social responsibility.
The core values of COINS Australia seek to ensure we are representative of all employees, respect different styles of working and cultures, and allow us to play to each other's strengths and abilities. We also provide access to resources, opportunities, networks and decision making, equitably and fairly across the entire team.
Champions for Action
Creating change lies within all of us
2019 Report
Women in business: building a blueprint for action
Report
Mid-sized Business Report
Subscribe to receive our publications
Subscribe now to be kept up-to-date with timely and relevant insights, unique to the nature of your business, your areas of interest and the industry in which you operate.