Agribusiness, food & beverage

Home
Bite Size Dealtracker
Food, Beverage & Agribusiness industry insights
Key insights for the Australian Food, Beverage & Agribusiness industry.
Royal Commission wrap up
Top 10 things for Financial Services providers
Eleven months on from the first round of hearings for the Royal Commission into Misconduct in the Banking, Superannuation and Financial Services Industry, Commissioner Hayne's final report has been released.
Health & aged care

Home
Aged Care Royal Commission
Perspectives on the Future of Ageing
Transitions in ageing are not consistent and systematic as they are described by our ageing systems. Sometimes they are incremental, sometimes accidental, sometimes monumental, and they are always personal. We can create something better.
Life sciences

Home
Biotechnology Industry Position survey
Australia's biotechnology industry drives economic growth
The 2019 Biotechnology Industry Position survey conducted by Ausbiotech and supported by Grant Thornton has revealed that new technologies across regenerative medicine and medicinal cannabis are disrupting the industry, and Australia's global strength in clinical trials continues to drive contributions to the economic and social fabric of the country.
Manufacturing

Home
mid-sized business report
Manufacturing is critical to our economy – how can we support the sector?
Although the knock-on effects of the Australian automotive industry exiting our country are yet to be fully understood, the industry is evolving, and manufacturing continues to be a major employer and critical to our overall economy.
Not for Profit

Home
NATIONAL OUTCOMES MEASUREMENT PROGRAM
A practical framework
Royal Commissions and federal budgets are critical things for Nonprofit human service providers to be thinking about at this point in time.
Real estate & construction

Home
mid-sized business report
Supporting affordable housing requires planning, certainty – and tax reform
There is a lot of noise around the property sector at the moment – and it's not all positive. Prices are down – but this shouldn't be a surprise when some markets (namely Sydney & Melbourne) saw unprecedented hikes in recent years.
Retail & consumer products

Home
GNC Group Consulting
The Technology Trap: Online innovation in retail
I recently attended the NRF Retail Big Show in New York, an overwhelming smorgasbord of retail technology and new store concepts.
Scaling-up for Growth
From start-up to scale-up
Navigating the complexities of growth and maintaining previous success is a challenge for all mid-size businesses.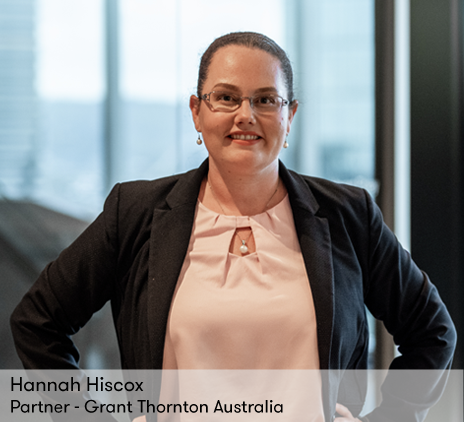 Hannah Hiscox, a Partner in Grant Thornton's Brisbane Audit team, is a working mother of two and local Partner leader of the Brisbane office's Diversity At Work Now (DAWN) committee.
When she joined the business almost 20 years ago, things looked a little bit different to how they are today.
"I started at Grant Thornton in 2001. While there were no female Partners in the business then that certainly does not mean that there were no positive role models or advocates of women.
"Gender has never been an issue for any Partner I've worked for or within our team in Brisbane. So even though there wasn't a living, breathing example of what success could look like for me, I never felt it was impossible to achieve."
When Hannah started a family, she felt supported and encouraged to chase her ambitions and balance her priorities.
"While I was on maternity leave, my mentor urged me to apply for directorship. I really hesitated. But I remember thinking to myself that I don't want my daughters to get to a similar point in their careers and be going through the same thing. I don't want it to even cross their radars.
"And so I wanted to be the change that I wanted to see. It's been a career I've enjoyed and loved, so I thought why not pursue it even further," she said.
Hannah recently reached a major career milestone with the promotion to Partner. While she works three days a week, she is not the first Partner in Brisbane to be working part-time.
"I'm not going to pretend that it is easy being a Partner with part-time hours. I believe in having open, honest conversations with anyone that wants to know about my experience and not make it seem like there isn't compromise involved.
"Sometimes I do work on my day off and then it becomes about managing the boundaries. Flexibility is give-and-take.
"I am lucky to have Partners around me that support a flexible approach and live it themselves. Our team can see that there's a less rigid stigma of 'we need to be here until six o'clock'. This notion absolutely prevailed when I started working.
"Modern life — whether you are a parent or not — is hectic. The main thing I can share from my experience is: I love my job and I love my family. So I needed absolute clarity about what I was going to do and focus on how I was going to make both work. And that made decisions about potentially being stretched too thin a lot easier because I had already identified my priorities."
Hannah is an active contributor to the belief that diversity must be part of an organisation's fabric. As a leader of the Brisbane office's DAWN committee, she works to ensure an inclusive and positive culture is upheld.
"A successful inclusive business culture is invisible in that it is seamless. It's about doing lots of little things without thinking — it's unconscious — in a way that is positive. It means that people don't feel like they are on the edge of what's 'acceptable' and can bring their whole self to work.
"If you breed a culture of inclusiveness you are attracting people that want to be part of it. To me, those things become an outcome of the little things you have done right. I think our responsibility is to provide equal opportunity and encouragement for people to get past the 'I can't see it, so I can't be it' thinking," she said.
Hannah Hiscox, Partner - Grant Thornton Austalia
And in a society where diverse, positive and inclusive culture is quickly becoming the norm, Hannah believes that the expectations around it will grow.
"Hopefully it is an accelerated version of what I've been through. Over time, the future leaders' pipeline will be more balanced and will carry up as people move on or retire.
"My expectations are higher than my mother's and so on. If you look at the next generation, their expectations on a whole range of areas are much higher in this condensed, global world."
These higher expectations will then fuel change. And change will progress as we continue to listen to each other.
"I think the key is engaging, listening to other people and appreciating their stories. People bring different ideas to the table and if you aren't listening, or taking it all in, you are going to miss out. Collectively we can flourish from the opportunity to learn and grow by considering another perspective."
Champions for Action
Creating change lies within all of us
2019 Report
Women in business: building a blueprint for action
Report
Mid-sized Business Report
Subscribe to receive our publications
Subscribe now to be kept up-to-date with timely and relevant insights, unique to the nature of your business, your areas of interest and the industry in which you operate.