Agribusiness, food & beverage

Home
Bite Size Dealtracker
Food, Beverage & Agribusiness industry insights
Key insights for the Australian Food, Beverage & Agribusiness industry.
Royal Commission wrap up
Top 10 things for Financial Services providers
Eleven months on from the first round of hearings for the Royal Commission into Misconduct in the Banking, Superannuation and Financial Services Industry, Commissioner Hayne's final report has been released.
Health & aged care

Home
Aged Care Royal Commission
Perspectives on the Future of Ageing
Transitions in ageing are not consistent and systematic as they are described by our ageing systems. Sometimes they are incremental, sometimes accidental, sometimes monumental, and they are always personal. We can create something better.
Life sciences

Home
Biotechnology Industry Position survey
Australia's biotechnology industry drives economic growth
The 2019 Biotechnology Industry Position survey conducted by Ausbiotech and supported by Grant Thornton has revealed that new technologies across regenerative medicine and medicinal cannabis are disrupting the industry, and Australia's global strength in clinical trials continues to drive contributions to the economic and social fabric of the country.
Manufacturing

Home
mid-sized business report
Manufacturing is critical to our economy – how can we support the sector?
Although the knock-on effects of the Australian automotive industry exiting our country are yet to be fully understood, the industry is evolving, and manufacturing continues to be a major employer and critical to our overall economy.
Not for Profit

Home
NATIONAL OUTCOMES MEASUREMENT PROGRAM
A practical framework
Royal Commissions and federal budgets are critical things for Nonprofit human service providers to be thinking about at this point in time.
Real estate & construction

Home
mid-sized business report
Supporting affordable housing requires planning, certainty – and tax reform
There is a lot of noise around the property sector at the moment – and it's not all positive. Prices are down – but this shouldn't be a surprise when some markets (namely Sydney & Melbourne) saw unprecedented hikes in recent years.
Retail & consumer products

Home
GNC Group Consulting
The Technology Trap: Online innovation in retail
I recently attended the NRF Retail Big Show in New York, an overwhelming smorgasbord of retail technology and new store concepts.
Scaling-up for Growth
From start-up to scale-up
Navigating the complexities of growth and maintaining previous success is a challenge for all mid-size businesses.
Providing market insights
Welcome to this third edition of Dealtracker, our analysis of the Australian mergers and acquisition (M&A) and equity markets. This edition covers transactions during the 18 month period from 31 December 2012 to 30 June 2014. Our key insights include:
Improving confidence
The global economic outlook is improving and this is being reflected in the financial markets, with increased deal levels, higher listed company share prices and an extremely robust Initial Public Offering (IPO) market. On a particularly positive note, the level of funds raised from new ASX listings in the 2014 financial year was higher than in the boom years immediately prior to the global financial crisis.

Deal multiples
Whilst we saw a nearly 36% increase in median listed company valuation multiples in this Dealtracker period, this improvement in valuations was not evident in our median transaction multiples*, which were actually slightly lower than in our prior two Dealtrackers. However, the lower median transaction multiple was caused by the sale of a number of businesses in low growth segments of the economy. After taking
this into account, there were some signs of improved transaction multiples, with many companies with strong growth prospects achieving some very high transaction multiples.

Overseas buyers
Australia has continued to attract strong international acquirer interest with at least 26% of Australian targets having overseas acquirers. The overseas buyers were particularly prevalent in the larger deals and were paying higher multiples for businesses across most industry sectors. Many of the international acquirers came from either the United States (US) or Europe and were seeking to benefit from the growth prospects in our region. Companies from the People's Republic of China (PRC or China) were also active buyers and were interested in our resources and food sectors.

Investment Managers
Whilst Investment Managers (IM) (Private Equity or Infrastructure) were buyers in less deals than in prior periods, they paid some high multiples for businesses in strong growth sectors of the economy such as, Infrastructure, Aged Care, Education and specialty retail segments where there are expected to be "tail" winds.

Period of exits
A lot of the M&A activity that occurred during the period was compelled by Corporates or Private Equity (PE) firms seeking to exit investments. In some of the largest transactions, Corporates were divesting non-core businesses to strengthen their balance sheets. PE firms were exiting portfolio investments held through the global financial crisis, with the IPO market being dominated by PE sponsored exits. PE firms
were also the sellers in a number of sizeable Australian M&A transactions.

Following this period of relatively high levels of exits, we expect that much of the future M&A activity is likely to be driven by Corporates and PE firms seeking new investment opportunities.
*based on transactions where deal multiples were available.
Read the full report
Download PDF [6880 kb]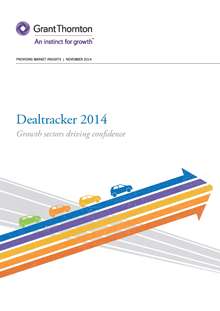 Click on the following links to view previous Dealtrackers: