Agribusiness, food & beverage

Home
Bite Size Dealtracker
Food, Beverage & Agribusiness industry insights
Key insights for the Australian Food, Beverage & Agribusiness industry.
Royal Commission wrap up
Top 10 things for Financial Services providers
Eleven months on from the first round of hearings for the Royal Commission into Misconduct in the Banking, Superannuation and Financial Services Industry, Commissioner Hayne's final report has been released.
Health & aged care

Home
Aged Care Royal Commission
Perspectives on the Future of Ageing
Transitions in ageing are not consistent and systematic as they are described by our ageing systems. Sometimes they are incremental, sometimes accidental, sometimes monumental, and they are always personal. We can create something better.
Life sciences

Home
Biotechnology Industry Position survey
Australia's biotechnology industry drives economic growth
The 2019 Biotechnology Industry Position survey conducted by Ausbiotech and supported by Grant Thornton has revealed that new technologies across regenerative medicine and medicinal cannabis are disrupting the industry, and Australia's global strength in clinical trials continues to drive contributions to the economic and social fabric of the country.
Manufacturing

Home
mid-sized business report
Manufacturing is critical to our economy – how can we support the sector?
Although the knock-on effects of the Australian automotive industry exiting our country are yet to be fully understood, the industry is evolving, and manufacturing continues to be a major employer and critical to our overall economy.
Not for Profit

Home
NATIONAL OUTCOMES MEASUREMENT PROGRAM
A practical framework
Royal Commissions and federal budgets are critical things for Nonprofit human service providers to be thinking about at this point in time.
Real estate & construction

Home
mid-sized business report
Supporting affordable housing requires planning, certainty – and tax reform
There is a lot of noise around the property sector at the moment – and it's not all positive. Prices are down – but this shouldn't be a surprise when some markets (namely Sydney & Melbourne) saw unprecedented hikes in recent years.
Retail & consumer products

Home
GNC Group Consulting
The Technology Trap: Online innovation in retail
I recently attended the NRF Retail Big Show in New York, an overwhelming smorgasbord of retail technology and new store concepts.
Scaling-up for Growth
From start-up to scale-up
Navigating the complexities of growth and maintaining previous success is a challenge for all mid-size businesses.
On Wednesday, 11 March 2020, the World Health Organisation (WHO) declared the global spread of COVID-19 a pandemic.
WHO last declared a pandemic 11 years ago in 2009 for H1N1 (swine) flu, although this time the economic ramifications appear to be much worse. It has far-reaching implications within businesses too — affecting operations across an entire organisation for months and presenting a direct threat to the workforce.
Our own Federal Government has said that the economic ramifications of COVID-19 already outweigh that of the Global Financial Crisis – the human element, the social isolation and the health of the community further compounding issues around supply chain and mobility.
This is new terrain for many organisations and it is unclear what the next few months will bring. Given this unprecedented global situation, it is an opportune time for businesses to assess and adapt their business continuity plans to ensure the smoothest ongoing service possible.

Review your business continuity plan
First and foremost, it is important to understand if your organisation has a business continuity management plan for pandemics and how it relates to this situation. A conversation with the executive and operational leadership teams to workshop potential scenarios will ensure all angles are covered.
Consider including a run sheet for each key stage of the crisis and a checklist with clearly defined actions as part of the plan.

Put people first
In preparing for pandemic risk and developing or evolving a response plan, ensure that people come first. A people-centred approach will improve your business resilience as a result.

Risk assessment and communication are key
A risk assessment and communication plan are vital elements of any incident response plans. They ensure that you have factored in all possible scenarios and that employees understand what is required of them.
Though not exhaustive, these are critical elements to consider.
Risk assessment
Mission-critical services and products
Key personnel and operations
Business functions linked to high-risk geographies
What can be suspended and for what timeframe
Expectations around absenteeism
Infected staff coming to work
Communication plan
Cascades, call trees and emergency communication channels
Expectations of employees day-to-day
Remote working expectations: how will employees contact each other, staff, suppliers if they are not at their place of work
What happens in the event that key employees are not available?
Defined roles for public relations, internal communications, marketing, risk and legal

Validate your plan
To build confidence in the plan, it is important that your organisation understands how it fits this situation and where there are gaps that must be prioritised and managed.
This is a broad-reaching event that will highlight your organisation's strengths and weaknesses. Your incident response plan needs to be tailored and it must:
reflect the risks specific to your organisation and industry
ensure executive, frontline and operational staff are actively engaged and understand their role
enable the response team needs to work together in a well-orchestrated way
highlight opportunities to improve how your business operates.
Mistakes may occur, but a well-rehearsed and communicated plan will buy a lot of forgiveness.

Maintain a cohesive, informative approach
A united front and clear, consistent messaging will ensure your employees and your clients are across what is happening with your business.
Some clear actions to do this include:
Displaying visible leadership
Protecting your brand
Assembling a response team
Communicating effectively
Documenting events as they occur
Reflecting and implementing improvements
As a business, there is a lot to consider to keep your business running in a time of crisis. A clear plan of action will help alleviate pressure, provide direction to leadership and employees alike and ensure optimal service to clients.
We have tools available to help you assess your current procedures and we're ready to support you to improve and test your plans.
COVID-19 Business Checklist
The questions in this checklist are designed to help businesses develop their response plan for COVID-19. This type of planning is critical and often doesn't feel urgent until it is. If don't have one already, this checklist can help you start to build a disaster response plan for your organisation to use now and in the future.
COVID-19 Business Checklist
Download PDF [5917 kb]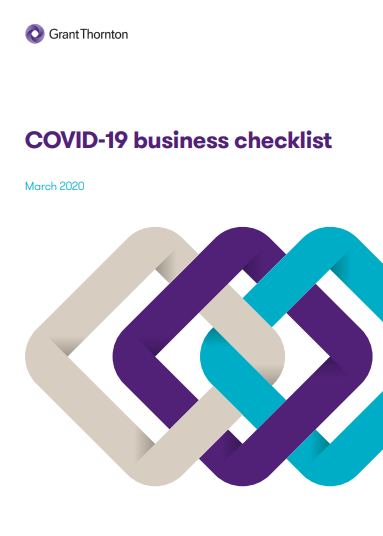 Subscribe to receive our publications
Subscribe now to be kept up-to-date with timely and relevant insights, unique to the nature of your business, your areas of interest and the industry in which you operate.