Agribusiness, food & beverage

Home
Bite Size Dealtracker
Food, Beverage & Agribusiness industry insights
Key insights for the Australian Food, Beverage & Agribusiness industry.
Royal Commission wrap up
Top 10 things for Financial Services providers
Eleven months on from the first round of hearings for the Royal Commission into Misconduct in the Banking, Superannuation and Financial Services Industry, Commissioner Hayne's final report has been released.
Health & aged care

Home
Aged Care Royal Commission
Perspectives on the Future of Ageing
Transitions in ageing are not consistent and systematic as they are described by our ageing systems. Sometimes they are incremental, sometimes accidental, sometimes monumental, and they are always personal. We can create something better.
Life sciences

Home
Biotechnology Industry Position survey
Australia's biotechnology industry drives economic growth
The 2019 Biotechnology Industry Position survey conducted by Ausbiotech and supported by Grant Thornton has revealed that new technologies across regenerative medicine and medicinal cannabis are disrupting the industry, and Australia's global strength in clinical trials continues to drive contributions to the economic and social fabric of the country.
Manufacturing

Home
mid-sized business report
Manufacturing is critical to our economy – how can we support the sector?
Although the knock-on effects of the Australian automotive industry exiting our country are yet to be fully understood, the industry is evolving, and manufacturing continues to be a major employer and critical to our overall economy.
Not for Profit

Home
NATIONAL OUTCOMES MEASUREMENT PROGRAM
A practical framework
Royal Commissions and federal budgets are critical things for Nonprofit human service providers to be thinking about at this point in time.
Real estate & construction

Home
mid-sized business report
Supporting affordable housing requires planning, certainty – and tax reform
There is a lot of noise around the property sector at the moment – and it's not all positive. Prices are down – but this shouldn't be a surprise when some markets (namely Sydney & Melbourne) saw unprecedented hikes in recent years.
Retail & consumer products

Home
GNC Group Consulting
The Technology Trap: Online innovation in retail
I recently attended the NRF Retail Big Show in New York, an overwhelming smorgasbord of retail technology and new store concepts.
Scaling-up for Growth
From start-up to scale-up
Navigating the complexities of growth and maintaining previous success is a challenge for all mid-size businesses.
The telecommunications industry is changing rapidly and faces increasing regulatory pressures.
They are also responding to the flood of disruptive technology firms entering the market and tackling churn in a converging marketplace.
Despite this, telecommunication companies are rising to the challenge and continuing to thrive and change, handling the roll-out of new network technologies and an insatiable demand for bandwidth.
TMT businesses are succeeding in achieving accelerated growth. But adaptability and focus are crucial components as well: cool heads and clear thinking are imperative. And that's where Grant Thornton comes in.
Our team at Grant Thornton has worked the in Australian and international telecommunications industry for over twenty years.
We have supported Enterprise, Consumer, Wholesale and Technology business areas, direct service providers and support providers.
We have been involved in the most challenging strategic and operational challenges the telco sector has faced.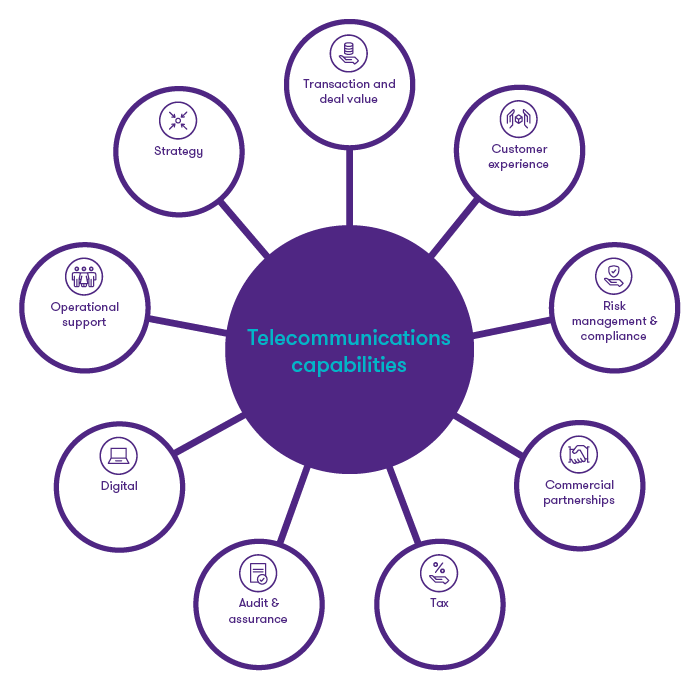 Industry Leader
Ian Renwood
National Head of Technology, Media and Telecommunications
Find out more
We have direct experience in the following areas:
Strategy and transformation consulting
Strategy and transformation consulting; including in the last two years:
Strategic planning, new product development, market testing and market entry plans for a major Australian telco.
Data led BI and digital transformation strategy and business case for a major Australian telco.
Operating model design and subsequent organisational Design and Process Definition for a major Engineering and Maintenance services organisation
Development and conduct of a leading-edge leadership development programme for a major Australian telco.
Technological change
Our team has extensive experience in the development of strategies for telco industry participants dealing with Technological change:
helping telecommunication and media entities develop strategies to react to and realise value from successive waves of technological disruption. This has included the development of investment cases, merger and acquisition activity, strategy development and channel optimisation and pricing engagements. We maintain an active practice today advising our clients on the implications of emergent technologies, not the least being the revolutionary implications of 5G for many of their core business activities.
New entrants and changing competitive dynamics
New entrants and changing competitive dynamics; in the current environment, the potential for convergence and overlap between players within and adjacent to the telco sector. In an environment of burgeoning demand from IoT applications, increasingly data-hungry enterprises and exponential growth in household data consumption, the economic incentives exist for new entrants and increased competitive rivalry between existing participants. We have direct experience in developing appropriate market responses to such changes.
Operations consulting
Operational benchmarking of retail channel performance for a major Australian telco.
Several channel optimisation engagements incorporating optimised use of physical retail, contact centre and digital channels for the full range of customer contact missions.
Field service support optimisation for a range of engineering and maintenance service providers to the telco sector
Improving the customer experience, using data insights and aligning digital and technology projects to deliver value
In particular, we have considerable expertise in the improvement of sales and marketing planning and execution, including engagements dealing with:

Customer segmentation
Campaign Management
Call Centre Optimisation
Churn propensity modelling and management
Enterprise sales management
Field workforce management
Wholesale and Retail Pricing
Financial & risk management consulting
Our financial and risk management team incorporates a diverse range of professionals currently providing services into the market including:
Internal audit and risk reviews for a number of technology network-based businesses,
Specific investigations of a financial and risk nature including our recent:

Fraud risk profiling and online fraud protection services for a major Australian Telco.
Investigation of alleged breaches of anti-money laundering legislation by an emergent FinTech player.
Review of the justification of pricing and tolling by a major toll road operator on behalf of the Victorian State Government.

Valuations, financial and commercial due diligence on a wide range of organisations including:

Several due diligence and M&A strategy engagements for a major Australian Telco.
A number of financial due diligence engagements for 5G Networks.
Commercial due diligence on behalf of a foreign investor considering investment in the Australian infrastructure market.
Statutory audit and accounting advisory services for a number of hi-tech clients.
Cyber-security and technology risk audits for a range of ASX listed and non-listed entities.
Global campaigns
Uncertainty is mounting for mid-sized technology, media and telecoms (TMT) businesses, according to our latest article, based on IBR research. But with tech investment intentions broadly healthy across the mid-market, this is also a time of real opportunity. So how can the TMT industry ride out the turbulence and thrive?

Our latest global insight explores some of the key challenges for the sector, from trade barriers to the war for talent. Amid a volatile landscape, it provides a practical view of how long-term investments could help turn risk into an opportunity for mid-sized TMT businesses.
Read more: TMT outlook: Can tech spend buoyancy keep the industry airborne?