Agribusiness, food & beverage

Home
Bite Size Dealtracker
Food, Beverage & Agribusiness industry insights
Key insights for the Australian Food, Beverage & Agribusiness industry.
Royal Commission wrap up
Top 10 things for Financial Services providers
Eleven months on from the first round of hearings for the Royal Commission into Misconduct in the Banking, Superannuation and Financial Services Industry, Commissioner Hayne's final report has been released.
Health & aged care

Home
Aged Care Royal Commission
Perspectives on the Future of Ageing
Transitions in ageing are not consistent and systematic as they are described by our ageing systems. Sometimes they are incremental, sometimes accidental, sometimes monumental, and they are always personal. We can create something better.
Life sciences

Home
Biotechnology Industry Position survey
Australia's biotechnology industry drives economic growth
The 2019 Biotechnology Industry Position survey conducted by Ausbiotech and supported by Grant Thornton has revealed that new technologies across regenerative medicine and medicinal cannabis are disrupting the industry, and Australia's global strength in clinical trials continues to drive contributions to the economic and social fabric of the country.
Manufacturing

Home
mid-sized business report
Manufacturing is critical to our economy – how can we support the sector?
Although the knock-on effects of the Australian automotive industry exiting our country are yet to be fully understood, the industry is evolving, and manufacturing continues to be a major employer and critical to our overall economy.
Not for Profit

Home
NATIONAL OUTCOMES MEASUREMENT PROGRAM
A practical framework
Royal Commissions and federal budgets are critical things for Nonprofit human service providers to be thinking about at this point in time.
Real estate & construction

Home
mid-sized business report
Supporting affordable housing requires planning, certainty – and tax reform
There is a lot of noise around the property sector at the moment – and it's not all positive. Prices are down – but this shouldn't be a surprise when some markets (namely Sydney & Melbourne) saw unprecedented hikes in recent years.
Retail & consumer products

Home
GNC Group Consulting
The Technology Trap: Online innovation in retail
I recently attended the NRF Retail Big Show in New York, an overwhelming smorgasbord of retail technology and new store concepts.
Scaling-up for Growth
From start-up to scale-up
Navigating the complexities of growth and maintaining previous success is a challenge for all mid-size businesses.
Unprecedented…2020…is it ever!
And in unprecedented times, during the first recession we've had in decades, this year's Federal Budget is also unprecedented.
It's a cash splash. It's about scaling up manufacturing and energy, boots and utes on the ground, and moving towards a digital economy. It's cutting red tape and providing the infrastructure to enable the private sector to take the reins of our recovery.
The Government wants to turn the support tap off, but not before they make a massive fiscal "splash".
The cost of JobKeeper alone has blown out to over $102b this financial year.
Our deficit is set to exceed $200b. It is estimated debt will reach just under $1t before our economy is stabilised – representing around 44% of GDP in 2023/24.
Download our snapshot
Download PDF [8222 kb]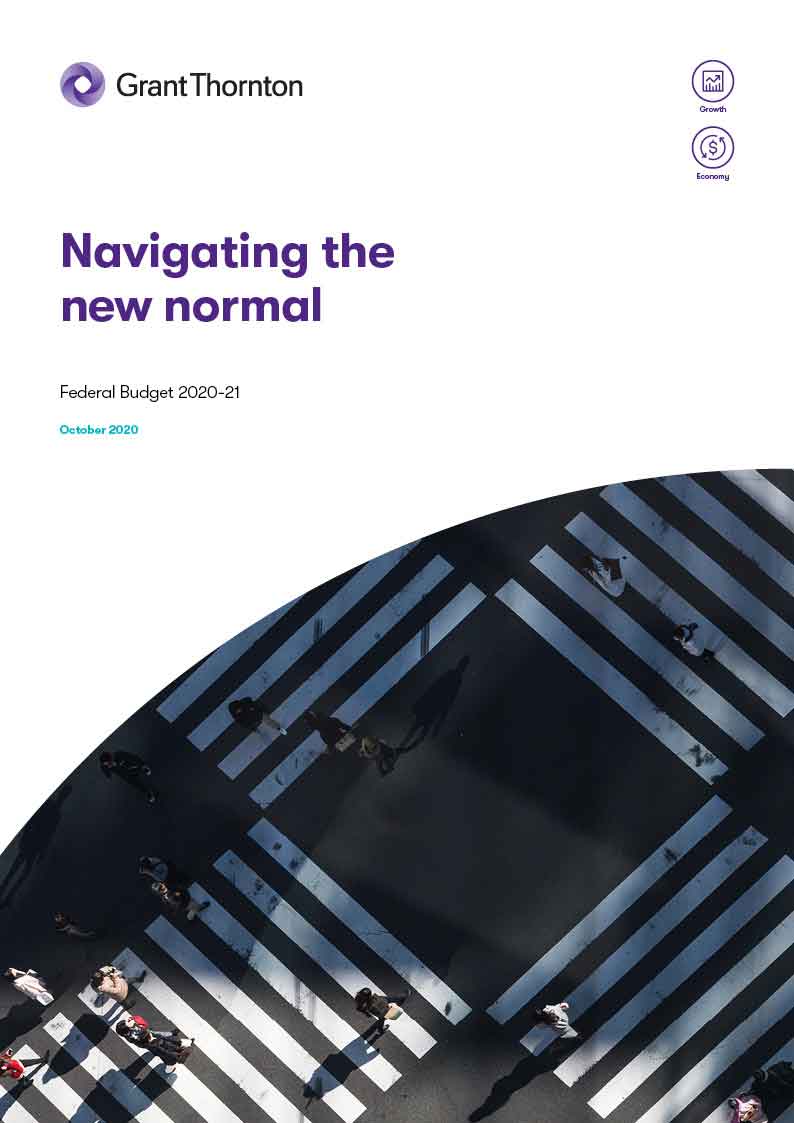 It sounds like an overwhelming figure, but to quote Finance Minister Matthias Cormann, "what was the alternative"? We are very much in uncharted territory. Past recessions have been caused by fluctuations in the market. This recession has been caused by a health crisis. However we are in a better position than most, and we must be prepared to feel the aftereffects for years.
Migration, for instance, will see more people leave Australia than move here to live for at least the next two years. As an economy, we have relied heavily on the movement of people to support growth – of our cities, our services and contribution to the world economy. Supply chains have been shown to be vulnerable to shocks. There has been a refocus on our most valuable assets – our people. The rapid rate at which technology advances has moved even faster – with the potential to forever transform the way we work and how our economy runs. This could well bring parity to our urban and regional centres. It will see evolutions in our trade relationships. There will be shifts in the skills needed for the future.
We must do things differently. We must rebuild a new economy.
Emphasis on new. New investments, new jobs, new ways of working, new partnerships. It is an exciting time precipitated by a particularly dark year. Who would have thought 12 months ago that we'd be investing in manufacturing as a key economic lever for the future?
Whilst there are numerous sectors of the economy which have been and continue to be heavily impacted by COVID, there are others which have managed to adapt to these changing circumstances that are now well-positioned to benefit from the support offered in this Budget. It's not just a two speed economy between Victoria and the rest of the country. We're seeing two speeds in the broader economy as well with some businesses finding ways to grow and innovate.
In addition to the previously announced funding for the energy sector, manufacturing and cyber security, the real winners from this years' Federal Budget are worker and business investment. In particular, the tax loss "carry back" benefits will support businesses with a turnover under $5b, while the instant asset write-off will allow 99% of businesses to write-off the full value of any eligible asset they purchase for their business.
And this is only the beginning. It's likely that we will return to the normal Budget cycle in 2021 – so we will be here again in May. It's another opportunity for the Government to invest in growing out of this unique recession.
Download our Federal Budget snapshot to see how the Budget supports you and your business.